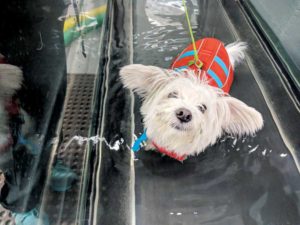 Rehabilitation is a rapidly growing field in veterinary medicine. This client-demanded service owes its success to an approach that combines a true preventative outlook, longer dedicated appointments with more frequent visits, intensive client participation, and the potential to offer alternatives to invasive procedures. But while the field is growing, turning it into a profitable business model is a challenge.
While there are many possible models for a successful veterinary rehabilitation practice, these clinics excel when a rehabilitation veterinarian leads the program. In general, the various business models in veterinary rehabilitation do not simply mimic those of general or other specialty practices. This article addresses key differences and focuses on specifics, including cost structure, staff utilization and training, and marketing tips.
Business costs
Providing a quality rehabilitation service is a time- and labor-intensive endeavor. Due to more hands-on care and longer appointment times, staff wages represent a larger proportion of overhead costs than in general practice. Most veterinary practices strive to have a maximum of 25 to 30 percent of gross revenue allocated to payroll, while other service-based industries can expect up to 50 percent of gross revenue going to payroll. In the authors' experience, rehabilitation-exclusive practices fall closer to the latter than the former, with approximately 40 to 50 percent of gross revenue dedicated to wage expenses.
Other expenses also tend to increase the overhead in rehabilitation practices. For one thing, the facility generally needs to be larger in size, with room to accommodate therapeutic exercises and other multiple booking options. Specialized equipment, including that for hydrotherapy, also is needed. There are ways to minimize these costs, however. For example, rehabilitation clinics tend to be "destination locations," meaning a prominent storefront is not essential to the practice. Cost per square foot can be reduced by choosing a warehouse space rather than retail. In addition, since equipment is more expensive than for a general practice, it may be best for a rehabilitation practice to start small with only a few pieces of essential exercise equipment, such as physio balls and cavalettis. After the initial start-up, slow acquisition of more costly equipment (e.g. underwater treadmill, therapeutic laser, shock wave, magnetic devices, stance analyzer) will increase revenue as well as patient outcomes. Keep in mind equipment purchases may be amortized to reduce taxes.
Practice structure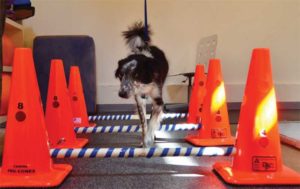 In the authors' experience, the most fiscally successful rehabilitation practices include stand-alone facilities and multidiscipline specialty practices. Stand-alone rehabilitation practices often benefit from the overall perception they are not competing with primary-care service, thus garnering referrals from local veterinarians. Appropriate charges need to be applied for services, as there are minimal ancillary higher-yielding profit centers (e.g. surgery, dentistry, laboratory) that can augment income. Multidiscipline specialty practices have the benefit of offering other top-level veterinary services, which may attract referrals for rehabilitation based on the specialty practice's reputation.
The key to success in any model is there is a supervising veterinarian solely dedicated to rehabilitation. Practice growth may be stymied if the veterinarian supervising rehabilitation must also split time with other disciplines, as rehabilitation patients and clients require detailed veterinary attention.
The rehabilitation team
The most lucrative rehabilitation practices tend to incorporate a team approach led by a rehabilitation veterinarian with advanced training. It is therefore recommended the veterinarian leading the team in any rehabilitation practice be certified in rehabilitation at a minimum. The scope and demand of rehabilitation practice are great, and the lead veterinarian needs to develop skills that go beyond the introductory certification courses in rehabilitation. Ideally, the veterinarian will strive to complete board certification as a diplomate of the American College of Veterinary Sports Medicine and Rehabilitation (ACVSMR).
Additional training for veterinarians in complementary therapies ultimately benefits the rehabilitation patient and practice. The authors have found financially solvent practices employ veterinarians who have additional training in acupuncture and/or spinal manipulation (veterinary chiropractic care). Also, as the field expands, more educational opportunities are becoming available to enhance veterinary rehabilitation—from myofascial techniques to advanced training in the fitting and utilization of orthoses. Investment in additional education results in methods that further improve patient outcomes and serve to increase revenue.
It is important the veterinarian is not the only team member with formal training in rehabilitation. The therapy staff (veterinary assistants, veterinary technicians, physical therapists) who will be implementing and assisting in therapy also should have consistent rehabilitation-specific training, whether it be in-house or at an independent training site. Rehabilitation practitioners should inform colleagues, staff, and clients of the important impact higher education has on improving patient outcomes.
Successful rehabilitation practices employ efficient and clear-cut divisions of labor to reduce time intensity for the rehabilitation veterinarian, thereby allowing for adequate supervision of cases. The tasks of the veterinarian include:
an initial and subsequent assessments with the review of medical records and imaging;
general physical examination;
detailed musculoskeletal and neurological evaluation;
advanced diagnostics;
the creation of the therapeutic plan (including medical precautions);
pain management;
prescription of home-exercise programs;
prognostic discussion;
the attention to client goals and communication with referring veterinarians; and
performing doctor-only treatments as indicated.
Well-trained team members' tasks may include manual work, the use of modalities, therapeutic exercise, hydrotherapy, and client home-exercise instruction. When necessary, team members performing therapies should alert the veterinarian of any concerns that may require intervention during in-clinic visits, whether medical- or rehabilitation-related. In addition, maximum use of the veterinarian's time may be made by scheduling multiple appointments at once, with a cushion built in for the more complex cases.
The marketing of rehabilitation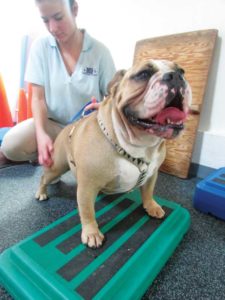 Veterinary rehabilitation remains a nebulous term to many of our veterinary colleagues as well as to the general public. Many veterinarians have limited knowledge of what rehabilitation entails and which patients would benefit from it. A recent survey found the primary reason veterinarians do not refer their patients to rehabilitation practices is the perception of high costs (Alvarez. JAVMA. 2016). Educating veterinarians about the value of rehabilitation and providing opportunities to improve their own patient outcomes can increase referrals. In addition, creating trust through relationship building within the veterinary community is the backbone of success. Sharing tips, case studies, and testimonials through blogs, websites, e-magazines, and social media are cost-effective strategies for highlighting the benefits of referral to a rehabilitation practice. In essence, this strategy is education.
Continuous marketing of a rehabilitation practice is essential for practice vitality. Creating relationships with general veterinary clinics and specialty clinics is the first step. Networking through local veterinary medical associations and speaking at community events will bolster your reputation in the area and spread education. Creating brand equity through veterinary medical association newsletters, local print, and social media will provide increased contact with your target audience. Lunch-and-learn seminars and open house events will help build awareness of services provided. Imaginative marketing can be achieved without a great deal of cost.
Fee schedule
Fee schedules differ greatly based on geography, services offered, competition, and overhead costs, as well as the decisions of the practice leader. Initial consultations may include a therapeutic session, such as acupuncture or laser therapy, with the goals of providing immediate pain relief and demonstrating that rehabilitation therapies will benefit the patient, thereby potentially increasing compliance. In contrast, some feel patients and clients may be exhausted from the initial evaluation and additional treatments, or a review of a home-exercise program may prove to be overwhelming and therefore begin treatments on follow-up visits. It is important to note the home-exercise program is key for long-term success and can differentiate between a thorough rehabilitation practice and one that is not. Some practices include the home-exercise program and any treatments in the initial consultation. Some charge and schedule it separately.
One successful model of pricing is to group services together. In this model, a time frame is given to the treatment session (30, 45, or 60 minutes) and any therapy the veterinarian recommends is performed and charged based on the time utilized. This model may allow for better client compliance, as the owner does not choose the treatment based on cost. However, this general fee structure may not cover costs for more advanced modalities or greater labor. In an "a la carte" fee structure, each treatment technique is charged separately. The client may choose a lower cost therapy that may not be the doctors' first choice, but adjusting to clients' needs may be a relevant modification. In both models, packages may be offered with discounts included.
Summary
Successful veterinary rehabilitation practices combine services in high demand with excellent patient care. Properly trained staff, thoughtful marketing, and fee structures all led by a committed rehabilitation veterinarian, can yield success and professional satisfaction.
Together, the authors form Veterinary Rehabilitation Business Group (VRBG), a team comprising rehabilitation-trained veterinarians and a business professor/consultant. Each member owns, runs, or oversees a successful rehabilitation clinic or provides service inside a larger practice. Three of the members are diplomates of the American College of Veterinary Sports Medicine and Rehabilitation (DACVMSR). All the veterinarians have additional training or certifications in one or more of the following: acupuncture, spinal manipulation, and herbal medicine. The authors are:
Jessica Waldman, VMD—California Animal Rehabilitation, Los Angeles, Calif.
Evelyn Orenbuch, DVM, DACVSMR, and Stuart Napshin, PhD—GA Veterinary Rehabilitation, Fitness and Pain Management, Marietta, Ga.
Julia Tomlinson, BVSc, DACVS, DACVSMR—Twin Cities Animal Rehabilitation & Sports Medicine, Burnsville, Minn.
Megan Ridley, DVM—Integrative Pet Care, Chicago, Ill.
Tari Kern, DVM, Pawsitive Steps Rehabilitation & Sports Medicine, Rochester Hills, Mich.
Leilani Alvarez, DVM, DACVSMR, The Animal Medical Center, New York, N.Y.