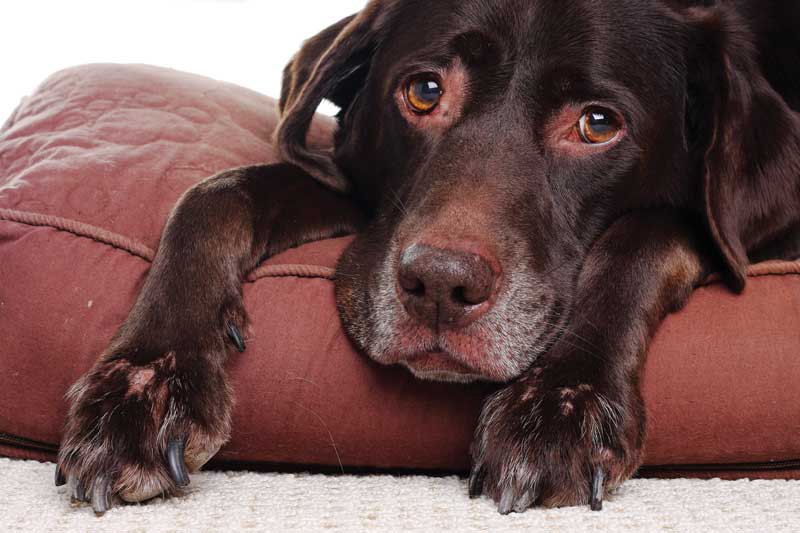 The veterinarians and support personnel who work in the growing field of veterinary end-of-life care handle difficult calls every day: pet owners struggling to accept a beloved pet's terminal diagnosis, families needing urgent at-home euthanasia services as a pet struggles to breathe, and individuals wondering how they will know when the time has come to let go of an elderly or ill companion.
But far and away the most difficult, professionals in the field agree, are the calls from pet owners who can't be helped because the practice is simply too busy.
"All of the hospice and palliative care practices I know are hiring at the moment," says Tyler Carmack, DVM, CVA, CVFT, CHPV, owner of Hampton Roads Veterinary Hospice and Integrative Medicine in Virginia Beach, Va. "We are trying hard to keep up."
Hospice care focuses on easing the symptoms associated with a terminal illness or old age. The goal is to make the patient as comfortable as possible and to ensure the highest quality of life available for the time remaining. Hospice care also extends to the family, providing both practical and emotional support.
"We want to help every single person who calls us, but we're so busy right now and there are so many pets out there. It can be really hard," says Carmack, an active member and past president of the International Association of Animal Hospice and Palliative Care (IAAHPC).
An emerging discipline
Animal hospice is a relatively new field of veterinary care. The IAAHPC, which has a mission to promote comfort care addressing the physical, psychological, and social needs of animals with chronic and/or life-limiting diseases, was founded little more than 10 years ago. The organization promotes support for caregivers, as well, and seeks to educate professionals and advance research in the field of animal hospice and palliative care.
In 2016, the IAAHPC, in conjunction with the American Animal Hospital Association, issued guidelines for end-of-life care. The organization also offers training and certification.
Kathleen Cooney, DVM, Loveland, Colo., who also served as president of the IAAHPC, started an in-home euthanasia service in 2006. It did not take her long to realize something more was needed.
"There was a gap between when a pet was diagnosed with a life-limiting condition, or that age was advanced enough we knew death was coming, and euthanasia or even the natural death experience," she says. She set out to fill the gap, providing services to help families through the end-of-life journey. "I was actually providing animal hospice before I even knew I was."
Mary Gardner, DVM, Jupiter, Fla., also noticed a large number of pets slipping through the cracks as they approached the end of their lives. "Approximately 50 percent of pets that are euthanized are not seen by their regular veterinarian a year before they die," she says referring to the results of a study involving half a million pets that were euthanized in general practice clinics in the United States.
For many families, their pets' end-of-life journey simply becomes a waiting game. With the need for diagnostic tests and vaccines in the past, many believe there is nothing further a veterinarian can offer.
"Death is hard to talk about," Cooney says. Difficult conversations about what to expect can be time consuming. But the end of a pet's life is inevitable. To prevent the need for unnecessary suffering, she hopes the veterinary industry will begin to initiate a dialogue with pet owners sooner.
"There's really good research out there that shows when humans or pets have exposure and access to palliative medicine, they do better," says Jeff Lewis, CEO of Caring Pathways, a Denver-based practice offering end-of-life care. In fact, access to hospice care has been shown to enhance quality of life and, in many cases, to prolong it.
"Fifty percent of our phone calls need us to come out that same day for euthanasia," Gardner says. It always saddened her when these clients admitted they hadn't seen their veterinarian recently. "Looking around the house I would think, but we could do so much to help you manage this pet."
A different philosophy of care
"The hospice model itself is really looking at what can we provide before, during and after the dying process," says Cooney, who now serves as medical director of Caring Pathways. Palliative care—which may involve medication or nutraceuticals to manage pain, anxiety, nausea, lack of appetite, and other common symptoms, as well as nutritional support and hygiene—is the top priority.
"One of my biggest passions is the environment," Gardner says. "How can we set up the house for success?"
When it comes to environmental management, hospice veterinarians have a distinct advantage over the veterinarian in a clinic setting.
"There's a lot that happens in the house we don't see in general practice," Gardner says. "Nobody's going to admit they're locking their pet away in the bathroom. When you're in the home, you can see it. You have a 100-pound dog that's peeing and pooping all over himself. How do you handle that? They're too embarrassed to ask."
Providing emotional support for the pet owner is also a critical component of hospice care. "As veterinarians, we are not that well-equipped [or] trained to handle end-of-life issues: both from an emotional standpoint and from a what-do-I-do standpoint," says Michael Petty, DVM, owner of Arbor Pointe Veterinary Hospital in Canton, Mich., who frequently refers clients to Lap of Love. "Even though we tried to make euthanasia as peaceful as possible, it generated our highest number of complaints. We realized we could not take the time necessary for what some of our clients needed."
"Most often, the veterinarians in the area love us, because we can have the big conversation for half an hour that they can't," Gardner says. "Sometimes they get a little upset because they've dealt with this family and this pet for 15 years, and they want to be the ones to deliver the angel wings. I get it."
Still, she says, most veterinarians will provide a reference when a client asks. She would, however, like to reach a point where veterinarians don't wait to be asked, but voluntarily offer information about hospice care.
"That's my goal over the next 10 years, to help the veterinary industry see end-of-life care in the same way that they see a cancer specialist, or a skin specialist or an ophthalmologist," Lewis says. "There are things that fall out of their sweet spot as a general practice and…the pets and families they've come to know and love can be best served through a team of veterinarians who specialize in end-of-life care."
Working together
Hospice care is an interdisciplinary field. In addition to veterinarians with specialized training, other team members may include customer care representatives, veterinary technicians, veterinary social workers, and groomers. Whenever possible, the family veterinarian is also involved.
In-home euthanasia services, telehealth appointments, and in-home hospice consultations are standard offerings in the field. Since services are usually offered on a mobile basis, most practitioners operate with little overhead.
Being on the road, however, means the size of the service area and the drive time between appointments may limit how many appointments can be scheduled. At Lap of Love, veterinarians will, on average, see three or four patients a day. At Caring Pathways, it may be five or six. To allow time for difficult questions as well as more mundane things like traffic or bad weather, scheduling is flexible.
Lap of Love opened in Tampa in 2009 and quickly expanded to serve Southeast Florida, as well. "A pivotal point for us was in 2015, when we decided to not answer our own phones anymore," Gardner says. In 2016, Lap of Love's support center opened. Currently, more than 100 care coordinators working there answer approximately 10,000 phone calls a week. Freeing veterinarians up from having to answer questions about pricing or the disposition of a pet's ashes enabled the company to grow even faster.
Today, Gardner says, they have some 200 veterinarians working for them in 100 service areas around the country. "We've already helped—in the first six months of 2021—50,000 families," she says. "We will exceed 100,000 just this year."
Caring Pathways, which began serving pet owners in the Denver area in 2010 and has since grown to serve Northern Colorado, is actively pursuing expansion plans. Their team of veterinarians are mobile, but the company has invested in two brick-and-mortar locations where their customer care team works.
"A big part of our success and our process is an extended phone call with the first contact," Lewis says. "Unfortunately, most people wait almost too long to call us," he says. The difference of a few months could mean the difference between an emotionally wrought crisis situation and a peaceful euthanasia offering both the pet and its family comfort.
"Our biggest barrier of care is the awareness—or lack of awareness—this is available, it's affordable, it is transformative," Lewis says.
Christina Wood is an award-winning freelance writer and dog owner who fosters kittens for a local shelter in Florida. She has written extensively on pet-related topics.