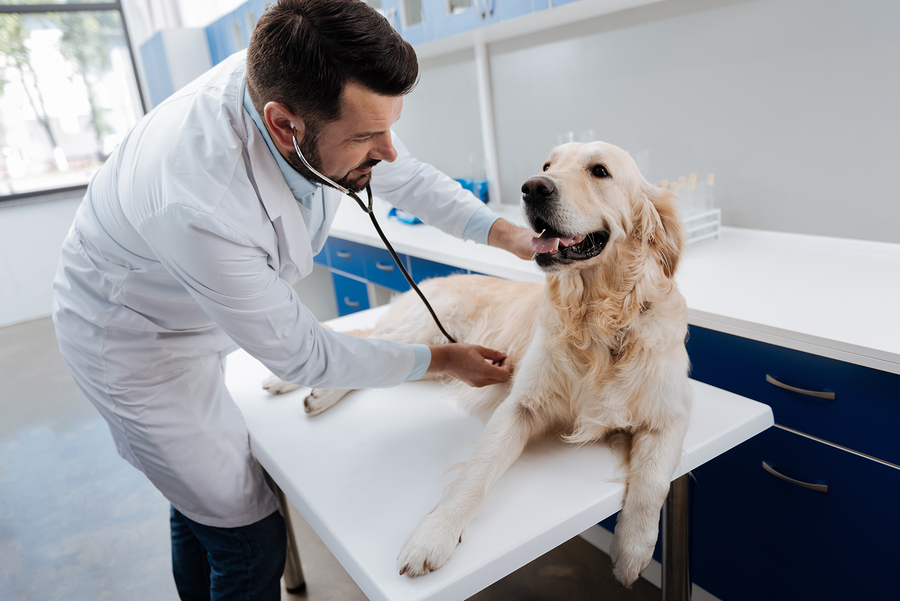 Veterinary medicine has come a long way in recent years, especially in cardiology, where a large volume of research is underway.
Researchers and specialists are making strides in interventional cardiology, which uses advanced procedures and imaging techniques to perform minimally invasive therapy with certain cardiac diseases. It can be used to correct abnormal rhythms or close openings in the heart.
An example of the latter is called patent ductus arteriosus, or PDA. The condition results from failure of the ductus arteriosus to close after birth, resulting in an irregular flow of blood from the aorta to the main pulmonary artery.
One minimally invasive treatment option utilizes the Amplatz Canine Duct Occulder, a device delivered via the vasculature by a catheter to the site of the PDA.
Thaibinh Nguyenba, DVM, Dipl. ACVIM (cardiology), of MedVet Medical and Cancer Centers for Pets in Columbus, Ohio, was one of the technique's lead researchers. He calls the Amplatz Canine Duct Occulder, or ACDO, a significant advancement in veterinary interventional cardiology.
"[It] infuses novel biotechnology into a cardiovascular device designed specifically for dogs," Dr. Nguyenba said. "With this device and procedure, patent ductus arteriosus occlusion success rates in dogs match those seen in similar procedures for people with the same disease.
"Within a decade of its development, this minimally invasive procedure has become the treatment of choice for correcting patent ductus arteriosus in dogs," he added.
Other Conditions
Minimally invasive techniques also may be used to treat abnormal rhythms. One treatment option includes electrophysiologic study and radiofrequency catheter ablation.
Dogs diagnosed with narrow complex tachycardia are predisposed to developing secondary cardiac muscle weakening and congestive heart failure due to their abnormal heart rhythm. Electrophysiologic studies allow multielectrode catheters to be placed into several veins throughout the body so the veterinary cardiologist may isolate the source of the abnormal rhythm. Once the site has been isolated, radiofrequency energy is delivered to the site to remove the focus of the arrhythmia.
Successful ablation provides a cure for the abnormal rhythm, and any structural heart changes resolve.
Another cardiac disease that can be addressed surgically is pulmonic stenosis. Surgical options vary based on the severity of the disease.
University of Florida veterinarians are looking into the effectiveness of stenting dogs suffering from severe dysplastic pulmonary valve stenosis. Assistant professor Simon Swift, VetMB, CSAC, Dipl. ECVIM (cardiology), is the lead investigator on the study.
"For many years, we have been able to use inflatable balloons to open narrowed pulmonary arteries in dogs with congenital pulmonic stenosis—a narrowing at the level of the valve," Dr. Swift said. "But there remains a percentage of dogs who do not respond to this treatment. A surgical cure would involve cardiopulmonary bypass, which is expensive, and very few centers offer this, so we have been looking at alternative catheter techniques such as implanting a stent to hold the artery open."
Keeping Rhythm
Pacemakers may be used in dogs diagnosed with second- and third-degree atrioventricular (AV) block as well as sick sinus syndrome.
AV block is characterized by fainting and an overall decrease in heart rhythm. Sick sinus syndrome is prevalent in Schnauzers that have intermittent long pauses between heartbeats, leading to collapse. Both are scary events for an owner to witness.
These diseases often are treated with a surgically implanted pacemaker to rewire the heart so the ventricles fire appropriately.
Pacemaker technology used in veterinary medicine comes from human cardiac medicine. As with many devices in human medicine, the trend is toward miniaturization. Veterinary medicine also could see wireless pairing options like those available in human medicine.
Millions of Cases
Mitral valve disease is another prevalent cardiac disease in dogs, affecting an estimated 7 percent of the population, or millions of U.S. canines.
Dogs often are given eight months to live once their mitral valve disease is significant enough for the animals to be classified in heart failure. Open heart surgery is one treatment option, but it poses challenges to the pet owner in terms of cost and the limited number of surgical veterinary centers available to perform it.
An experimental device under development is called the MitralSeal. The device, the result of a partnership between Avalon Medical of Stillwater, Minn., and Colorado State University, is implanted into a dog's heart via catheter through a beating-heart procedure. One of the principal investigators is CSU Professor Christopher Orton, DVM, Ph.D., Dipl. ACVS.
"In humans, advances in image-guided interventional cardiology techniques performed on the beating heart have begun to provide alternatives to traditional cardiac surgery," Dr. Orton said. "Examples include transcatheter aortic valve replacement (TAVR) and percutaneous mitral valve repair.
"In veterinary medicine, interventional closure of PDA has largely replaced the need for traditional surgical ligation," he said. "Techniques and devices currently in development for dogs include transcatheter mitral valve implantation, mitral valve repair and aortic valve implantation.
"These emerging advances in interventional and hybrid-interventional cardiac techniques offer the possibility for more practical and affordable treatments of cardiac conditions in dogs where historically options have been limited or nonexistent," he added.
Gene Therapy
Because some patients with refractory heart disease have exhausted the capacity of medical therapy, and some are not viable surgery candidates, veterinary cardiologists are looking to other options such as gene therapy to improve cardiac function.
For many cardiac diseases, the precise gene or genes have yet to be identified. The beauty of gene therapy is that a veterinarian doesn't need to know the exact gene and can still improve the oxygen supply and heart function by addressing how the heart deals with calcium regulation.
Idiopathic dilated cardiomyopathy (DCM) and chronic valve disease are the two most common acquired heart diseases in the dog. Numerous animal models and human clinical trials have shown that normalization of intracellular calcium-handling processes can result in improved cardiac function and clinical signs.
University of Florida Professor Meg Sleeper, VMD, Dipl. ACVIM (cardiology), is preparing to study the effect of gene therapy on calcium regulation in dogs with DCM. Looking to the future, Dr. Sleeper said gene therapy "will be an important part of the arsenal for combating acquired heart disease … regardless of whether the disease is inherited or not."
Minimally invasive treatment of cardiac disease along with gene therapy illustrate the promise of the future of veterinary cardiology. Improving technology and treatment options while increasing availability to pet owners seems to be where the field of veterinary cardiology is headed.
Nguyenba, of MedVet Medical and Cancer Centers for Pets, said he looks forward to improvements in surgical and interventional techniques for managing heart valve disease in dogs.
"We may also see greater reliance on cardiac biomarkers and advanced echocardiographic techniques to help fine-tune therapy and prognosis for pets with heart disease," he said.
---
Dr. Meghan E. Burns owns Connect Veterinary Consulting of Kansas City, Mo. 
Originally published in the December 2016 issue of Veterinary Practice News. Did you enjoy this article? Then subscribe today!