Suggested Veterinary Products
Breakthroughs in veterinary medicine—surgical techniques, treatment options, diagnostics, equipment or drugs—hold out hope to pet owners and give a second chance to gravely sick or injured animals that, just a few years ago, might have been written off.
"Advances across-the-board in veterinary medicine continue to give pet owners many more options in treating their animals' ailments," said Jane Sykes, BVSc, Ph.D., Dipl. ACVIM, chief veterinary medical officer at University of California, Davis.
Dr. Sykes points to the "minimally invasive surgical and endoscopic procedures" used at the UCD William R. Pritchard Veterinary Medical Teaching Hospital as a case in point. These procedures are changing the face of veterinary medicine and leading to new equipment, technology and procedures unavailable less than a generation ago, Sykes said, adding that patient outcomes also have improved.
Three recent cases affirm Sykes' position—pacemaker surgery on a ferret, resuscitation of a Doberman that had drowned in a backyard pool and a female pit bull that received advanced blood purification treatments—are just a few examples of pets given a second chance due to innovations in veterinary medicine and care.
Zelda the Great
Veterinarians at the Kansas State University (KSU) Veterinary Health Center (VHC) made news when they performed a surgical implant of a pacemaker in a ferret, a first for KSU.
Zelda was brought to the VHC by her owner Carl Hobi of Olathe, Kan., after a veterinarian and KSU graduate found Zelda to have a third-degree atrioventricular block in her heart, which was responsible for the slow heart rate.
Hobi took Zelda to KSU after the diagnosis and the veterinarian's recommendation. The VHC team determined she was a candidate for a pacemaker.
"It takes a very special pet owner to be willing to provide this level of care," said Justin Thomason, DVM, Dipl. ACVIM, a veterinary cardiologist at KSU College of Veterinary Medicine (CVM).
There's no right or wrong decision when it comes to a pet owner deciding on treatment or waiving it, Sykes said.
"Our responsibility is to educate the client on the condition of their animal and offer them every option of care available within our capability," she said. "Whatever decision the client makes, based on their financial means and life situation, will be the right decision for them, and we support them in that decision. We hope that as improved insurance opportunities become available to pet owners, more people will be able to afford cutting-edge care for their animal family members."
Dr. Thomason, Emily Klocke, DVM, Dipl. ACVS, professor of small animal surgery at KSUCVM, and David Rankin, DVM, Dipl. ACVAA, professor of anesthesiology at KSUCVM, performed Zelda's surgery.
"This was the first time I had ever performed this particular procedure on a ferret, although I have performed it on dogs before," Dr. Klocke said. "I was very concerned about how small our patient was and whether I could successfully suture the pacemaker leads to her beating heart without causing severe bleeding."
Often, veterinary advances come about by a seat-of-your-pants team approach, especially when performing procedures for the first time.
In Zelda's case, there are no ferret pacemakers, so the KSU veterinary team improvised.
"There are only a few millimeters of space within the heart's wall for suturing the leads from the pacemaker. The pacemaker is the same as what would be used in a human patient, but we had to order a special set of leads for Zelda," said David Eshar, DVM, Dipl. ABVP, assistant professor of clinical medicine at KSU.
"Zelda's case was a great example of a group of us here at the Veterinary Health Center working together to solve a case that none of us could have tackled on our own," said Louden Wright, an intern at KSUCVM.
Zelda is progressing well and is expected to enjoy a full life.
Thicker Than Water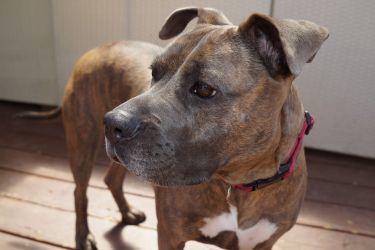 Bella, a 5-year-old female pit bull, was brought in to the University of California, Davis (UCD), Veterinary Medical Teaching Hospital (VMTH) by her owner, a veterinarian and UCD alumnus.
Bella's owner thought she had immune-mediated hemolytic anemia (IMHA), but the dog didn't respond to transfusions of packed red blood cells (RBC).
At her wit's end, Bella's owner had her admitted to UCDVMTH, where once again she didn't respond to transfusions. In fact, Bella's RBC count dropped from 22 to 12 percent.
Veterinarians with UCD's Internal Medicine Service consulted with Bella's owner and recommended using therapeutic plasma exchange (TPE).
This relatively new blood purification procedure removes impurities from the blood by separating plasma tainted with pathogenic antibodies, toxins or abnormal proteins from the patient's flowing blood and switches it out with clean donor plasma, leaving the patient less susceptible to or free from immunologic attack.
Bella received three TPE treatments while at UCD. On the sixth day of her stay, Bella's RBC count had increased to 32 percent, and her reticulocyte (new RBC growth) count continued to show a strong regenerative response to the anemia.
Blood clot formation is a significant risk in IMHA patients, so Bella was also prescribed anticoagulant medications. To help suppress her immune system from attacking her own cells further, Bella was placed on immunosuppressives.
Two weeks after her release, Bella showed a positive recovery at her recheck. Her RBC count was normal at 40 percent. She will need to continue immunosuppressive therapy for at least four to six months to keep her in remission of IMHA.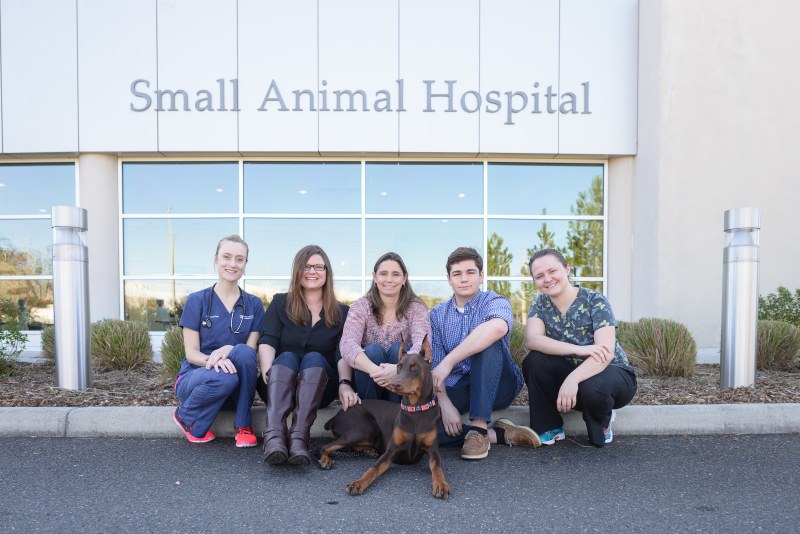 As Bella story shows, UCD veterinarians value TPE as an emerging innovation in veterinary therapeutics for IMHA and recommend it as a first-line, rather than a delayed, therapy for animals with severe IMHA unresponsive to initial blood transfusions or medical therapy.
Call Him Lucky
Clinically, Bo, a 7-month-old Doberman pinscher, was a goner. His heart had stopped by the time he'd been retrieved from the family pool and rushed to the University of Florida (UF) Pet Emergency Treatment Services clinic in Ocala, Fla.
"They asked us if we wanted them to perform CPR on Bo. It wasn't even a question for us. We were willing to do anything possible to save our baby," said Tania Traviesco, Bo's owner.
Ashley Allen, DVM, Dipl. ACVECC, assistant professor of emergency medicine and critical care at UF College of Veterinary Medicine, was able to resuscitate Bo, but no sooner had he come to when his lungs filled with fluid, as if he was drowning all over again.
"We found he had severe noncardiogenic pulmonary edema … which is common in near-drowning events," Dr. Allen said.
On Allen's recommendation, Bo was transferred to the UF Small Animal Hospital (SAH) with the aid of a transport ventilator. Once Bo had arrived at UFSAH, Allen tipped him forward to let the fluid that had accumulated in his lungs drain through a tube in his airway.
En route it got dicey, but upon his arrival Bo was taken off the transport ventilator and placed on UFSAH's ICU ventilator, where he remained the rest of the day.
If not for the expert care and the extraordinary lengths Allen and her team went to save Bo, he wouldn't have made it.
Bo has fully recovered (less than 6 percent of dogs and cats that experience similar heart and lung issues leave the hospital alive), with no lasting health issues.
Cascading Effect
The best example of how advances can trickle down to local clinics is through former students and residents who make up the workforce of those clinics, according to Sykes.
"By being able to train in a world-class hospital like the UC Davis Veterinary Medical Teaching Hospital, those clinicians elevate the level of available veterinary care, even at a small local clinic," she said. "Those clinicians are better equipped to identify certain diseases and conditions so that they can refer cases to larger specialty hospitals like UC Davis."
However, outcomes aren't always rosy.
"Unfortunately, advances often bring increased cost of care, and euthanasia can still result when client financial resources are exhausted," Sykes said.
Her solution is more widespread adoption of pet health insurance, which allows more animals to benefit from advanced diagnostics and treatments.
Originally published in the April 2017 issue of Veterinary Practice News. Did you enjoy this article? Then subscribe today!