When British veterinarian Jack Reece, B.V.Sc., M.R.C.V.S., first arrived in Jaipur, India, in the late 1990s for what was to be a brief volunteer stay, he couldn't help but notice the dogs. They were everywhere—sleeping on piles of building materials or sand, rooting through rubbish, lying by the side of the road or in the medians of city streets.
"It's not something that we are used to seeing in the West," Dr. Reece says. "But these are not abandoned pets; they are not dumped animals. These are dogs that are born, live, mate and die, all on the streets."
Jaipur still has street dogs today, but their population is smaller, healthier and more stable—thanks in large part to Reece and the Indian charity he has worked for during most of the past 12 years, Help in Suffering.
The HIS spaying and vaccination program has shrunk the number of street dogs, improved their quality of life and sharply reduced the number of dog bites and rabies cases in humans. And as the program's manager, Reece, 49, has established himself and HIS as authorities on the humane management of street animal populations in developing countries, despite limited resources and a culture that has not always embraced their efforts.
"He's sacrificed a lot to be there, but he's so committed to the cause that he can't imagine a life spent any other way," says Kelly O'Meara, director of companion animals and engagement for Humane Society International, which has helped fund the work of HIS. "With each passing year, he's become that much more committed, and has realized what kind of impact one person can make in a place like [Jaipur.]"
Arriving in a New Land
When Reece arrived in Jaipur in 1998, he intended to stay just six months. He had worked in a large-animal practice in rural England since graduating from University of Liverpool School of Veterinary Science in 1994. Tired of "TB testing cattle," as he put it, he sought a working sabbatical and a bit of adventure before settling into his own practice in the U.K.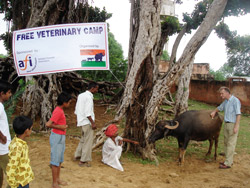 Treating a buffalo calf for the sequelae of foot and mouth disease, myiasis with screw worm fly maggots (Chryosomia bezziana) at a village camp where HIS provides periodic veterinary care.
About 4 million people live in Jaipur, in the province of Rajasthan, bordering Pakistan in northern India. HIS, which occupies a shaded 1.5-acre compound, was founded in 1980 by the daughter of a British military officer to look after the welfare of animals, for whom care was often limited or nonexistent.
The charity has grown to provide veterinary care for camels, monkeys, horses, donkeys and other animals, both street animals and those of local farmers.
At HIS, Reece found himself not just sterilizing and vaccinating animals, but going out to help round up street dogs that needed care, then returning the treated dogs to their neighborhoods. And despite working conditions much more bare-bones than he was used to—HIS only recently got its first radiograph machine, purchased by Indian donors—Reece was enthralled by the challenges of his assignment.
"Vetting here was such fun, with wonderfully warm colleagues doing all manner of strange and unusual things," Reece says.
Six months turned into a year. Then, after a brief return to England, he came back to India to help run the expanded Animal Birth Control program, based on guidelines from the World Health Organization and the World Society for the Protection of Animals.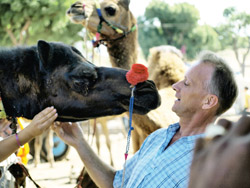 Dr. Jack Reese gets up close and personal with a camel at the Pushkar Camel Fair where HIS provides free veterinary care and camps for a week. Pushkar is 100 miles southwest of Jaipur. Photos courtesy of Dr. Jack Reece.
Street dogs have been a lingering problem in much of India, for complicated reasons, Reece says. Authorities often tried to cull street dogs by poisoning, shooting or even electrocuting them, practices that still exists in some parts of the country. And the communities where the dogs make their homes often have mixed feelings about them, he says, exacerbated by poverty, religious beliefs, cultural norms or a mix of all three.
"In [Western] countries, if you asked, 'Do you want street dogs in your communities?' absolutely everybody would say 'No,'" Reece says. "But if you ask that question here, you get three answers: 'Yes, we do want them, and I look after 20 of them myself.' Or, 'I don't really care.' Or, 'No, I certainly don't want them, but please don't kill them.'"
The HIS staff educates community members, but it's slow going. In lower-income neighborhoods, where residents tend to like and protect the dogs, workers often meet resistance when trying to round them up—even after promising the dogs will be returned, in better shape, in a few days. In other neighborhoods, especially higher-income ones, workers are sometimes rebuffed when trying to return treated dogs. (In both instances, Reece says, the staff usually gets around the issue by returning at 5 a.m., when no one is around to protest.)
The Fruits of Labor
After years of work, there is success.
The Jaipur street dog population is about half what it was at the beginning of the pilot program in 1994, Reece says. More than 70 percent of females have been spayed, and a similar percentage of all dogs have been vaccinated against rabies. Dog bites suffered by humans have been cut from more than 7 per thousand population to under 3 per thousand, probably because there are fewer litters of puppies and thus less maternal protection, Reece says.
How to Help
Help in Suffering welcomes veterinarians and vet techs as volunteers. It also welcomes donations, for such projects as Reece's ABC Extension Program to humanely manage street dogs, and the HIS Camel Project, to care for working camels suffering from parasites, wounds, neglect or illness.
For information on how to donate or volunteer, visit www.his-india.in.
And, for several years, Jaipur has had no reported human cases of rabies, down from as many as 10 per year previously, even as rabies cases increased elsewhere in the country.
A research paper published by Reece and a colleague, published in the peer-reviewed British Veterinary Association's Veterinary Record in 2006, demonstrated the link between managing street dog populations and controlling rabies in humans. This, with word-of-mouth reports, helped ignite interest in other communities. Now, Reece and HIS train Indian veterinarians, dog catchers, techs and volunteers who want similar programs in their communities.
Reece downplays his role in the project's success, preferring to give credit to his Indian colleagues. (Other than the occasional visiting volunteer, Reece is the only foreigner on the staff of more than 35.) But across the world, others have definitely noticed his work. In 2006, the British Veterinary Association established the Trevor Blackburn Award, now given annually in recognition of outstanding contributions to animal health and welfare in a developing country. Jack Reece was the first winner.