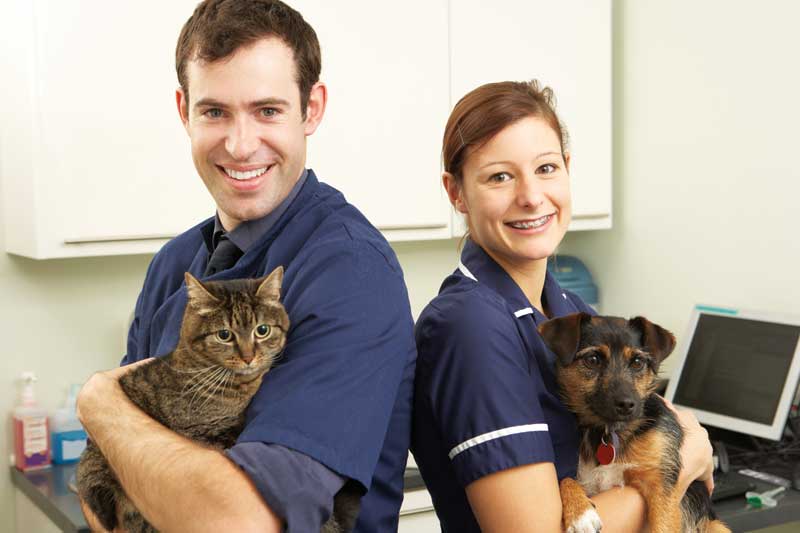 Over the past few years, the National Association of Veterinary Technicians in America (NAVTA) has stepped into a number of conversations that have spurred great debate in the community: transitioning from the term "veterinary technician" to "veterinary nurse."
Let's first consider the maturation of the veterinary technology profession. It's a young sector, first established in 1973 when the American Veterinary Medical Association (AVMA) began accrediting animal technician training programs. Originally, assistants were called animal health technicians. In 1981, NAVTA was formed. Five years later, the first national examination for technicians in veterinary medicine was administered in Maine. In 1989, the AVMA officially replaced the animal health technician title with veterinary technician. In the early 1990s, veterinary technician specialties began developing, and there has been a steady expansion of career choices in the field of veterinary technology. Currently, there are approximately 99,000 veterinary technicians, according to the May 2016 U.S. Bureau of Labor Statistics.
While attending a NAVTA town hall meeting at a North American Veterinary Association convention, I sat next to Ted Cohn, DVM, dear friend, respected colleague, and, at the time, AVMA president. We listened to the open forum participants discuss and consider the title change and standardization. Our interest was piqued, and we were both eager to hear more details and join the conversation. I thought, "This is going to be great!"
Since that time, NAVTA's Task Force has released a plethora of written information and held town hall-style meetings at numerous veterinary events.
NAVTA's position statement
"The current credentialing systems, which vary state to state, have led to confusion for the veterinary consumer and within the veterinary profession. Establishing a single and standard title is the first step in the process to clarify the important role of the profession and provide enhanced patient care. Pets and pet owners are best protected and cared for by formally trained and credentialed veterinary technicians/nurses.
"For Credentialed Veterinary Technicians and Veterinary Technician Specialists looking to advance their careers, the unified title will create a national and global standard. NAVTA aims to create an alignment within the veterinary field, provide education for veterinarians, paraprofessionals, and consumers to elevate the understanding of roles and responsibilities as they relate to patient care by veterinary technicians/nurses.
"NAVTA has initiated conversations with global, national, and state organizations in regards to consumer protection and patient care by implementing the use of a single term. In addition, NAVTA's goal is to work hand in hand with the AVMA, professional veterinary organizations, and legislators to create common terminology, practice acts, policies, and procedures to ease the burden that could be placed on individual states and associations in credential governance."
Proposed timeline
National credentialing and title protection will not happen overnight. In fact, it's proposed to occur over the next five to 10 years. NAVTA spent all of 2016 researching the best options and consulting with attorneys, professional organizations, legislatures, and global, national, and state veterinary medical associations.
The organization is working closely with state veterinary technician associations to educate and develop consistent messaging.
Due diligence
During NAVTA's 2016 fact-finding mission, surveys were created and tabulated, and leaders came together for unanticipated yet wonderful and encouraging dialog. NAVTA's Task Force did an amazing job of staying focused, communicating their findings, reporting on meetings, and moving the initiative forward. (Visit NAVTA's Veterinary Nurse Initiative page to find such resources as articles, a slide show, video chats with clients, the human nurses' perspective, FAQs, survey results, and more.)
After due consideration of the findings, NAVTA's executive board approved moving the initiative forward. This meant that the board accepted the action to unite the profession under a single title, credentialing requirements, and scope of practice.
Now, NAVTA directs a coalition to take the initiative to the next step. Mark Cushing, JD, government relations counselor, is assisting in outreach and research.
To learn more, listen to a recent podcast by Julie Legred, CVT, NAVTA executive director, hosted by Ernie Ward, DVM, and Beckie Mossor, RVT.
National standardization
As things stand now, veterinary technicians may experience difficulty moving across state lines and maintaining their credentialing.
In general, a person becomes credentialed after graduating from an AVMA-accredited program in veterinary technology, passing the Veterinary Technician National Exam, and completing individual state requirements. States vary greatly in oversight, requirements, and title (certified, registered, or licensed). This generally means credentialed veterinary technicians pay dues/fees and may be required to obtain continuing education to maintain credentialing (amount and type is unique to each state).
Through standardization (possibly registration), veterinary technicians could have an easier time transferring their valuable credentials. I hear horror stories on a regular basis of veterinary technicians leaving the field because they are unable to keep their credentials (for multiple reasons).
NAVTA's coalition is determined to start pursuing title change and credentialing in 2018 in Michigan, Indiana, and Ohio, and is proposing the title registered veterinary nurse.
Education is key
Veterinary technicians, managers, and all team members are encouraged to learn more about the organizations that currently hold veterinary technician credentials. Understanding legislative affairs is the key to knowing how this change will occur. Personally, I have attended state board meetings, legislative sessions, tracked laws, and spoken with senators and state representatives.
Veterinary technicians are reminded to pay attention to the laws within their state. Please continue to follow the conversations with NAVTA through its journal, website, and outreach programs. Direct questions to NAVTA's Task Force, and get the most accurate, up-to-date information straight from the horse's mouth. Now is the time to get the facts, engage, and work together to bring national standardization and the title registered veterinary nurse to fruition.
All this is just the tip of the iceberg. There is support and a solid plan with grit and teeth.
FOR MORE INFORMATION
NAVTA's Veterinary Nurse Initiative page
bit.ly/2fkoYd5Podcast by Julie Legred, CVT, NAVTA executive director
bit.ly/2xSqugl

National Credential Task Force committee chairs
Kenichiro Yagi, BS, RVT, VTS (ECC, SAIM)
Heather Prendergast, RVT, CVPM

NAVTA website
navta.net

Online education
bit.ly/2jLe3fW
Rebecca Rose, CVT, founder and president of CATALYST Veterinary Practice Consultants, has 30 years of veterinary industry experience as a veterinary practice management consultant, a practice manager at two AAHA-accredited animal hospitals, and an award-winning veterinary technician. She is the immediate past president of NAVTA (2017). Contact her at getCATALYST@CATALYSTVetPC.com or visit CATALYSTVetPC.com.