Suggested Veterinary Products
Cultures can be very valuable tests in a surgical or medical patient as long as the specimens are collected and submitted correctly.
We spoke with Shelley C. Rankin, Ph.D., associate professor of microbiology and chief of clinical microbiology at the University of Pennsylvania's School of Veterinary Medicine, about the art of performing reliable cultures.
When and how do you recommend performing a culture?
Whenever an infectious process is suspected, appropriate tests must be ordered. The proper collection and transport to the laboratory of a specimen are critical to confirm that a microorganism is involved and determine which one. The site of the infection and clinical signs should determine what to submit for culture—aerobic, anaerobic, fungal—but it is important that the material collected be obtained from the actual site of infection with a minimum of contamination from adjacent tissues, organs or secretions.
Do you have any tips to improve the yield of the culture?
Here are my top five:
A sufficient quantity of specimen should be submitted to the lab.
Specimens should be maintained in as close to native conditions as possible.
Transport to the lab in a timely manner.
Submit specimens in appropriate collection devices.
Containers and transport medium should be used per the manufacturer's recommendations. Swabs with a transport medium should be maintained at room temperature and shipped using an express carrier. Liquid specimens—urine, CSF, joint fluid, blood—should be held at 4 degrees Celcius until shipped. Overnight shipping should be on cold packs.
What about transport swabs—cotton vs. sponge tip, large vs. small tip, gel medium vs. sponge? How should we choose the best type?
There are a variety of specimen transport systems, most of which do exactly the same thing: maintain the specimen. So for aerobic culture you can probably use whatever you receive from the lab. If you really prefer a certain type, then you'll have to buy it.
Is a regular swab acceptable for an anaerobic culture, or do we need a special medium?
Anaerobic culture should not be performed from a regular swab. There are a variety of anaerobic systems, which you should discuss with your lab.
Ideally, what are the requirements for a fungal culture?
Fungal cultures can be performed from hair, skin scrapings, nail clippings, tissue specimens and aspirates from wounds or abscesses. They can be performed from swabs of the affected area in some cases, but this is not ideal. Sealed sterile transport containers should be used for all liquid or moist specimens. Hair, skin scrapings and nail clippings can be submitted in a dry sterile tube. Skin biopsies should be submitted in a sterile container with a small amount of sterile saline or sterile water. Of course, ensure that all tubes are sealed before shipping.
What is the typical turnaround time for cultures, excluding time for delivery to the lab?
The turnaround time for aerobic culture is typically two to three working days for "clean" specimens, i.e. those that do not require organisms to be subcultured to ensure purity. If two or more organisms are present, the turnaround time can increase by two to three days. And if a susceptibility test is required, add one more day.
Anaerobic culture turnaround times can be from three to 14 days, depending on the lab's protocol. Fungal culture results can take up to 30 days for a negative result. Positive fungal cultures should be reported as soon as they become available, and in many cases a preliminary report will be generated until the final fungal identification is known."
Is it acceptable to open a swab at the beginning of a surgery, and use it 15 or 30 or 45 minutes later?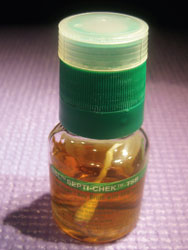 This is not good practice. All transport and collection devices should be opened and used as needed.
Is it acceptable to store a sample in the fridge?
It is not good practice to store swabs or other transport devices in the fridge. If it is necessary to store prior to shipping to a lab, store at room temperature or as recommended by the manufacturer of the collection/transport device. If delays of more that three days are anticipated, some specimens can be frozen at minus-70 degrees Celcius, but please inform the lab that this has occurred.

Do you have suggestions to avoid the dreaded negative or false positive cultures?
Appropriate handling of specimens will improve your results. In cases where a single organism is generally implicated, such as pyoderma, inappropriate handling can result in negative cultures. In cases where multiple organisms may be implicated, such as wounds, inappropriate handling often leads to overgrowth of less fastidious organisms, which can mask or inhibit the growth of fastidious bacteria, especially anaerobes.
How can we help our lab colleagues?
All accredited laboratories will have their own criteria for specimen rejection. Please be familiar with your lab's policies. At a minimum, they will ask that laboratory accession forms be fully completed and the specimen be labeled and dated legibly. Most labs won't accept sample containers that are grossly contaminated with blood, feces or pus. A good rule of thumb is, if your technician won't transfer the specimen to a clean container, then don't expect ours to!
Do you encounter mistakes that could be easily avoided?
Don't submit a single swab for multiple tests. Most labs require individual swabs for each test ordered. Tissue samples should be submitted in transport medium or a small amount of sterile saline in a tightly capped tube.
Do you have any pet peeves?
Imagine our reaction when we receive specimens submitted in gloves, yogurt containers, jelly jars, soda bottles or worse. Also, we're not too fond of urine samples obtained by cystocentesis that are shipped in the original syringe with the needle still attached!
How should we choose a lab? Should the decision be based on price only?
Price is undoubtedly a factor. Make sure your lab is accredited by a recognized accreditation body. Most labs these days are accredited, and this is an assurance of competency for the client. Accredited labs will have a quality assurance system in place as well as a way to deal with client communications and complaints. Basically, I would suggest you ask your colleagues for feedback, and choose a lab that meets your needs. <HOME>
Phil Zeltzman is a mobile small-animal surgeon in Allentown, Pa. His website is DrPhilZeltzman.com.
This article first appeared in the August 2010 issue of Veterinary Practice News. Click here to become a subscriber.