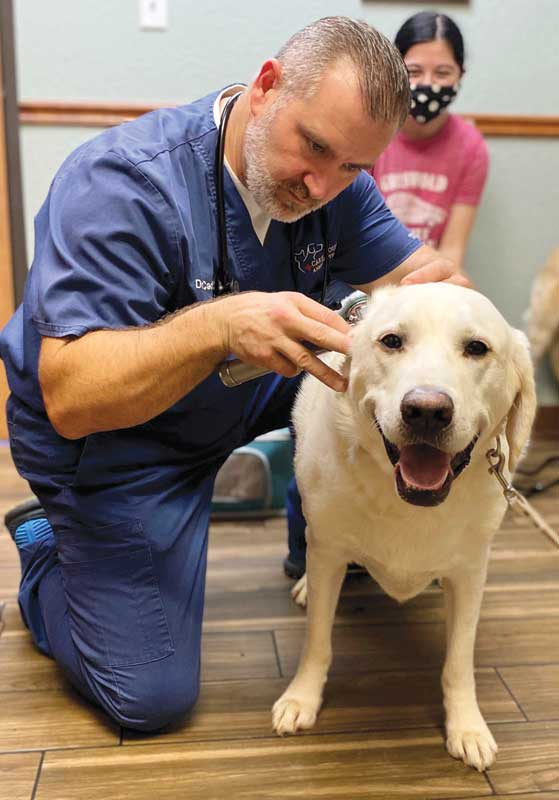 If you work in small animal practice, on any given day you will see an otitis externa case. This is by far one of the most common complaints that walks into my clinic. How does your practice handle this? Are there ways to make this process more streamlined? How about for you, your patients, and staff? Are there procedures helpful in the diagnostic process?
Evaluation matters
Evaluation involves not only the treatment options for the disease, but also asking yourself the options to make your clients successful as an extension of our veterinary team. I see a lot of treatment plans fail because we do not consider what our client's abilities are once that pet walks outside the office.
Every patient visit starts with an appointment on the schedule and someone obtaining the reason for the visit. Is all the pertinent information making it to the schedule? Bilateral disease? Chronicity? Prior treatment somewhere else before for this issue? Discharge? Documenting the answers to these questions on the appointment schedule can really help the veterinary technicians and/or assistants be successful in the next steps in the diagnostic process.
Once the client and patient are in the examination room, the best practice is to have a veterinary technician go in and "mine" for more information. This "second wave" of evaluation always gets more information about the condition, which continues to give a clearer picture of the what, why, and how of it all. My staff is taught at this point to get cytology of each ear, if appropriate, and begin the process of staining a slide for the bacterial, yeast, and cellular evaluation.
Now it is time for the veterinarian perspective and to "read the room". I believe there is more to it than walking in, glancing at the ears, and explaining to the client the disease and then regurgitating a treatment plan for the bacteria, yeast, or an inflammatory process. Can that sometimes be successful? Sure, but not always. This is where "practicing veterinary medicine" can become an art form.
So, what do I mean by "reading the room?" Well, you need to take in everything. On the patient side, are the ears super painful? Is the pet fractious or nervous? What about the owner, are they afraid of their pet? Is there more than one person in the household to help with treatments? Are the clients disabled or elderly therefore making the at home treatments nearly impossible for them to perform? These are questions that must be answered.
You can be the greatest diagnostician in your area but if you fail to "read the room" and then give your client a treatment plan that cannot be performed by them, your plan will fail. I personally believe that this is just as important as the medication you choose for otitis externa. If your plan does not include your client's abilities, your plan will likely fail.
Further examination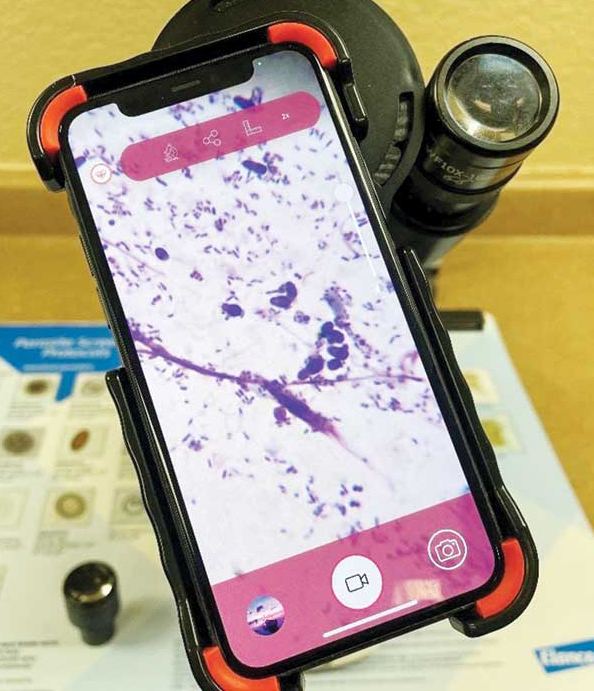 After you have "read the room," now it is time for your examination. I highly recommend doing your full examination and leaving the "reason for the visit" for last as it gives you a chance to find concurrent diseases and gives you less of a chance to miss information. Evaluate the entire ear, both sides, inside and outside, and down the ear canal. What is involved? Where is the primary issue and what areas are just involved? Is there chronic disease or is this acute illness? Is this a bilateral condition? One side worse than the other? This is all important information that should go into the evaluation of your short- and long-term plans.
Does your practice use cytology from infected ears to make treatment decisions? If you are not making this part of your diagnostic process, you should. You are missing vital information that will improve your patient's recovery time and could lessen the odds of reoccurring infections.
In my practice, every otitis externa infection will get cytology. It is that important to me for the diagnosis, client educational opportunities, and the treatment decisions. I also recommend taking microscope pictures/videos for the client record for follow ups and for evaluating conditions that could have seasonality or chronicity in the future.
Using the photos or videos to educate the client is also very helpful at the time of the presenting appointment and for follow ups later. These "before and after" pictures help to instill confidence for everyone that the treatments have been successful or for the confirmation that there is need for extension or change of treatments. Using these "ear preps" to evaluate for inflammatory cells, cocci rods, and yeast is very important for decision making on what would be the best course of action for each individual case.
Treatment plan
Now that you have evaluated the patient, considered what your client's capabilities are, and evaluated the cytology, it is decision time for treatments. There are a lot of possibilities when it comes to the otitis externa. This could be a bacterial infection with the possibilities of a rod bacteria (e.g. Klebsiella) or a cocci (e.g. Staphylococcus). Yeast love the ear canal of dogs, and if you have not been looking at in-house cytology, get yourself ready to become really familiar with Malassezia yeast and get good at spelling it.
There will frequently be combination infections as well, and you will find both cocci and Malassezia yeast; think pretty much every Labrador retriever ear infection that walks into my life (but not all). Rods-based otitis externa will present sometimes as a bilateral "creamy" drainage. Who just pictured a cocker spaniel, other than me? What about the pet where the owner swears it has ear mites, but instead of the brown dry flakes coming out of the pet's ear, you encounter that brown, moist discharge? Yes, that is probably going to be our old friend, Malassezia.
With these examples, what are you choosing? There are lots of possibilities for treatments out there, but no products that catch all of these scenarios with an all-in-one treatment. I do believe your hospital should have up to four options in your arsenal for treatments that are based on client ability, pet's manners, chronicity of issues, and offending agents. You are not going to be able to treat every single one of these the same. Even when you are treating similar bacterial infections, the chronicity or pain from the inflammation in one case may not allow a topical regimen; and an oral regimen may be required for the beginning whereas another, less painful case can be treated topically from
the beginning.
Treatment options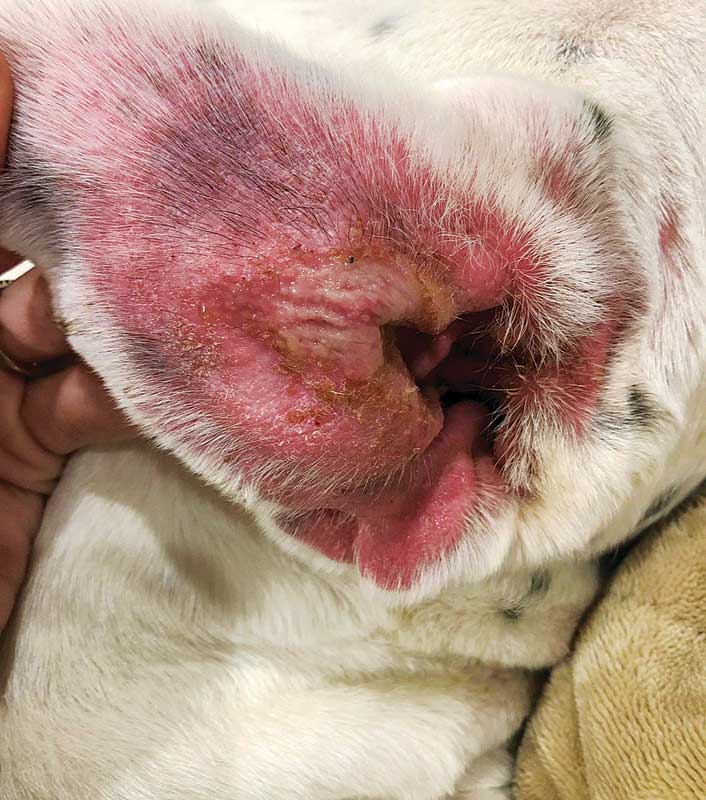 Take an average, S. aureus otitis externa, with no inflammatory cells or yeast in the cytology. This can be treated in several ways with medication in your hospital. A great in-house cleaning solution applied to the ear will work great! So, could educating the client on proper ear cleaning and sending home otic suspension with a standard ear cleaning solution proper to the situation.
What if the pet comes in with that same scenario, except they are very inflamed and painful? Going right after that painful area could be a recipe for disaster. Beginning with a tapering anti-inflammatory prednisone dose and oral antibiotic to start then moving to a topical regimen could be a good strategy!
What about rod bacteria otitis externa? Confirmation is key, and you will never be wrong sending off a sample for a culture and sensitivity, especially when first starting in-house cytology (doing both will make you better down the road).
Making sure you are pairing the medicine choice with the presenting bacteria is of utmost importance. I tend to use a lot of antibacterial medication for these cases. Most of these cases presenting in my office are very painful! Using a combination of a short burst treatment of prednisone and oral antibacterial medication, then transitioning to the topical treatments for multiple weeks is a good strategy. Making sure to get a follow up cytology of these to confirm that the treatments were successful and the infection is clear before ending these is a must.
Malassezia yeast will be something you will have to discuss with your clients at length. This organism can cause issues from several different fronts. If not kept in check, they will lead to a lot of "repeat offenders," as they are called at my office. Malassezia cannot only cause a continuation of an infection, but the pet can also become allergic to this organism that is literally living in their skin. Making sure you address this with topical medication with anti-yeast additives and a proper ear cleaner is a must. These pets will likely need to be put on some sort of regimental cleaning to keep these infections from reigniting. I like to explain to these owners anyone can treat these kinds of infections, but the "art" is in preventing them.
Proper diagnosis, identification of conformation changes, and lifestyle behaviors will be very important to your abilities as a practitioner with otitis externa cases. The ability to pair the proper ear cleaners and medication to the presented infections will make you a very good practitioner, but the ability to add the capabilities of the owner to that mix, can make you a special practitioner.
Cade M. Wilson, DVM, is a practicing veterinarian and a three-doctor mixed-animal practice owner in Ardmore, Okla. He has been practicing small animal medicine for the last 18 years and been a practice owner for the last 15 years.