Hydrotherapy equipment? Check. Bereavement room? Check. TVs in the waiting room? Check. Bland design? No.
Building a veterinary hospital today requires detailed planning that accommodates all of a practice's clients and modalities while leaving options for future specialty services. And it should be done, architects say, in a visually appealing and practical way while keeping individual budgets and practice needs in mind.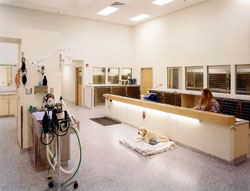 Photo Courtesy of BDA Architecture
Architecture of Albuquerque, N.M., designs post-surgical areas in which patients can recover in the open for closer monitoring.
"General practitioners are trending toward offering more and more services like those found in human medicine," says Warren Freedenfeld of the architectural firm Rauhaus Freedenfeld and Associates of Boston and Laguna Hills, Calif. "Hydrotherapy, CAT scans and MRIs all need to be considered in new designs. Basically everyone wants to pack a lot into a small envelope."
While some equipment requires a lot of room, new technology can save space. Digital radiography, for example, has eliminated the need for a darkroom and X-ray storage.
Sustainable Design
Thoughts of LEED certification (Leadership in Energy and Environmental Design) often cross the minds of veterinarians building a new practice, but architects say it's generally too costly. But building sustainably, or "green," is always an intelligent move, they say.
"For veterinary hospitals, it's smart to build to assure good indoor air quality, energy efficiency, good use of daylight and use of long-lasting, durable materials," says Wayne Usiak, AIA, the CEO of BDA Architecture in Albuquerque, N.M. "It's not worth worrying about LEED certification, considering the paperwork alone can cost up to $30,000. You can build sustainably without the LEED plaque."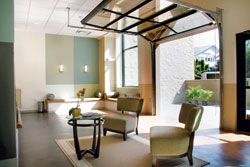 Photo courtesy of TerWisscha Construction
The design of today's clinic waiting room often mimics a hotel lobby. Comfort in the waiting room is a big concern.
Being energy efficient can be as simple as adding ceiling fans instead of relying on air conditioning, says Sal Longo Jr. of Crosby Longo Architecture Studio in Lafayette, La.
"Natural ventilation means operable windows," Longo says. "Using tinted or Low-E glass will assist in energy efficiency. Insulating walls, windows and roofs helps maintain room temperature."
Building sustainably means reducing the exam room size and the number of doors, Usiak says. The 1,200 square feet typically devoted to exam rooms has been reduced to about 1,000 to 800 square feet.
"Vets like two-door exam rooms—one door for patient and client entrance and the other for veterinarians and staff," Usiak says. "Two doors means an entire extra hallway, which is space that could be used elsewhere. About 60 percent of hospitals built today go with one-door exam rooms."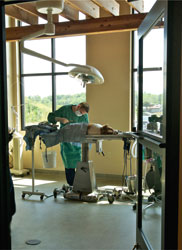 Photo courtesy of TerWisscha Construction
Operating rooms today often are built to incorporate more natural light.
Multipurpose rooms are growing in popularity and can be altered to accommodate a practice's revolving daily needs.
"We built a multi-task room that had a folding glass wall," says Mark R. Hafen, AIA, of Animal Arts Design Studios in Boulder, Colo. "During the morning and afternoon rush it's used as an exam room. Midday, when most of the activity is in the treatment room, the wall is folded back and the room becomes a working alcove off of the treatment room."
"Veterinarians know that clients tend to compare the aesthetic appearance of a veterinary practice to the ability and quality of medicine offered by the doctor," Usiak says. "This judgment can mean the difference between acquiring clients or missing out on clients."
Decisions
What veterinarians hope to accomplish by building a new practice, redesigning one or adding on makes a difference in architectural decision-making.
"Ask yourself if you solely want to profit from the practice or if you are willing to invest back into the practice regardless of the return on investment time frame," says general contractor Joe McCarthy of JF McCarthy Construction in West Chester, Ill. "Financing for start-up practices was once about $675,000 and is now more like $450,000. The lending scene is changing more rapidly than ever, which is a big factor when building in the current economy."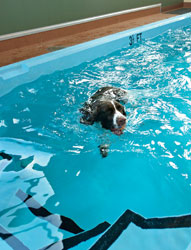 Photo courtesy of TerWisscha Construction
When space permits, a therapy pool can be an important practice modality.
The durability of construction materials is essential, builders say. Though veterinarians want an attractive practice, sanitation can't be sacrificed.
"Architects are constantly looking at new products and finishes," says Kelly TerWisscha, owner of TerWisscha Construction in Willmar, Minn. "When you're dealing with human hospitals, you don't have to worry as much about patients that want to pee in every corner they can find, but in veterinary architecture, you want something that looks good and cleans up easily."
Comfort in the waiting room has become a big area of concern. Waiting rooms scattered with magazines no longer are sufficient.
"Mixed seating options such as benches and chairs can make a wait more comfortable and accommodate people with different-sized families and mobility capabilities," Usiak says. "Televisions with educational veterinary DVDs playing and a refreshment area help pass the time so owners don't mind as much if you are running behind schedule."
While the design of today's veterinary waiting rooms mimics that of hotels, the medical areas rival those found in human medicine.
"We design a recovery area for animals out of surgery called 'The Beach,' " Usiak says. "Patients can recover on towels on the floor in front of cages so they can be monitored more closely by technical staff."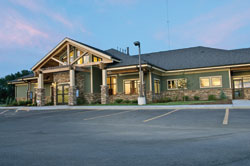 Photo courtesy of TerWisscha Construction
Region and community play roles in how a clinic's exterior should look.
Classroom space is being requested more frequently, some architects say, but it isn't a big seller for practices working on a tight budget.
Educational space is a luxury for large practices that host frequent student visits and provide continuing education for staff.
Employee break rooms are important, too.
"A break room lets staff eat lunch comfortably," McCarthy says. "This helps to keep staff at the practice, which saves time. Providing a table, microwave and refrigerator assists in employee satisfaction versus eating a sandwich over a dog in a back room."
Bereavement counseling rooms are becoming more common and are designed with a residential feel, McCarthy says.
"Bereavement rooms let owners talk to veterinarians and staff more comfortably than in the medical setting," McCarthy says. "This also frees up an exam room while allowing clients to compose themselves at their own pace."
The Lending Scene
Statistically, the veterinary profession has long been labeled a reliable industry to lend to, but that holds little weight in today's economy.
Lenders who cater to the profession or have large numbers of veterinary customers say they've seen some decrease in loan availability this year. The government's reduction in loans for Small Business Assn. (SBA) loans hit the profession hard.
"While the government waived the 2.5 percent loan fee, they tied the hands of lenders," says David Alvey, president of Atlantic Commercial Credit in Rock Hill, S.C. "On March 16, the government limited goodwill finance loans to a maximum of $250,000. These are the types of loans veterinarians usually get for practice startup loans, renovations and new construction when they've outgrown their current building."
While established veterinarians with attractive business plans and stellar credit histories aren't encountering many lending obstacles, lenders who go above and beyond for their customers say they are picking up the slack for competitors to help finalize veterinary architecture loans.
"This year we've had the same volume of loans performed as usual, but we've also been receiving frantic calls from veterinarians saying their lender backed out and they're in the middle of a project," says Annemarie Murphy, a senior loan officer and part owner of Live Oak Bank in Wilmington, N.C. "There's no rhyme or reason to which banks will end their deal—no region or size of bank is standing out—but it's happening all over the country."
Lenders say they aren't receiving as many applications for start-up loans and attribute the reduction to vets waiting out the bad economy.
"I suggest that veterinarians considering applying for a construction loan investigate all SBA loan options," Alvey says. "There are many SBA programs that go unused every year because no one knows about them."
Veterinarians who offer boarding are building fewer kennels but making them nicer to validate a higher fee, Usiak says.
Designing the inside of a practice takes lots of time and thought. But architects say it's important not to overlook the exterior. The region and the community play the largest role in the choice of materials that potential clients will see first.
"Some veterinarians want their building to fit in with local structures, while others want it to stand out," TerWisscha says. "Quite a few metropolitan veterinary hospital designs surpass the appearance and function of medical doctor offices."
Paying for It
Usiak says that about 40 percent of clients say they have financing for a construction project, but that usually means they have only verbal approval from a lender.
"Sometimes veterinarians don't realize the chain of events that must occur before approval is given," he says. "This means appraisal, a loan committee, and business plan. So really, the approval and budget set the tone for the entire project."
Generally speaking, architects are reporting less construction in 2009, due in part to veterinarians' cautious nature in a poor economy and also to banks' lending atrophy.
"If you look at surveys of vets, their business isn't off by much," says Hafen, of Animal Arts Design Studios. "In situations where business isn't bad, vets are lacking in confidence to build. Construction costs, especially along the coasts, have increased over the past 10 years, so practices that are built are looking at doing more with less." <HOME>
This article first appeared in the October 2009 issue of Veterinary Practice News