Suggested Veterinary Products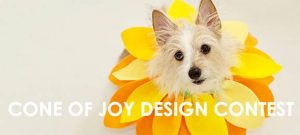 Memes about the "Cone of Shame" abound on the internet, despite the fact that these devices often are medically necessary for companion animal recovery. Trupanion aims to take the "shame" out of the cone with its Cone of Joy design contest.
The Cone of Joy design competition is simple: Design a fun and fashionable pet-friendly cone and submit a high-quality photo and a brief description of the creation to trupanion.com/coneofjoy.
Pet lovers in the U.S. and Canada will vote for their favorite Cone of Joy submissions. The 25 finalists who receive the most votes will each win a $100 cash donation to an animal welfare organization of their choice.
How to enter the Trupanion competition
Create an original design using a cone for a cat or dog
Submit a photo of your design and a brief description on trupanion.com/coneofjoy
Vote for your favorite design through Oct. 20
Share your submission and encourage friends, family, colleagues, and followers to vote to increase your chances of winning
"This is a fun way to celebrate the wonderful work shelters do throughout the U.S. and Canada," said Chloe Gill, shelter channel manager at Trupanion. "The funding will help these shelters in their day-to-day operations. We're delighted to highlight the role shelters play in finding loving homes for cats and dogs and give our talented pet owners the chance to unleash their inner Warhol."
To enter and view full contest rules, visit trupanion.com/coneofjoy.