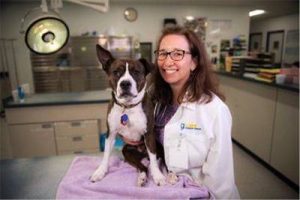 The University of California, Davis Veterinary Medical Teaching Hospital (VMTH) has launched a public educational series of lectures on animal health topics. The series—An Evening with Vet Med—will feature on-campus seminars once a month that are free and open to the public. The lecture series is geared toward both large and small animal owners interested in learning the latest in caring for their four-legged family members.
The first three lectures in the series are:
Farrier Services: Hoof Care Myths and Truths
June 26, 7-8 p.m.
Presented by UC Davis farrier Shane Westman
The event is free, but you must register.
Basic First Aid and Preventative Care for Horses
July 24, 7-8 p.m.
Presented by UC Davis equine resident Emily Schaefer, DVM
The event is free, but you must register.
Pet Dental Health
Aug. 21, 7-8 p.m.
Presented by UC Davis dental hygienist Kimi Kan-Rohrer
The event is free, but you must register.
"We are so excited to bring this lecture series to animal owners in the community," said Jane Sykes, BVSc (Hons), PhD., DACVIM, VMTH chief veterinary medical officer. "At UC Davis, the health and wellness of our clients' animals is our No. 1 priority. Preventative care is one of the most important things owners can provide to their pets, and these lectures will help owners with that by staying abreast of the latest in veterinary medicine."
Future topics in the series may include:
Basic dog and cat first aid
Dog breeding practices
Foal care
Biosecurity at farms and horse events
Environmental hazards for animals
Animal behavior
Eye health
Lameness in dogs
Colic in horses
Vaccinations and parasite prevention for dogs and cats
"We see so many preventable conditions in the animals we treat here," said Dr. Sykes. "These seminars could go a long way in helping our clients better understand how to keep their pets safe and healthy."
All presentations will take place in Valley Hall on the campus of the UC Davis School of Veterinary Medicine. The events are free, but participants must register. For more information, see the veterinary school's website.