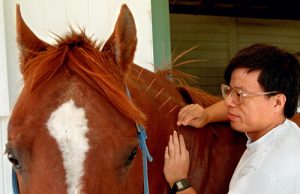 The University of Florida College of Veterinary Medicine will open a new acupuncture center early next month for horses in the Ocala/Marion County area, which is home to several Kentucky Derby winners and is often referred to as the "horse capital of the world."
The UF Equine Acupuncture Center will consist of a 6,240-sf barn, which includes 12 stalls and a treatment area, and a 12,500-sf arena. The center will function as a clinic through which Huisheng Xie, BSc,VM, PhD, a clinical professor in the integrative medicine service at the UF Veterinary Hospitals, will provide acupuncture therapy to aid in treatment of a variety of conditions affecting horses.
Dr. Xie founded The Chi Institute of Traditional Chinese Veterinary Medicine in 1998. The new center will be located adjacent to the Chi Institute, about two miles west of Interstate 75 in Reddick.
"Acupuncture has been practiced in both animals and humans for thousands of years in China," he said. "The benefits of acupuncture have been documented in an increasing number of clinical trials, and, as a result, we have a better understanding of acupuncture's method of action. Our patients can benefit greatly from these new developments."
Acupuncture involves the use of specific methods to stimulate points on the body in order to elicit a therapeutic effect. These points are referred to as Shu-xu, or acupuncture points, Xie said.
Studies have shown that acupuncture therapy may be effective in treating musculoskeletal conditions, lameness, neurological disorders, reproductive, respiratory and gastrointestinal disorders, dermatological issues and even behavioral problems.
For more information about the new center, visit vethospitals.ufl.edu.