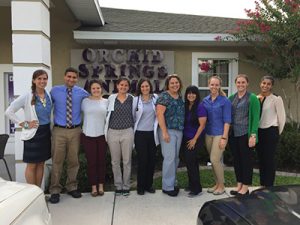 The University of Florida College of Veterinary Medicine is offering a program designed to help its students develop business-related skills from contract negotiations to debt management as practice owners.
"Ours is the only college of veterinary medicine in the country that offers an academically credentialed business management certificate program," said Martha Mallicote, DVM, the program's director and a clinical assistant professor at the college.
The UF Veterinary Business Management Certificate program, which began in 2013, is an offshoot of a business management course begun by Dana Zimmel, DVM, associate dean for clinical services and chief medical officer for the UF Veterinary Hospitals.
The program features 10 hours of elective coursework, or six courses, including a clerkship, in which students provide the owner with a financial, fee, and compliance analysis, along with feedback on inventory management and a strategic marketing assessment. Students must complete a report summarizing their findings and suggest improvements.
As of 2018, 109 students had earned a certificate and 38 veterinary practices had been evaluated through the program's practice management clerkship.
"Student evaluations are very positive," Dr. Mallicote said. "We also get good feedback about them finding employment, as well as from employers who have found value in the program. The practices we have worked with are overwhelmingly shocked, in a pleasant way, by the work that we are doing."
The program's emphasis on the business side of being a veterinarian can't be overstated, she added.
"You'll make more money as an owner than you ever will as an associate,'' she said. "That messaging, to me, has been a big part of this program from the start."
Mallicote offered the example of a practice with gross annual revenue of $2 million and a profit of $350,000.
"If you finance over 10 years, the profit pays the loan down," she said. "But you are getting the loan on the value of that practice. The fact that you don't have $500,000 to put down is not a problem, because you have the practice as collateral. So, a well-run practice buys itself."
The same holds true of buying into a practice; the small amounts new associates purchase to have a "piece of the business" are basically paid for by the profit generated by the business, Mallicote said.
Real-life accounts
Chris Ziegler, DVM, a 2015 graduate of the college who works for Town & Country Veterinarians and Pet Resort in Gainesville, said the program equipped him well for private practice.
"Throughout our education, we get the sense that our job as veterinarians is to practice medicine at the 'ivory tower' standard, and to a great extent, that is true,'' Dr. Ziegler said. "What we don't always learn is that there is a side of veterinary medicine—cost—that we aren't truly introduced to until we graduate."
Ziegler said he was referring not just to the cost of veterinary services to the client but to the veterinary hospital providing services to that client.
"Private practice is a business, there's no way around that," he said. "Money dictates not just what treatments our clients can afford, but what treatments and equipment our practice can afford to offer. Making a practice profitable is not a selfish endeavor, because reinvesting that money allows us to perform more up-to-date medicine."
For example, knowing how to do a cost/benefit analysis could help determine whether a practice owner can afford to purchase a new piece of equipment such as an ultrasound machine, he said.
Alexis Muniz, DVM, a 2017 graduate, received her business certificate and now practices at Keystone Heights Animal Hospital. She feels she can better serve her clients and the company she works for because of what she learned in the program.
"I can't stress enough how crucial it is for young veterinarians to know what I takes to run a practice," Dr. Muniz said. "Even for those with no interest in ever owning one, knowing how and where practices survive is of outmost importance even when trying to be a good employee, let alone an owner."