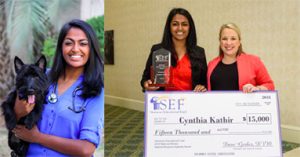 After two rounds of essays, fourth-year University of Florida College of Veterinary Medicine veterinary student Cynthia Kathir won the Business Aptitude Award, which includes a $15,000 prize.
The award is given by the Simmons Educational Fund, a nonprofit organization that educates practitioners and students about veterinary business. Every veterinary school in the U.S. is invited to compete for the award.
The first stage of the competition pitted her against 15 UF veterinary students. Kathir wrote about her five-year plan after graduating from veterinary school, which included working in a veterinary practice focusing on small animals to gain the experience to open her own practice.
In the second stage, Kathir competed against about 30 others who had won at their universities. This time, she had to analyze a fictional scenario of a generic associate veterinarian weighing the pros and cons of working for a practice.
Kathir is the second UF student in the past four years to win the award.