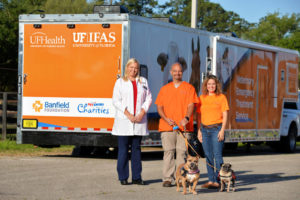 Pets now have additional support when a natural disaster strikes, thanks to a new $150,000 disaster response vehicle.
Able to treat large and small animals, University of Florida (UF) Veterinary Emergency Treatment Service (UF VETS) offers technical rescues and logistical support to veterinary clinics and other response teams, as well as provides initial assessments of impacted areas. In the past, the team has responded to hurricanes, wildfires, flooding, and animal hoarding situations.
"Disaster relief is a key component of the Banfield Foundation, and we are humbled to support the important work of first responders as they offer help and hope to communities in need," says Banfield Foundation executive director, Kim Van Syoc. "Veterinary professionals who respond during natural disasters are truly inspiring. We hope this new vehicle improves not only the response process, but also the lives of those doing the lifesaving work."
Funded by a grant gifted by Banfield Foundation and PetSmart Charities, the truck will function as a communications hub to interact with local emergency operation centers, shelters, and state agencies. The vehicle comprises a 44-ft (13-m) mobile command and infrastructure support truck and trailer.
"We're grateful for the support of the Banfield Foundation and PetSmart Charities, as this one-of-a-kind emergency response vehicle enables our team of volunteers and veterinary emergency responders to help make a measurable difference to families and pets affected by natural disasters," says UF VETS medical director, Larry Garcia, DVM, a clinical assistant professor of shelter medicine at the UF College of Veterinary Medicine.
"This lifesaving addition to our UF VETS fleet allows us to expand our reach throughout Florida, and to affected communities in surrounding states like South Carolina, Georgia, Alabama, and Texas. Most importantly, we'll be able to help even more families and their pets."