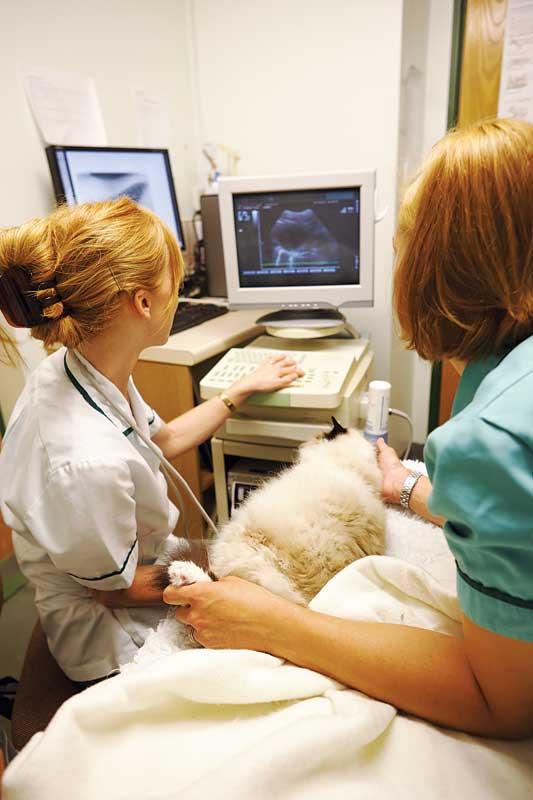 "An ultrasound machine that is a 'must have' for one practice may not hold the same status for another."
What seems like an obvious statement is testament to why veterinary practices must thoroughly evaluate exactly what equipment their practice needs.
Most companion animal practices should have at minimum a micro-convex probe with a frequency range of 3 to 9 MHz," said J.K. Waldsmith, DVM, president of San Luis Obispo, Calif.-based Vetel Diagnostics. "For larger dogs, it's good to have a probe that has greater tissue penetration.
"Most practices can do fine with an ultrasound that only produces black and white images, but more and more veterinarians are choosing systems with color flow Doppler and other cardiac imaging tools as the cost of these features drops," he added.
Also determine whether your practice will need video clips, DICOM (digital imaging and communications in medicine) functionality, and network/telemedicine capability, Waldsmith said.
"You pay more for all of this, but it's probably worth it as the profession goes more and more toward telemedicine and remote-assisted diagnostics," he said.
One of the biggest trends he's seen is that, with the exception of specialty/tertiary level veterinary facilities, the veterinary market has gone largely toward portable ultrasound machines, also referred to as "point of care" ultrasound in human medicine.
These portable systems usually are one of two designs: lunchbox and laptop.
"On the horizon are devices that use a tablet that fits in to a docking device that houses the rest of the ultrasound hardware and probe connections," Waldsmith said. "Similar systems can even run on a smartphone. For the most part, with advancing technology, all of the portable ultrasound systems preform as well as the stationary, console ultrasound systems."
Tech to think about
"It's tough to recommend a specific machine or company, as there are so many good ones out there now," said Eric Lindquist, DMV, DABVP, CEO of SonoPath.com. "This was not the case five or 10 years ago."
Purchase a machine that images best in the eyes of the sonographer in head-to-head scanning and has the least knobology steps in the procedure from scan to image offload to teleconsultation evaluation, Dr. Lindquist recommended. Other considerations include reliability and durability, and how the sales company supports the unit and its service agreement, he added.
Getting good images is an absolute priority when considering new ultrasound equipment, said Amy L. Harlacher, executive director of equipment and supply at Henry Schein Animal Health.
"A high-quality ultrasound system will provide better definition of organ structure and pathology," Harlacher said. "This allows the operator to work quickly with confidence. Furthermore, if a second opinion is needed, a high-quality system will allow a boarded specialist to see the detail they need to certify a diagnosis."
Harlacher touted Mindray's Z5 Vet, which she described as a "high-quality, easy-to-use digital system with many advanced features for well under $20,000," as well as the Hitachi Arietta Prologue, a tablet-based system with touch-screen capabilities and high-quality imaging capabilities. The Prologue shares the same software and probes as Hitachi's $100,000 high-end platforms, according to Harlacher.
"Both of these systems are DICOM ready to connect to teleradiology for additional interpretation or on-site storage to a PACS or PMS," she added.
While radiography and ultrasound often are used in conjunction for a diagnosis, each imaging modality has its strengths and weaknesses, according to Mike McElroy, director of market development for Sound-Eklin.
"While radiography offers superior images of the lungs, gas-filled tissues, and bones, ultrasound is faster and more detailed when examining the heart, soft tissues, fluid build-up, and intra-organ growths," McElroy said.
He called the NextGen LOGIQ e the "go to for veterinarians whose practice relies heavily on imaging," and added that the product is highly regarded by internists and radiologists because as it delivers large console performance in a portable, battery powered platform.
Ultrasound has become expected technology, according to Steve Rollins, director of ultrasound sales for Cuattro in U.S. and Canada.
"Having the ability to get real-time information and not just a snapshot in time is critical when making a diagnosis," he said.
Rollins said the Esaote MyLab Delta portable digital ultrasound is a go-to machine for practices.
"It offers image quality combined with a ruggedized, splash proof, easy-to-clean shell, and two probe connections, and Esaote's focus on veterinary-specific development make it a must have for veterinarians," he said, adding that the product produces "console-quality images in an ultra-portable design."
Richard Brunelli, president of New York-based Universal Imaging, is a fan of Toshiba Medical Systems' new equipment, in particular the Xario line, and the Aplio hospital-grade models because "they have what is called harmonic technology, which allows the practitioner to see deeper and at higher frequencies," he said.
Brunelli agreed that the value ultrasound brings to a practice is hard to overstate.
"You can use ultrasound for almost anything," Brunelli said, adding that for geriatric specialists, ultrasound machines are "basically a cancer finder."
"I can't tell you how many times we've demonstrated equipment on a patient that is sick and then we find there's a softball-size mass growing in the abdomen," he said.
Look for machines with good contrast resolution, which enable them to pick up subtle differences in organs, he recommended.
"Contrast resolution and spatial resolution are the two most important things," he said, adding that he also puts penetration high on the list of important attributes.
Personnel considerations
Quality images are key to diagnostic capabilities, but just as important are the abilities of those who use the equipment, according to Waldsmith.
"It takes training and practice to manage the inherent artifacts in ultrasound and to recognize what you are looking at," he said. "Most ultrasound systems can do the job, but it takes training and experience to be confident about the diagnosis. With telemedicine, and evolving real-time web-based consulting, it's becoming much easier to implement ultrasound in practice because of these avenues of support."
About 200 studies of any particular anatomical region are required for users to be confident they can recognize normal and manage artifacts, Waldsmith said.
Lindquist agreed.
"This is why just how much value an ultrasound machine brings to a practice depends greatly on proper training and abilities of the sonographer to obtain a complete image set and evaluate or obtain remote evaluation of that high-quality image set," he said. "An even better term for this process is 'clinical sonography'; combining ultrasound imaging with solid internal medicine concepts."
When done right, clinical sonography is the best instrument available in veterinary medicine to enhance diagnostic efficiency when considering economic and personnel investment, and information obtained, Lindquist said.
"The benefit is that the patient receives a timely diagnosis and direction to the pathology at hand," Lindquist said. "This process can take a number of hours with sampling procedures and further diagnostics or in many cases employs a matter of minutes to know what is going on and where to take the patient next. The longer the patient waits for a diagnosis the more dramatic the recovery or suffering becomes."
 INDUSTRY VOICES: TIPS FOR SELECTING AN ULTRASOUND UNIT TO BEST SUIT YOUR CLINIC'S NEEDS
J.K.Waldsmith, DVM, president of Vetel Diagnostics
"Be willing to pay for image quality. If the image is not good enough, you may not be confident in what you are seeing and the resulting diagnosis. Ensure the features included in your ultrasound are permanent versions, and not trial versions of a particular function, such as DICOM imaging, color flow Doppler, or cardiac measurement tools."Tony Pease, DVM, MS, DACVR, chief veterinary medical officer for the Western Veterinary Conference, Oquendo Center
"Find a reasonable price point. It's true you get what you pay for, so make sure you put enough of an investment toward the ultrasound and ask for a demo of the unit and determine if it suits your needs. Get some training and constantly keep learning. Ultrasound is an interactive modality that requires skill to acquire and then assess the images. Use it! So many buy a machine and leave it in the corner. Ultrasound the kidneys and urinary bladder on the cases of urinary tract signs, ultrasound the liver if the blood work has abnormalities, look at the gastrointestinal tract."

Amy L. Harlacher, executive director of equipment and supply at Henry Schein Animal Health
"Consider features, benefits, and implementation. Understanding the clinical needs of the practice and its clients ensures the investment will not only meet the current practice needs, but also the requirements of future expanded services. Implementing an ultrasound protocol into the practice is key—not only to recoup ROI, but also to enhance the diagnosis, treatment, and prevention protocols. Read the fine print and understand total warranty coverage. Warranties may or may not cover probes, shipping, travel, labor, or loaner machines."

Mike McElroy, director of market development for Sound-Eklin
Determine what your goals are for ultrasound before you start demonstrating equipment. On demo day, have available animals that represent the typical patient in your practice, such as a large dog, a medium dog, and a cat. If you evaluate multiple systems, have the same or similar animals available. Scan yourself to determine how easy the system is to use. Ask what educational options are available, such as online or hands-on."

Steve Rollins, director of U.S. and Canada ultrasound sales for Cuattro
"Ensure that the platform is designed for the veterinary market and that it includes veterinary-specific software, not just a label slapped on it that says 'Vet.' Know what options you are getting; vendors can make this confusing by offering multiple versions of the same system, like 'Pro,' 'Expert,' and 'Basic.'"

Richard Brunelli, president of New York-based Universal Imaging
Don't get suckered with a bunch of useless features—go for the best picture quality possible. Ensure you get the best continuing education package available, because you're not going to learn this stuff online."

Eric Lindquist, DMV, DABVP, CEO of SonoPath.com
"Ask yourself if you or your eventual scanning personnel can dedicate two hours in the workday to the ultrasound curve over the next year to make the project a truly functional part of your workflow and profitable to justify the economic numbers involved. The reality is that many practice owners don't climb the ultrasound curve well and fall off in the process due to distractions.

"Ask yourself if you can you afford it. Expect to pay between $700 and $1,000 per month on a lease or loan for a solid ultrasound machine for the next four to five years. Do you have at least three to five sick patients or more each week in your facility? If your answer isn't 'Yes,' your facility couldn't even entertain the cost of bringing ultrasound in house from a profit and loss standpoint.

"Pick and choose your educators wisely, as this is a caveat emptor issue as much as the machine purchase."