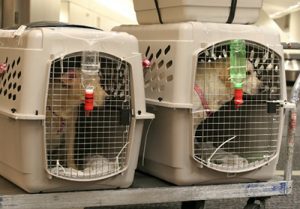 In response to numerous animal-safety related instances in recent months, United Airlines has announced new PetSafe rules for transporting animals in cargo. Effective June 18, more than 25 breeds of brachycephalic cats and dogs will be banned from cargo holds on United aircrafts, including chow chows, bulldogs, mastiffs, pugs, and boxers, as well as Burmese, Himalayan, and Persian cats.
Additionally, due to concerns of animal safety during hot weather, United Airlines will no longer accept reservations to ship any animals to or from airports in Las Vegas, Palm Springs, Phoenix, and Tucson between May 1 and Sept. 30 each year. The amended rules also limit the number of connecting cities a shipped pet may be routed through and limits the height of crates to 30 inches.
"As we continue our review process to ensure that we are always doing what's right, we are committed to making significant improvements in our program and adhering to the best practices of animal comfort, well-being, and travel on behalf of our customers and their pets," said Jan Krems, vice president of cargo for United Airlines.
United's review of its pet handling processes and policies follows several safety-related incidents that took place in its aircrafts. According to the U.S. Department of Transportation's February 2018 Air Travel Consumer Report, 2017 saw more animal fatalities and injuries on United flights than any other airline, reporting 18 animal deaths and 13 injuries.
Earlier this month, United announced collaboration with American Humane to improve the safety and security of animals on the airline's flights.
"Transporting pets introduces a variety of risks and when United approached us, we knew we had to take on the challenge of helping improve and ensure the health, safety and comfort of so many animals," said Robin Ganzert, Ph.D., president of American Humane. "United serves thousands of customers and their pets each day, and we saw it as our duty to come in as an independent, third party to help evaluate and further improve their PetSafe program and the in-cabin experience to ensure it offers one of the best in the industry."