Suggested Veterinary Products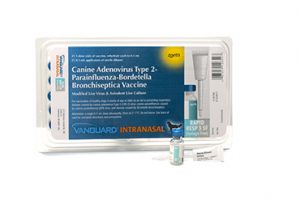 The USDA has granted Zoetis' Vanguard Rapid Resp intranasal vaccine line one-year duration of immunity (DOI) claims for Bordetella bronchiseptica, canine adenovirus type 2 (CAV-2), and canine parainfluenza virus (CPiV). Vanguard Rapid Resp is the first and only intranasal vaccine line in the US that has been demonstrated to provide one year of protection against three important canine infectious respiratory diseases (CIRD), according to the company.
"The demonstration of a one-year duration of immunity for all three antigens in Vanguard Rapid Resp represents an important step in the protection of dogs from CIRD. This new DOI confirms the efficacy of a single product that provides both rapid and durable protection against these important antigens in the CIRD complex," said Stephan Carey, DVM, Ph.D., DACVIM, assistant professor of Small Animal Clinical Sciences at Michigan State University College of Veterinary Medicine, consultant for Zoetis. "This extended DOI is essential in reducing morbidity and mortality from infectious respiratory disease among dogs in social or commingled environments such as boarding facilities and shelters."
Vanguard Rapid Resp is available in three antigenic combinations (Bb + CPiV + CAV-2; Bb + CPiV; Bb only), and all of these choices can be administered with a syringe or a syringe-free applicator.
Visit VanguardRapidResp.com for more information.