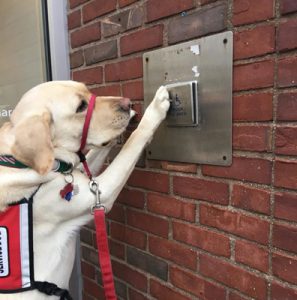 VCA Animal Hospitals and its nonprofit partner organization VCA Charities have donated more than $12,000 to NEADS Inc. (formerly known as the National Education for Assistance Dog Services and Dogs for Deaf and Disabled Americans), the internationally accredited nonprofit organization that raises and trains service dogs for people with disabilities.
From the beginning of April to June 2, 24 animal hospitals in Massachusetts and New Hampshire collected donations by encouraging clients to round up their transactions to the nearest dollar or to donate online.
"We want to thank all of those clients, donors, and staff for helping to make this years' 'Pennies for Pets' a success," said Lauren McVey, regional operations director for VCA Animal Hospitals. "These funds are helping our valued animal-welfare partner groups improve lives in our community."
NEADS service dogs offers service dogs for adults and children with a physical disability, service dogs for veterans, and hearing dogs and service dogs for children with autism or other developmental disabilities. The organization's assistance dogs are partnered with professionals in classroom, hospital, ministry, and courthouse settings. Learn more at neads.org.
Reported by Sentinel & Enterprise.