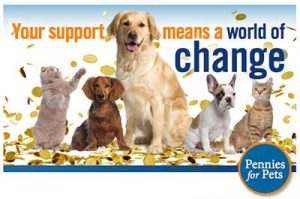 VCA Animal Hospitals second annual Pennies for Pets fundraising program, which leverages its 800 hospitals in North America to raise awareness and funds for local companion animal welfare organizations, hopes to hit the $600,000 mark this year, topping last year's total.
The campaign is administered by VCA's non-profit partner organization, VCA Charities. During the national campaign, clients at participating VCA hospitals can donate to help companion animal welfare organizations in their local communities.
The objective of the Pennies for Pets program is to provide a platform for collecting donations at VCA Animal Hospitals to financially support local companion animal welfare organizations. Last year, the campaign raised $450,000 nationwide through VCA hospitals to benefit more than 85 animal welfare organizations.
"VCA has always believed that companion animals deserve a happy and healthy home since our inception in 1986," said Brandon Antin, VCA vice president of social responsibility and innovation. "Through the Pennies for Pets campaign, we will continue our efforts to improve the lives of pets and their families by supporting local companion animal welfare organizations."
"The need for assistance for pet welfare organizations continues to rise," said Ron Tatum, VCA Charities executive director. "Through our partnership with VCA hospitals on another successful VCA Charities Pennies for Pets fundraising campaign, we are all working together to help more pets in need."
The Pennies for Pets campaign runs during the months of April, May, and June with a national fundraising goal of $600,000. Donations are accepted at participating VCA Animal Hospitals or online at VCAcharities.org. The complete list of organizations that will benefit from the fundraising efforts are available on the website.