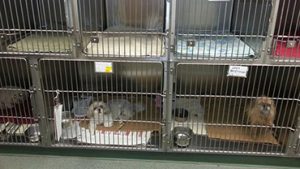 VCA Animal Hospitals announced that select VCA hospitals in Southern California near Los Angeles are offering free boarding assistance for small animals, including dogs, cats, birds, and pocket pets to families who are impacted due to multiple wildfires burning in the area, including the Thomas, Rye, Creek, and Skirball Fires that have resulted in major evacuations.
"Our thoughts are with the many families who are being impacted by these wildfires," said Art Antin, chief operating officer of VCA Animal Hospitals. "We are extending free boarding for family pets that have been displaced by these fires so families can feel confident their pets are safe and focus on their priorities during this critical time."
Boarding assistance at participating Southern California hospitals that are in close proximity to the fire areas is based on space availability. Pets should be current on vaccinations, but in case they are not, VCA veterinarians will update vaccinations free of charge. VCA hospitals also will offer a free health assessment exam for pets that have been evacuated or displaced because of the fires.
Pet owners are encouraged to contact the American Red Cross, visit vcahospitals.com/main/directory, or call 1-800-VCAPETS to check availability for boarding assistance in the affected areas.