Suggested Veterinary Products
Cooking for dogs is a trend that's been around for years, but the funny side of it hasn't ever really been talked about. That's what a new book, "Canine Kitchen Capers: A Humorous Look At Preparing Food for Dogs (& Spouses)" is all about: how hysterical it can be.
Written by Judy Morgan, DVM, a holistic veterinarian, and her husband Hue Grant, the book is full of stories of cooking misadventures, such as:
Vegetarians willing to cook meat only for their dogs;
The woman who spent three days canning food for her dog, forgetting her kids and feeding her husband cold cereal; and
The occasional starving husband who can't stop himself from secretly scarfing the dog's homemade stew.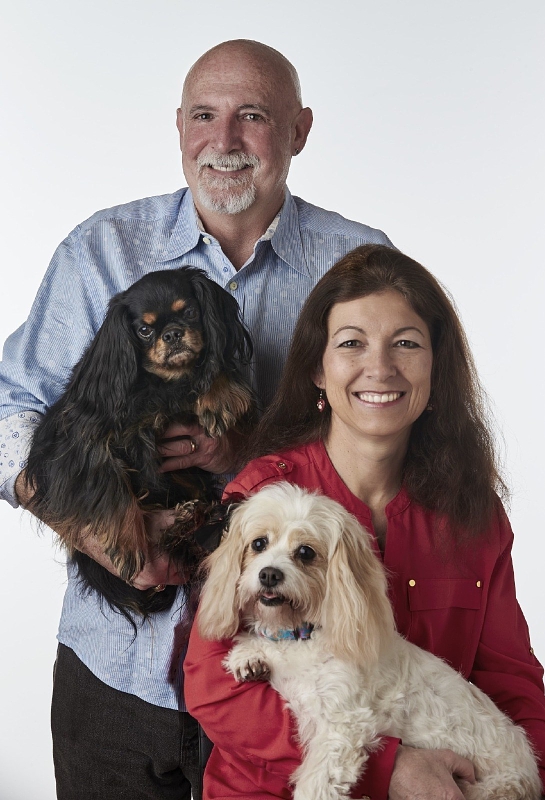 Judy Morgan
Authors Hue Grant and Judy Morgan, DVM, with two of their rescued spaniels.
Morgan says the stories in the book were submitted by readers of her prior book, "What's For Dinner Dexter? Cooking for Your Dog Using Chinese Medicine Theory." A recipe for dog food and a complementary recipe for humans accompany each story. For example, "Butternut Squash Banana Treats for Dogs" is followed by "Maple Bacon Pecan Butternut Squash for Humans."
Despite the book's humor, Morgan is serious about encouraging pet owners to make their own dog food. She says making dog food at home is a great way to not feed any of the negative items that can sometimes be found in processed dog foods.
Judy Morgan, DVM, is an author and speaker, and is certified in acupuncture, food therapy and chiropractic care for dogs, cats and horses. She operates two veterinary practices in New Jersey and has been a guest on more than 50 radio and television programs. She has written more than 100 published articles on holistic veterinary medicine and pet care.
Along with her husband, a self-ordained chef, foodie and architect, she takes care of 9 rescued spaniels.
For more information about the book go to DrJudyMorgan.com.