Suggested Veterinary Products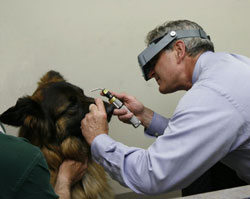 More than 150 board-certified veterinary ophthalmologists are scheduled to provide free eye exams to service dogs as part of the American College of Veterinary Ophthalmologists' Second National Service Dog Exam Day, which runs May 3-9.
The goal is to preserve the sight and health of working dogs, including guide dogs, handicapped assistance dogs, detection dogs and search and rescue dogs.
"Many of ACVO's ophthalmologists generously provide similar services to their service dog clients throughout the year," said Stacee Daniel, executive director of the organization. "Our hope is that by checking these animals' vision on the national day of service, we will be able to help a large number of dogs better assist their human friends."
To qualify, dogs must be active working dogs certified by a formal training program or organization or enrolled in a formal training program.
Veterinarians interested in participating can register here.
Owners or agents for the dogs can register the animal beginning April 1 here. Once registered, the owner or agent can locate a participating ophthalmologist to schedule an appointment.
More than 180 ACVO diplomates volunteered last year by screening the ocular health of about 1,500 service dogs. The combined effort equated about $500,000 worth of donated services.
National Service Dog Eye Exam Day has gained support from these nonprofit organizations: American Animal Hospital Assn., American Veterinary Medical Assn., state veterinary medical associations in the U.S. and Canada, American Society of Veterinary Medical Assn. Executives, Veterinary Hospital Managers Assn., Veterinary Ophthalmic Technicians Society, Guiding Eyes for the Blind, American Assn. of Detection Dogs, North American Police Dog Assn., National Narcotic Detection Dog Assn., Patriot Paws Service Dogs, Paws with a Cause, Department of Homeland Security and Service Dogs of America. Additional organizational support is pending.
Sponsors include Hill's Pet Nutrition of Topeka, Kan., OptiGen of Ithaca, N.Y., and Kong Veterinary Products of Irwindale, Calif.