Suggested Veterinary Products
March 1, 2016 marked the day that a 0.5-pound female puppy was brought into the San Jose Animal Care Center in Calif. She was cold to the touch, had pale to gray gums and was barely responsive. She was hypothermic, hypoglycemic and dehydrated. Unfortunately, without the puppy's mother to provide warmth and frequent feedings, the puppy's likelihood of survival was slim. Sharon Ostermann, DVM and the rest of the veterinary team feared the puppy wouldn't even live another half hour.
In her Tails of a Shelter Vet blog, Dr. Ostermann wrote that she and the veterinary team gave the puppy heat support and prepared an intraosseous catheter. The team, however, had never done one before and didn't have the specific medical supplies needed for one. Instead, they used a spinal needle as a catheter. "The area over the puppy's left hip was shaved, a local anesthetic was injected into the area, and the skin was scrubbed as if prepping for surgery. The needle was placed into the femur, and it was determined to be in the correct position."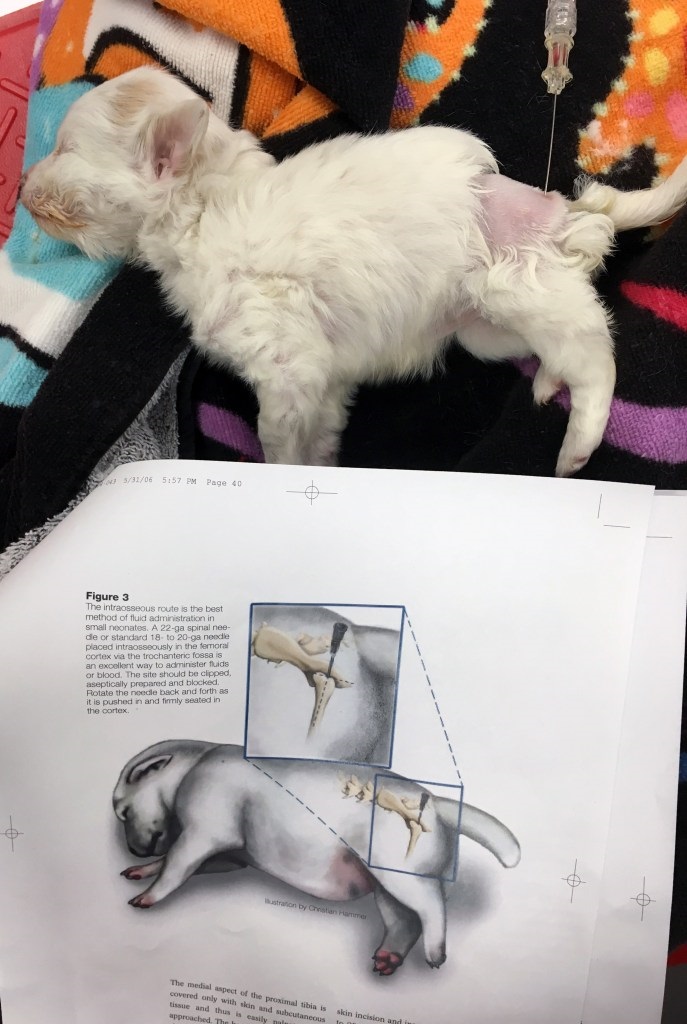 Tales of a shelter vet
The veterinary team ensured the correct placement of the intraosseous catheter.
The veterinary team then gave the puppy "a bolus of fluids with life-saving sugars that would help combat the hypoglycemia she had developed. She was then maintained on a constant drip of fluids that contained sugar through her catheter." They also fed her with a syringe. It took time before the puppy was more responsive and swallowing actively.
The puppy, now named Lily, is in foster care at Fred's Friends and continues to do well.