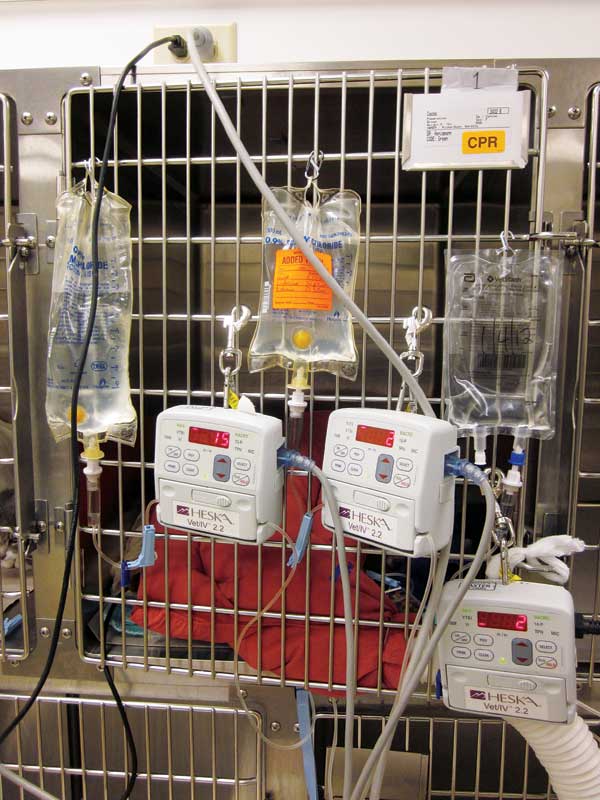 Veterinary Practice News organized an exclusive roundtable with five anesthesiologists and pain management experts to discuss the reasons behind the opioid shortage and best practices for identifying solutions to the problem.
Roundtable participants
Kurt Grimm, DVM, MS, Ph.D., DACVA, DACVP, an anesthesiologist with Veterinary Specialist Services in Conifer, Colo., is double boarded in veterinary anesthesiology and veterinary clinical pharmacology.
Bob Stein, DVM, DAAPM, CVA, CCRT, CVPP, CMTPT, is the owner of the Animal Pain Management Center in Buffalo, N.Y., and founder and webmaster of the Veterinary Anesthesia & Analgesia Support Group (VASG.org).
John Dodam, DVM, MS, Ph.D., DACVAA, is a board-certified anesthesiologist at the College of Veterinary Medicine at the University of Missouri in Columbia, Mo.
Robin Downing, DVM, MS, DAAPM, DACVSMR, CVPP, CCRP, is hospital director at The Downing Center for Animal Pain Management in Windsor, Colo.
Sheilah Robertson, BVMS (Hons), Ph.D., DACVAA, DECVAA, DACAW, DECAWBM (WSEL), CVA, MRCVS, is senior medical director at Lap of Love Veterinary Hospice in Tampa, Fla.
Dr. Zeltzman: Our colleagues and technicians are getting increasingly concerned with the shortage of opioids. What is happening? Why is it so difficult to find such critically important drugs?
John Dodam:
In December, the Missouri Veterinary Medical Association informed their members that three pain relief drugs were in short supply: morphine, hydromorphone, and fentanyl. The association indicated that the shortage was the result of upgrades to a pharmaceutical plant in Kansas that took manufacturing off line for those compounds. However, there are certainly other factors that may be contributing to drug shortages. For example, destructive hurricanes hit Florida, Houston, and Puerto Rico at the end of 2017. These locations have strong ties to the pharmaceutical industry—especially Puerto Rico.1 The island has become one of the world's largest centers for manufacturing drugs—and not only analgesics. Because of the lack of electricity and fuel—among other reasons—chemo, diabetes, and heart disease medications could potentially be affected.
The DEA also has played a role in decreasing opioid production in order to control drug diversion. After a 25 percent reduction for 2017, the DEA has requested another 20 percent decrease in opioid production for 2018.
Some of the drugs that are experiencing a lower production are likely due to decreased demand on the human market. Because the human pharmaceutical opioid market dwarfs the veterinary market, we have to adjust to manufacturing trends related to potential sales and profit margins on the human side.
Bob Stein:
I agree. These cuts imposed by the DEA affect almost every schedule II opiate, including oxycodone, hydrocodone, fentanyl, hydromorphome, and morphine. Demand for these opioids has decreased, according to sales data. Methadone is available, but at a steep price.
The CDC issued guidelines for physicians to decrease prescribing opioids for chronic pain to lessen potential misuse of these medications. The DEA allocates individual manufacturing and procurement to companies that apply for it. The DEA may revise a company's quota at any time due to increased sales.
One distributor told us that hydromorphone had a recall earlier this year. The use of fentanyl had actually increased in Puerto Rico due to the hurricane. My head technician was told that demand for analgesics in the human healthcare field increased due to injuries sustained by people in hurricane stricken areas. This fact, coupled with the DEA's limitation in opioid production, contributed to a supply shortage.
Robin Downing:
Citing sales figures from IMS Health, the DEA says demand for opioids has declined.
So I agree, it appears that abuse, over-prescription, diversion, and manufacturer production delays and backorders on the human side are having a "trickle-down" effect on our profession.
In addition, adding another dimension to the issue, here is a quote from Forbes: "Three pharmaceutical fentanyl providers—Akron, West-Ward, and Pfizer—are experiencing shortages of many versions of the injectable citrate form of the drug. According to the American Society of Health-Systems Pharmacists, a combination of increased demand and manufacturing delays are behind the pharmaceutical fentanyl shortages. Fentanyl product backorders range from intermittent to delays as long as the third quarter of 2018."2
Kurt Grimm:
My understanding from sources is that fentanyl will be unavailable for a while. Hydromorphone and morphine are unavailable or may be on limited allotment, depending on where you practice. Buprenorphine is still widely available as far as I know, so we have been using buprenorphine, especially in combinations with synergistic analgesics like dexmedetomidine in cases where it is reasonable. We are saving hydromorphone and morphine for CRIs and more demanding cases.
Alfentanil has been used in dogs and cats but we are unable to get it currently. Remifentanil has also been investigated, but currently, cost is a limiting factor for most cases.
So if readers haven't stocked up yet, it is probably too late. Sadly, I don't have any earth-shattering advice for colleagues who missed the boat. All you can do at this point is getting on the backorder list and learning or relearning alternative approaches to analgesia.
Sheilah Robertson:
If you look at the FDA's website, you can search for which drug is in short supply or backordered, and why.
Let's take fentanyl for example.3
The reasons listed by the company Hospira include manufacturing delays, and they state it is "due to longer than expected timelines for upgrade work required at our manufacturing facility." Delays may continue through 2018 and 2019. Shortages announced by West-Ward Pharmaceuticals include "increased demand," likely because of other companies having a shortage, and also regulatory delays.
So when this happens, human hospitals are given priority and veterinarians will be moved down the list for delivery as supplies become available.
For this reason, I think it would be a good time for veterinary drug companies to seek approval for veterinary-only use opioids. In the US, the only ones that have that approval are Torbutrol (butorphanol) and Simbadol (buprenorphine), and the latter is only approved for cats; in Europe, methadone and fentanyl have a veterinary label.
Bob Stein:
As a reminder, Simbadol delivers a high concentration of buprenorphine; it is not a sustained-release preparation.
Dr. Zeltzman: So now we understand the "perfect storm" that led to the shortage. Our readers still need to provide optimal pain management in spite of the lack of opioids, so what solutions, strategies, and protocols do you suggest?
Dr. Grimm:
Drug shortages tend to expose the limited toolbox that some colleagues may have when it comes to anesthesia and pain management. These weaknesses are best addressed through learning how to use a variety of techniques and drugs throughout their careers, and incorporating those alternatives in their daily practices. People who have been using only one protocol for years are probably going to have some bumps in the road in the coming months. Colleagues who know various protocols probably will be able to adjust to new drugs or protocols without much effort.
Dr. Dodam: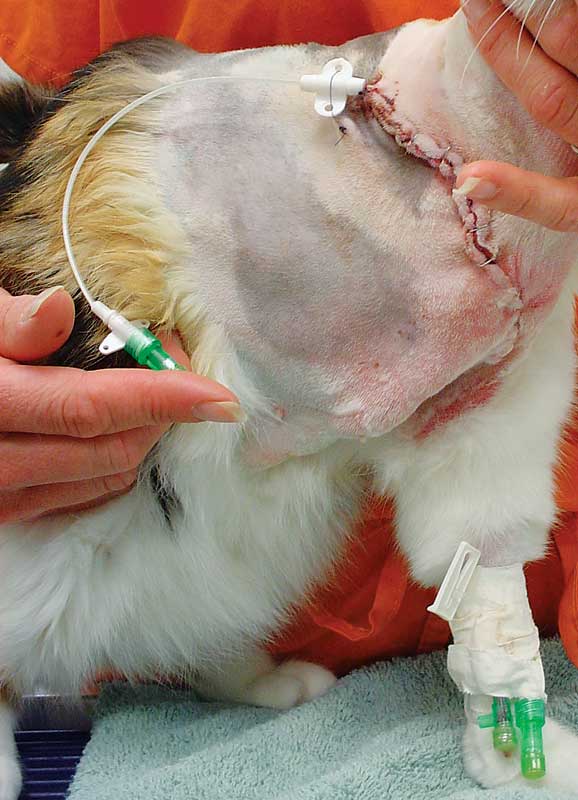 Absolutely—we have to turn to other pharmacological options that are still available to us to prevent and treat pain. This includes ketamine,
alpha-2 agonists, and nonsteroidal anti-inflammatory drugs. Considering preemptive and multimodal approaches to pain management is fundamental in this new environment.
Using regional analgesia techniques whenever possible is one way to decrease the need for systemic opioids. In addition, it is important to consider options to prolong the effect of regional analgesia (soaker catheters and pumps, epidural catheters, liposome-encapsulated bupivacaine).
Dr. Grimm:
Yes, Nocita has been very useful for providing prolonged local analgesia. Off-label use for a variety of surgical procedures has facilitated reducing postoperative opioid requirements and stretching the limited supply of opioids further.
Bob Stein:
High-concentration morphine is in short supply. Low-concentration morphine makes premed volumes too high for IM use.All products appear to be preservative free now. It seems to be the way it will be from now on. I'd wager the trend toward every vial being preservative free, single-patient use, is a strategy for reducing diversion.The preservative-free issue means that our profession will have to wrestle with the dilemma of trying to use preservative-free product labeled for single-patient use across multiple patients and over multiple days.
This leads me to asking a number of important questions:
We will be saddled with much more unused schedule II product. How do we manage that? Small amounts in the kitty litter tin? Hold it all for reverse distribution?
We can get a fair number of opioids but in what strengths and at what cost?
How can small practices afford to continue the use of schedule II opioids?
How can we use them without litigation risks regarding the extended use of preservative-free products?
I am concerned that practitioners will revert to butorphanol as their main analgesia, even though kappa agonists are best reserved for nonpainful procedural sedation.
Buprenorphine does appear to have superior analgesic effect as well as duration of effect when dosed at or above 0.02 mg/kg.
We use local and regional analgesia techniques on 99 percent of our surgical patients and we always add an mu agonist or partial mu agonist opioid to sustain significantly longer analgesic effect.
The arrival of Galliprant (grapiprant), a prostaglandin receptor antagonist, has expanded our use of NSAIDs in patients with a less than ideal health status.
Dr. Downing:
I agree: Butorphanol is not an effective surgical pain reliever in dogs and cats. The analgesic effects last about 20 minutes, but then the important mu receptors remain blocked for a very long time.
Buprenorphine can and should be a part of our pain management strategies. Its limitation is that it is not as effective against severe pain.
We reserve pure mu opiates for the most severely painful patients. Be prepared to use them in the most dramatic surgeries and the severe traumatic injuries.
Colleagues need to become comfortable using local and regional anesthetic drugs. If you need guidance to know exactly where the nerve is, use a nerve locator. Epidurals and spinal anesthetic techniques are becoming more and more popular in human medicine, and there are great resources available for us to learn how to use them in our patients.
Dr. Robertson:
I also would recommend using a lot more local anesthetic techniques. Local anesthetic drugs are inexpensive and easy to use and provide excellent analgesia. And of course, we also have NSAIDs if the patient is a good candidate.
Dr. Zeltzman: You gave excellent suggestions for analgesia with drugs. How about nondrug options for pain management?
Dr. Downing:
We need to leverage other strategies for pain relief that have proven themselves to assist with painful patients. These include acupuncture, cryotherapy (ice-packing), and therapeutic laser, to name just a few. It is, as always, important to follow the evidence, and we must understand that we may sometimes need to extrapolate data from human medicine, and perhaps in research species.
Dr. Dodam:
I agree. Nonpharmacological management (cryotherapy, heat therapy, physical therapy, neuromodulatory therapy, laser therapy) also should be considered. Unfortunately, the efficacy of these interventions is questionable or may not have been studied adequately. Minimally invasive surgical strategies need to be considered whenever possible.
Dr. Robertson:
Even if minimally invasive surgery is not an option, respecting basic rules of surgery is always important. This can include small incisions whenever possible, gentle tissue handling, minimizing tension and preserving blood supply.
References
1 nyti.ms/2xV7Y3S,  bit.ly/2FVOOyP
 ANALGESIC ALTERNATIVES
Roundtable colleagues suggest a practical checklist
CRIs
Opioids
NSAIDs
Ketamine
Cryotherapy
Heat therapy
Acupuncture
Soaker catheters
Alpha-2 agonists
Physical therapy
Therapeutic laser
Epidural catheters
Regional analgesia
Neuro-modulatory therapy
Minimally invasive surgery
Respecting basic rules of surgery
Liposome-encapsulated bupivacaine
Each of these options can be used independently or, even better, combined, in order to provide excellent analgesia. Some techniques can be also be learned by technicians. Discuss as a team how you can modify your preop and postop protocols.
Dr. Phil Zeltzman is a board-certified veterinary surgeon and author. His traveling surgery practice takes him all over Eastern Pennsylvania and Western New Jersey. Visit his websites at DrPhilZeltzman.com and VeterinariansInParadise.com.