Suggested Veterinary Products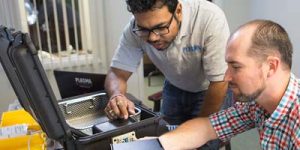 Veterinary sterilization device manufacturing company Plasma Bionics has been named 2018's Most Promising New Business by the Oklahoma Venture Forum (OVF).
"Being recognized as the Most Promising New Business by the OVF is a distinct honor for Plasma Bionics," said Kedar Pai, company president. "It is reassuring and encouraging having our hard work recognized as we strive to bring a rapid, portable, rugged, environmentally friendly sterilization technology to the veterinary market."
Founded in 2012 by a group of researchers at Oklahoma State University, Plasma Bionics utilizes a proprietary cold plasma generation technology to quickly and safely sterilize veterinary instruments with no water or added chemicals; instead, the technology uses just air and electricity, making it ideal for mobile applications.
The Stillwater, Okla.-based company's first product, the PZ100 Air Plasma Sterilizer, is a low-heat, low-pressure portable sterilization device, which can be powered by a car or mobile clinic, as well as in a hospital. The device reduces veterinary operating costs by sterilizing in less time than traditional sterilizers, reducing the need for extra instruments, and minimizing damage caused to sensitive instruments by heat and chemicals. The device is expected to launch by the end of the summer.
OVF's Most Promising New Business recognition is one of the most prestigious an Oklahoma start-up can receive. Businesses nominated for this award are evaluated according to product innovation, management quality, capital raised, economic impact, community reputation, and potential for high profitability, market penetration, and growth.