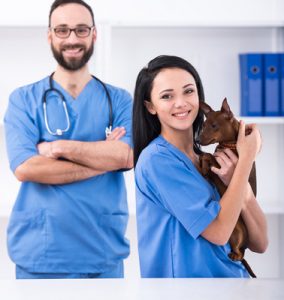 The Society for Veterinary Medical Ethics (SVME), which promotes discussion and debate of ethical issues relevant to veterinary practice, has announced its support of the Veterinary Nurse Initiative to create a registered veterinary nurse credential. This initiative seeks to bring continuity to the title through a multiyear, state to state strategy to work within legislation overseeing credentialing for veterinary technicians.
"The SVME fully recognizes the professionalism and essential knowledge and skill brought to the team by veterinary technicians as vital members of the healthcare team and has expanded its own executive board membership to ensure the inclusion of veterinary technicians, who face many different as well as many of the same ethical concerns as their veterinarian team members," the association said in a statement.
Veterinary technicians currently are identified under various titles, including certified veterinary technician, registered veterinary technician, and licensed veterinary technicians, which leads to confusion and decreased public understanding of the education and skill required of the position, the group added.
"The SVME is in support of title unification and consistent educational standards nationwide to reduce confusion from inconsistent nomenclature and to increase the awareness of the role of veterinary technicians, the profession of veterinary technology and nursing, and the advancement of its members," the organization stated. "The SVME supports the Veterinary Nurse Initiative and its pursuit for legislative amendments in all 50 states to unify the title of registered veterinary nurse and offer full support and endorsement in this pursuit by the Veterinary Nurse Initiative backed by the National Association of Veterinary Technicians in America along with the legal and legislative guidance of Mark Cushing of Animal Policy Group."
Visit veterinarynurse.org for more information.