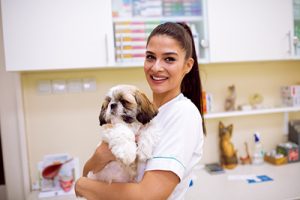 The Veterinary Hospital Managers Association (VHMA) has launched an online test preparation study program for individuals pursuing Certified Veterinary Practice Manager (CVPM) certification or otherwise interested in refining and expanding their management skills.
The course's outline, content, and correlating assignments were developed directly from the CVPM Task Analysis Outline and Recommended Reading List. Participants will receive a print copy of the CVPM Preparation Workbook, which will serve as a guide throughout the course and continue as a valuable workplace resource after the program concludes.
Facilitated by Jessie Merritt, CVPM, the program covers five essential management domains identified by the CVPM certification course:
Human resources
Law and ethics
Marketing
Organization of the practice
Finance
The course explores veterinary management concepts common to both U.S. and Canadian practices. While only U.S. federal law is discussed, the workbook includes a list of Canadian federal laws as reference for managers working in that country.
The program will run for nine consecutive Saturdays, from June 2 to July 28. Online meetings will be held for durations of 90 minutes beginning each morning at 8 a.m. Pacific time.
Students will be given a workbook assignment after each meeting, as well as assigned readings from publications on the CVPM Recommended Reading List. Quizzes will be held after each section. Participants are encouraged to engage with their peers in a private, online community throughout the course.
To read more, click here.