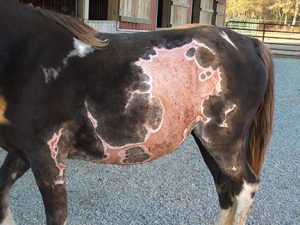 Holly Sparks, DVM, a large animal surgeon and Ph.D. candidate in regenerative medicine at the University of Calgary Faculty of Veterinary Medicine (UCVM), is researching stem cell-based therapies to improve skin grafts and improve skin wound and burn healing in humans and horses.
"Humans and horses are obviously different species, but when it comes to wound healing they are more alike than one might realize," said Dr. Sparks. "Like people, horses that suffer severe burns or large wounds on their lower limbs have similar difficulty with optimal healing. Instead, horses commonly develop chronic, non-healing wounds which are reminiscent of the scarring and sub-optimal healing seen in human burn survivors as well as those with diabetic leg ulcers."
AIHS Clinician Fellowship Award
Sparks is investigating the use of dermal stem cells and novel bioengineered "scaffolds" to place new, healthy cells on top of wounds to regenerate and promote healing.
Sparks has been awarded an Alberta Innovates: Health Solutions (AIHS) Clinician Fellowship Award to fund her work for the next three years.
"These are highly competitive and typically awarded to physicians in human medicine, so it's a real accomplishment for a veterinarian to be granted this award," said Sparks' supervisor, Jeff Biernaskie, Ph.D., associate professor in UCVM's Department of Comparative Biology and Experimental Medicine, and Calgary Firefighters Burn Treatment Society chair in Skin Regeneration and Wound Healing.
Improving wound healing and quality of life
Currently, the gold standard of burn or large wound treatment is split thickness skin grafting, where the top layer of skin is harvested from a healthy area and is placed onto the wound bed to close the wound. The problem is that the grafted skin lacks a full complement of the supporting middle layer of skin (the dermis) that includes hair follicles and glands, so it's prone to scarring, itching, and pain, Sparks explained.
"Our aim is ultimately to regenerate that lost dermis and improve the function of skin grafts," she said. "To do that, we're culturing and implanting dermal stem cells underneath the grafted layer of skin. Previous work has shown these cells can regenerate new dermal tissue in mice and stimulate new hair follicle formation."
The power of collaboration
Sparks also is working with colleagues in engineering to create a bioengineered scaffold—a microscopic sheet of woven material to more easily deliver cells into wounds, and allow them to hopefully survive and begin generating new tissue.
"It's a huge project and very collaborative," she said. "Our team is comprised of not only basic scientists, engineers, and veterinarians but also human physicians specializing in burn wounds and plastic surgery," she said. "It's a wonderful opportunity to have such a diverse group to share their perspectives and experiences to complement my background in veterinary surgery."
And whether the patient is a person or a horse, the common goal is to improve the overall outcome and quality of that patient's life, Sparks said.
"Our patients are very different," she continued. "But the project is aimed at large wounds or burns, anything that requires a skin graft, and that certainly is translatable into both veterinary and human medicine. It's a wonderful example of the power of collaboration within our university."