Suggested Veterinary Products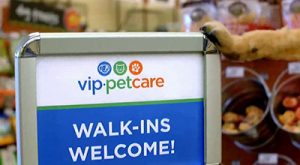 VIP Petcare, based in Windsor, Calif., has expanded the reach of its preventive veterinary clinics throughout Washington, Maine, Kansas, and Louisiana.
New clinics are at local pet retail stores, feed stores, and other retail locations in communities throughout the regions, including Tractor Supply, Pet Suppies, and Petsense. The VIP Petcare clinics at Tractor Supply operate as PetVet Community Clinics.
With the opening of these new locations, VIP Petcare has now increased its national clinic footprint to include 38 states.
Clinics will be conducted inside of the host locations, and will include a variety of services such as vaccinations, diagnostic testing, microchipping with a free nationwide registration, and prescription parasite prevention medications. The clinics are scheduled for specific times at retail locations on both weekends and weeknights, and do not require appointments.
Visit vippetcare.com for more information.