Suggested Veterinary Products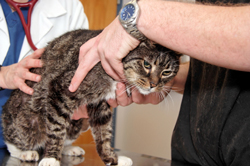 Virbac Animal Health has partnered with Veterinary Team Education Courses to present an 11-unit continuing education class on dermatology May 1-3 in San Francisco.
The program, "Building the Dermatology Team," focuses on the veterinary team's understanding of the various disease mechanisms, clinical dermatological diagnostics and new treatment options.
"In addition to the lecture and discussion part of the conference, participants will be grouped into virtual teaching hospitals," said Dena Ware, Virbac marketing manager. "Each team will work through a dermatology case, focusing on how to develop tools, algorithms and hospital protocols. They will also work through obtaining a medical history, key steps in an initial assessment, approaching clinical diagnostics, understanding and implementing a treatment protocol. The team will also gain valuable insight into how to educate pet owners in dealing with the symptomatic pet."
Speakers will include:
Douglas DeBoer, DVM, Dipl. ACVD, a professor of dermatology at the University of Wisconsin, Madison's School of Veterinary Medicine.
Andrew Rosenfeld, DVM, Dipl. ABVP, founder and president of VTEC.
Helen Power, DVM, Dipl. ACVD, of San Francisco Veterinary Specialists.
Click here for registration details.