The Virginia-Maryland College of Veterinary Medicine at Virginia Tech recently honored Ted Smusz, a communications assistant for the Veterinary Teaching Hospital, for his animal art donations. His work appears in the hospital's examination rooms, student lounge and library.
Smusz, who has been with the college for more than 30 years, is a self-taught digital photographer and editor. He turned to photography more than 10 years ago.
"I can spend up to 40 hours on a photo," Smusz said. "I'm not only sizing the photo, but also blowing it up and digitally redrawing it. I do most of it manually to save the skin texture and tone on my subjects."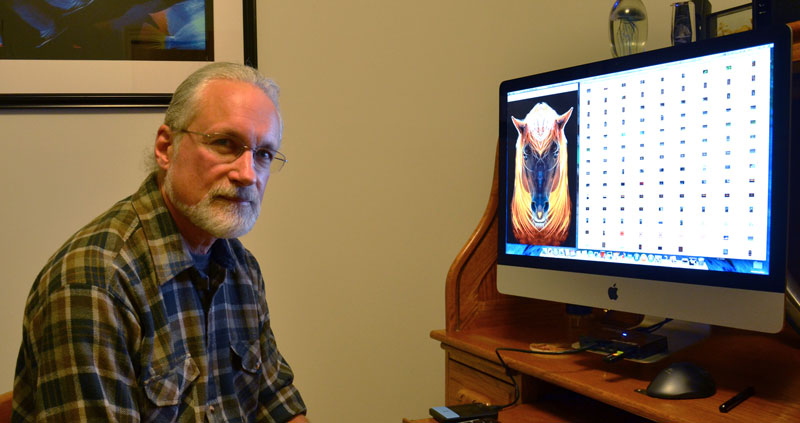 Virginia-Maryland College of Veterinary Medicine at Virginia Tech
Ted Smusz works on a piece of digital art at a home studio. In some cases, Smusz spends up to 40 hours digitally remastering a single photo such as this one of a horse.
Smusz often spends evenings in his home studio focusing on his art. In addition to a high-resolution digital camera with a variety of lenses, he also has three software programs that allow him to edit photos pixel by pixel, according to the college, which announced the recognition in early July.
"I used to be heavily into cars and rebuilding cars," Smusz said. "That led to taking photographs of cars. When I saw car photos that others had taken, I found the activity in the photo surrounding the cars to be distracting. So I started to think about using a technique I call 'isolation.'"
This technique, which Smusz taught himself, includes separating the photo's subject from its environment. The college describes the photographs as so striking that the subjects seem to jump off the canvas page.
Smusz's also creates abstract pieces by scanning everyday objects and digitally re-mastering them. One photo looks like splashes of orange, purple, blue and teal from a distance, but upon closer inspection, takes the shape of a geisha holding a fan. Smusz used the fan shape from a fossil he collected for the abstract picture, the college noted.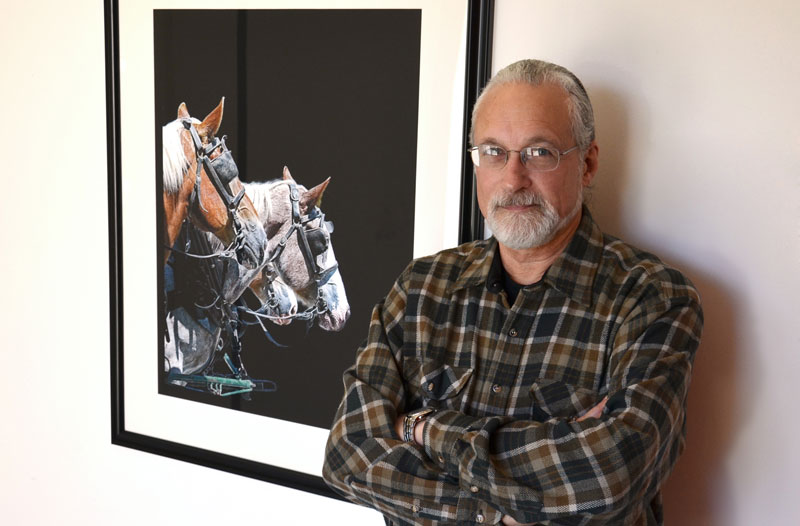 Virginia-Maryland College of Veterinary Medicine at Virginia Tech
Ted Smusz poses with a piece of his donated artwork that was installed near equine receiving in the Virginia-Maryland College of Veterinary Medicine's Large Animal Hospital.
Overall, Smusz said that he appreciates the exacting process of editing photos because of the creative outlet it gives him.
"I couldn't easily tell you how I do it because I taught myself and have my own technique and process for doing it," he said. "Much of what I create is more intuitive than logistical. I work on each picture until it seems 'right' to me."