Suggested Veterinary Products
Cricket, a black-and-white shorthaired cat, is the biggest loser, at least when it comes to a recent weight loss challenge that took place at the Virginia-Maryland College of Veterinary Medicine at Virginia Tech. The Purina-sponsored challenge takes place every year when a group of students put their overweight pets on a diet. It is inspired by the TV show the "Biggest Loser."
This year, nine cats and one dog participated in the Purina Overweight Management Challenge. Cricket, who is owned by fourth-year veterinary student Liddy Hepner of Hydes, Md., came out on top losing about 2 kg or just over 4 pounds.
"It was about 30 percent of his body weight," said challenge organizer Courtney Walski of Chesapeake, Va.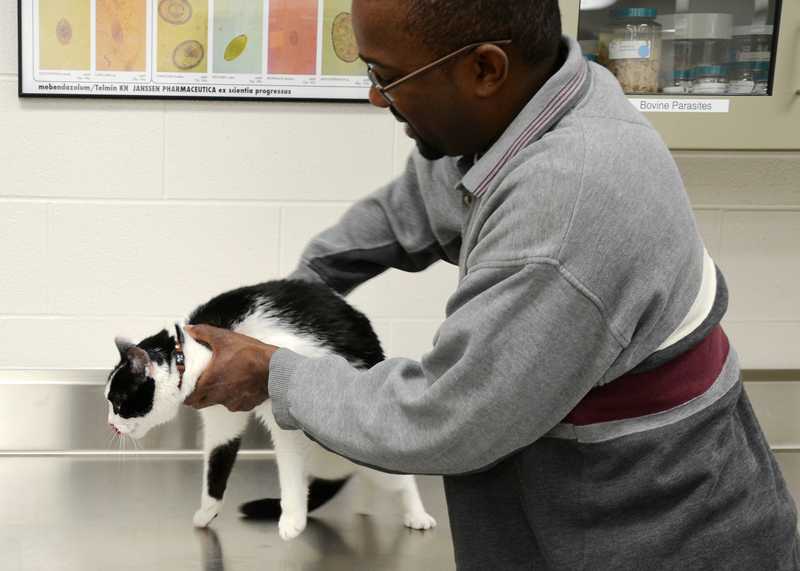 Virginia-Maryland College of Veterinary Medicine at Virginia Tech
Stewart Morgan, DVM, Ph.D., clinical nutrition resident in the Department of Large Animal Clinical Sciences, performs a body condition scoring exam on Cricket, who won the "Biggest Loser"-inspired weight loss challenge.
Purina provided ProPlan OM, a therapeutic diet specifically formulated for overweight dogs and cats, for all the participants.
"We believe veterinary students learn nutrition best using a hands-on approach," said Lauren Pagliughi, DVM, Purina college manager. "The Purina OM challenge is a fantastic way to instill the importance of maintaining a healthy body condition in your own pets and in future patients."
Megan Shepherd, DVM, Ph.D., Dipl. ACVN, clinical assistant professor of nutrition in the Department of Large Animal Clinical Sciences, and Stewart Morgan, DVM, Ph.D., clinical nutrition resident, also provided nutrition oversight during the challenge. Because all of the participants were veterinary students, it also had an educational component, the college noted.
"I gained more experience understanding how to formulate and implement a diet plan," said Jody Morris of Harrisonburg, Va., a third-year veterinary student whose cat, Simba, took the challenge. "I also found out food toys are a great way to prolong meals and make him work for his food. My pet's health benefited greatly from simple changes and a consistent feeding program. It's easy once you commit to a plan and completely worth it for the health of your cat."
All of the animals lost weight during the challenge, according to Virginia Tech. Most of the participants lost around seven percent of their body weight, and some of them began a maintenance diet after hitting their goal weight.