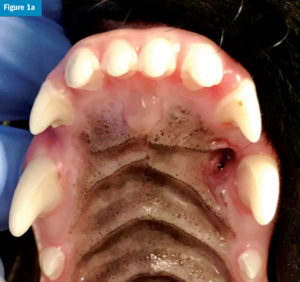 Last month, we discussed the rationale behind and approach to conventional (orthograde) endodontic therapy. Orthograde root canal therapy removes the entire contents of the pulp chamber in the root canal system. Vital pulp therapy is a different kind of endodontic procedure, performed instead on teeth that have had recent pulp exposure.
Determining whether it's best to perform vital pulp therapy or orthograde root canal therapy for an individual tooth is a judgment call. Most dentists gravitate toward orthograde root canal therapy whenever possible, since it involves removing the entire contents of the pulp and minimizes the likelihood of possible future pain and infection by not leaving to chance whether remaining pulp maintains its vitality. However, orthograde root canal therapy may not be an option for young teeth, as they lack a closed apex.
In the past, it was a rule of thumb that vital pulp therapy be performed within 48 hours of pulp exposure in dogs older than 18 months of age and within two weeks in dogs younger than 18 months of age. However, the sooner vital pulp therapy is performed after pulp exposure, the better the chance of success. Therefore, even when a patient is younger than 18 months of age, if a tooth appears on radiographs to be developed enough, I choose orthograde root canal for treatment of a tooth with pulp exposure.
Ensuring a good outcome
Success rates for vital pulp therapy are highly dependent on the amount of time the pulp has been exposed to the oral environment. A 36-month retrospective study in the Journal of Veterinary Dentistry compared the results of vital pulp therapy performed due to pulp exposure caused by crown fracture in 76 dogs with 97 tooth fractures.1 Postoperative oral and radiographic examinations were performed at three, 12, and 36 months following treatment. Based on the results of 36-month postoperative examinations, teeth treated within 48 hours of pulp exposure had an 88.2 percent success rate. The rate dropped to 41.4 percent of teeth if the procedure was done within one week of pulp exposure and 23.5 percent of teeth were vital when treated within three weeks of pulp exposure. There was a significant difference in the incidence of tooth vitality between groups. The author concluded vital pulp therapy should be performed as soon as possible following traumatic pulp exposure.1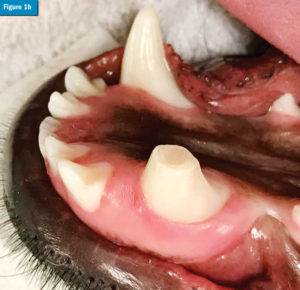 In addition to vital pulp therapy's use as a treatment for acutely fractured teeth, this procedure also may be used at the time of crown reduction for treatment of a malocclusion (Figure 1). When a crown is reduced to relieve an unfavorable tooth-to-tooth or tooth-to-soft tissue interaction, crown reduction often results in pulp exposure. Crown reduction is done using sterile technique, and vital pulp therapy is performed immediately afterward. During controlled conditions with limited exposure of the pulp to the oral cavity, success rates are very high. One study in the Journal of Veterinary Dentistry looked at crown reduction and vital pulp therapy of permanent canine teeth in dogs and cats.2 Objective assessment of vital pulp therapy for teeth receiving crown reduction indicated maintenance of vitality in 28 of 28 (100 percent) teeth. The same study assessed vitality of nine teeth with crown fractures that had vital pulp therapy performed greater than seven days after pulp exposure—the results indicated nine of nine (100 percent) teeth were nonvital. The author concluded there may be a poor prognosis for maintenance of tooth vitality with vital pulp therapy of complicated crown fractures with prolonged pulp exposure, regardless of the patient's age. In contrast, an excellent prognosis was seen with vital pulp therapy following crown reduction. Semiannual, postoperative oral and radiographic examinations were recommended for a minimum of two years to assess vitality in all teeth receiving vital pulp therapy, since subjective assessment of vitality by pet owners was not indicative of the true status of vitality.2
Breaking it down
How is vital pulp therapy performed? The first step involves removal of a portion of the pulp (partial coronal pulpectomy) using a sterile bur and sterile irrigant, such as saline or lactated Ringer's solution. During partial coronal pulpectomy, I usually remove approximately 5 mm of pulp to make room for the various restorative layers. After pulpectomy, a medicament is placed on the pulp. Traditionally, calcium hydroxide powder was used as a medicament, but a newer material called mineral trioxide aggregate (MTA) has become common in recent years. Next, an intermediate layer is placed over the MTA, usually a glass ionomer cement that bonds to the dentin. The remaining cavity is etched, dried, and filled with a layer of bonding agent and composite restorative material. After the composite restorative is placed, overhangs are removed and the composite is polished before a final layer of unfilled resin is placed to minimize the chance of microleakage.
Next time, we'll "get to the root" of another endodontic procedure: surgical (retrograde) endodontics.
John Lewis, VMD, FAVD, DAVDC, practices dentistry and oral surgery at Veterinary Dentistry Specialists and is the founder of Silo Academy Education Center, both located in Chadds Ford, Pa.
References
1 Clarke DE. Vital pulp therapy for complicated crown fracture of permanent canine teeth in dogs: a three-year retrospective study. Journal of Veterinary Dentistry. 2001; 18(3): 117-121.
2 Niemiec BA. Assessment of vital pulp therapy for nine complicated crown fractures and fifty-four crown reductions in dogs and cats. Journal of Veterinary Dentistry. 2001; 18(3): 122-125.