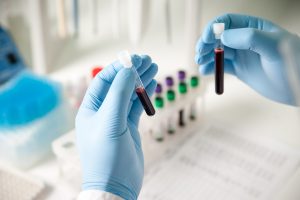 VolitionRx Ltd., a multinational Belgium-based life sciences company with offices in Texas, London, and Singapore, announced it is entering the veterinary market after "very encouraging" preliminary results from a study using its NuQ diagnostic blood tests for canine cancer testing.
NuQ, currently used to screen for colorectal and prostate cancers, works by measuring and analyzing irregular levels of nucleosomes—a section of DNA wrapped around a core of proteins—in the blood to identify cancers.
According to the company, the proof-of-concept study showed that blood nucleosomes also can be detected in dogs. With the promise of veterinary medicine applications, VolitionRx said it will now move NuQ into larger trials to answer the question of whether the method will work with animals.
The company said it intends to outsource much of the veterinary clinical trial work through a partnership with Heather Wilson-Robles, DVM, DACVIM, associate professor and Fred and Vola N. Palmer chair in comparative oncology with Texas A&M College of Veterinary Medicine & Biomedical Sciences in the Small Animal Clinical Sciences department.
"The Texas A&M University College of Veterinary Medicine Oncology Department is excited for the opportunity to collaborate with Volition," said Dr. Wilson-Robles. "Its innovative work in the early identification of cancer has the potential to significantly impact veterinary oncology as we know it."