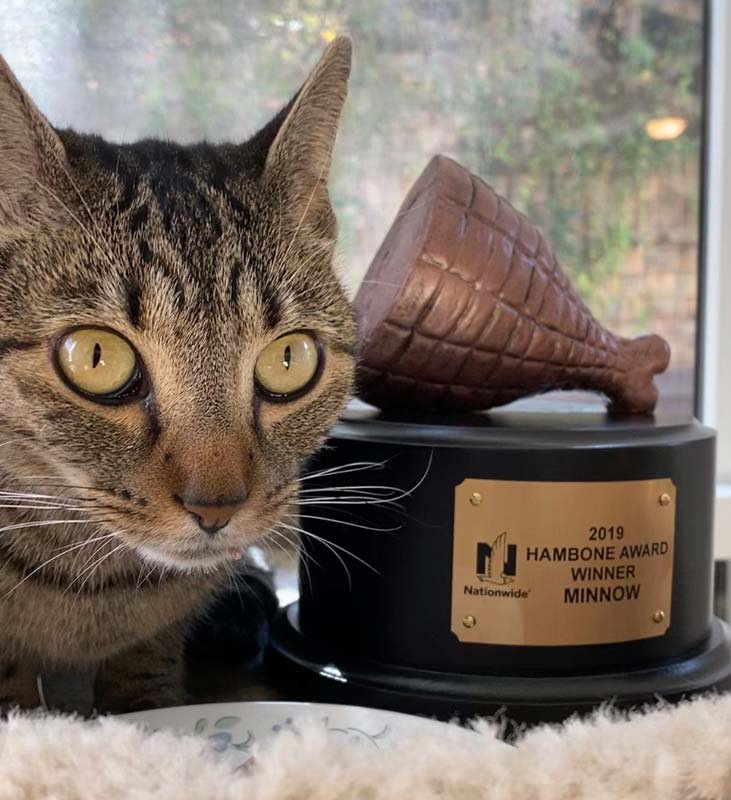 From an Australian cattle dog who sustained a mouth-to-mouth collision with another dog at a park to a playful boxer who ran through a glass window to greet a visitor, the nominees of this year's Hambone Awards by Nationwide are as peculiar as ever.
Voting is now open for the insurance company's accolades, which recognize local veterinary practices for the care provided by their staff and give them additional funds for pets in need.
"We love seeing a tale with a happy ending over any 'tail' that's unhappy!" says Nationwide's chief veterinary officer, Jules Benson, BVSc, MRCVS. "These stories embody the work we do every day to help make the best of any situation our pets get into."
This year's finalists are:
Chopper, a boxer from Burke, Va., who burst through a glass window while home alone and trying to greet a visitor who was standing outside;
Max, a Shih Tzu from Goleta, Calif., who fought a coyote he met in his backyard;
Olive, a Cavalier King Charles spaniel from San Diego, Calif., who chased a squirrel up a tree, lost her footing, and survived a 12-ft fall;
Penny, a 16-year-old shorthaired tabby cat from La Jolla, Calif., who tumbled off a two-story balcony; and
Pistol, an Australian cattle dog from Los Angeles, Calif., who collided mouth-first with another pooch at a dog park.
The clinics that treated the finalists will receive a portion of a $30,000 Nationwide-funded award through the Veterinary Care Foundation. The winning practice will be awarded $10,000, the runner-up will receive $7,000, and third place will earn $5,000. The practices in fourth and fifth place will each collect $4,000.
Established in 2009, the awards were named in honor of a dog that once ate an entire Thanksgiving ham. Past winners include Ellie, a Labrador retriever who gobbled up an entire beehive and its thousands of inhabitants; Lulu, a hungry bulldog who swallowed 15 baby pacifiers, a bottle cap, and a piece of a basketball; and Harley, a pug who ate and subsequently passed more than 100 rocks.
All nominated pets made full recoveries. The winning animal will receive a basket of goodies, courtesy of Nationwide.
To cast your vote, click here.