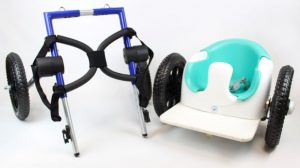 Walkin' Pets by HandicappedPets.com is providing wheels for every Bella's Bumbas wheelchair built to help children who suffer from spina bifida or similar conditions.
Since the partnership began in March 2017, Walkin' Pets has donated more than 1,156 wheels to Bella's Bumbas, helping nearly 575 children in need.
Families receiving Bella's Bumbas wheelchairs only cover shipping costs. When the wheelchairs are no longer needed, the company requests they be given to another child. So far, wheelchairs have been donated to children in 48 states and 22 countries around the world.
Representatives from Walkin' Pets also helped Bella's Bumbas founders hand-deliver five wheelchairs for Syrian refugee children in Derry, N.H. Instead of wrapping the wheelchairs in traditional packing material, the chairs were wrapped in blankets and clothing for the kids.