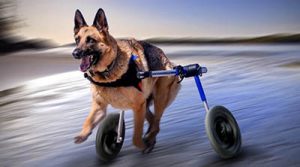 Walkin' Pets, maker of the Walkin' Wheels dog wheelchair, is offering a free online Walkin' Wheels Certification Program to veterinary and pet care professionals.
The six-part webinar series educates participants about all aspects of the fully adjustable mobility device, from in-office use to helping pet owners assess dog wheelchair options when pets become injured or disabled.
The program instructs participants about the various rehabilitative and assistive uses of the wheelchair, assembly and fitting tips, therapeutic in-hospital and rehabilitation use, and renting and referral programs for pet care professionals.
Participants who complete the certification program receive a Walkin' Wheels Certified certificate and are designated as "Walkin' Wheels Certified" on the company's veterinarian and pet care professional interactive map, which customers use to find local professionals knowledgeable about the wheelchair.
To find more information or register for the program, click here.