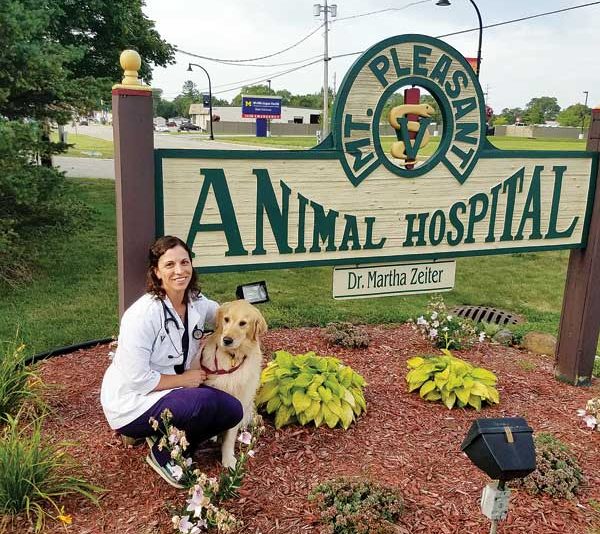 Veterinarians seeking practice ownership may be fueled with passion and excitement, feeling confident with their medical know-how in their back pocket, but this drive just isn't enough. Understanding the financial logistics behind purchasing is what's going to ensure the success of the new practice.
Fortunately, veterinarians today are more equipped with purchasing strategies than they were in the past, according to Byron S. Farquer, DVM, a certified valuation analyst with Simmons & Associates of Oakdale, Calif. He attributes this to two things: Veterinary schools and conferences dedicating more time and resources toward practice ownership issues, and the ability to look up information on the ever-expanding internet.
"That said, buyers are only about 30 percent prepared [for buying a practice]," Dr. Farquer said, and added that they may have conducted research and been schooled in practice buying, but the majority of veterinarians still need considerable assistance.
"They haven't had the free time to really immerse themselves in the education of buying a practice," he said. "More importantly, it's not really relevant to them until they are actually going through it. How much can you read when every situation is different?"
Acquisition versus start-up
One of the first considerations in owning a practice is whether to purchase an established clinic or start from the ground up.
"I see far more acquisitions than start-ups," said Roger Lee, J.D., senior analyst at Dallas-based Praxis Transition Solutions.
Acquiring an existing practice is usually preferred by lending institutions because of existing cash flow, according to Brian C. Faulk, senior loan officer and one of the founders of Live Oak Bank in Wilmington, N.C.
"When purchasing an existing practice, the lender can clearly see the repayment feasibility of the practice, which in turns establishes the fact that the market can handle/sustain the practice," Faulk said. "Buying an existing practice from an older retiring veterinarian has proven to be very lucrative in most cases as the new, and most times younger, veterinarian comes in with new medical skills and marketing that revamps the practice."
However, veterinarians need to look at possible disadvantages as well, said Terry Jackson, CPA, CGA, at VetAdvise in Burnaby, British Columbia, Canada.
"The biggest disadvantage to purchasing an existing practice is that one 'inherits' the management and operating philosophy of the previous owner, which can take a long time to change, leading to unforeseen costs, temporary decrease in revenue, and frustration," he said.
Martha Zeiter, DVM, had always hoped to become a practice owner. When the opportunity recently arose, she went forward and purchased Mt. Pleasant Animal Hospital of Mt. Pleasant, Mich., in January.
Dr. Zeiter had started working at the practice as a kennel assistant when she was 15 years old and continued to work there throughout veterinary school. After graduating in 2008, she became an associate at the practice. With the previous owner, Charles Stirling, DVM, nearing retirement, the two in 2010 began discussing the future purchase.
"I researched how to calculate practice values to be sure that the purchase price was fair and also developed an estimated budget to determine what my approximate net income would be," Zeiter said. "Our accountant was very helpful throughout the process. I also looked into business financing options."
Zeiter decided to accept Dr. Stirling's offer to finance the purchase with a five-year balloon. His attorneys drafted all of the documents and allowed Zeiter "ample time" to review them with her own accountant and attorney, she said.
"The transition went very smoothly," Zeiter said. "I believe many of our clients did not even realize there was an ownership change."
Susan Bailey, DVM, didn't consider the idea of practice ownership until she was an associate for a few years. She found it frustrating that her ideas weren't listened to. It was then that owning a practice came to the forefront. So, she left full-time practice in 2016, took on relief work, and began planning her new practice, Porchside Veterinary Care in Dresden, Maine.
The idea of starting from scratch stemmed from Dr. Bailey's positive relationship with her clients. She had established a group of clientele in the mid-coast Maine area and had another set of clientele close to where she grew up, about 30 miles away.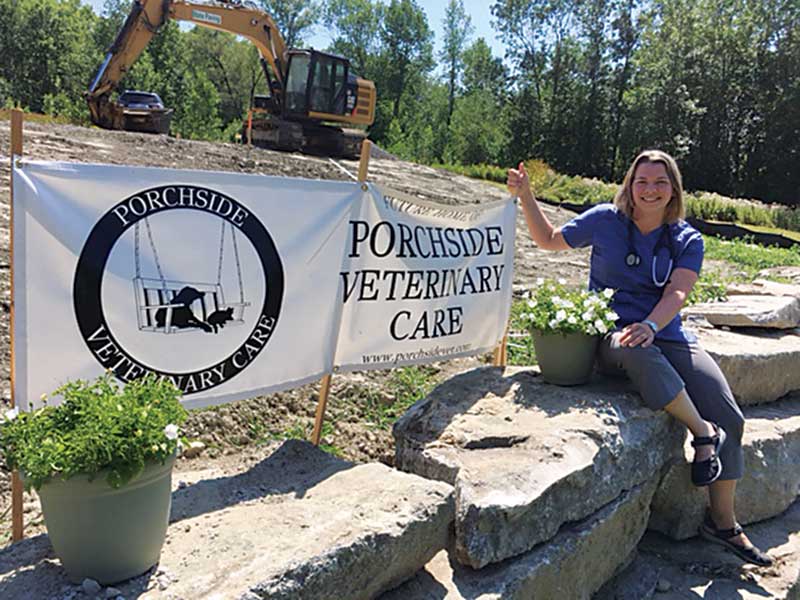 "I thought having a spot in-between those [areas] would be a good idea so I could have the best of both worlds," Bailey said. "I also had a noncompete clause, so [I wasn't] able to be in a certain mile radius of the practice [I] left."
Aware of banks' preference to financing acquisition requests as opposed to startups, Bailey told the bank, "I would rather create my own problems than inherit someone else's. Some people like to have infrastructure already set up and just come in and make small adjustments. I like the idea of being able to create it myself."
Whether purchasing through acquisition or starting from scratch, Farquer recommended going through a veterinary specialty lender. Other types of banks aren't familiar with the industry, such as what the margins or benchmarks are supposed to be, he said.
According to Faulk, a vet-specific lender should have the experience to determine the feasibility of a start-up or acquisition.
"Inexperienced lenders don't understand the nuances of the practice such as seasonality, area competition and most importantly-providing the veterinarian with an adequate working capital base to maintain the business," he said.
Preparation
Veterinarians may want to consider hiring a professional to assist them in the purchasing process, according to Lee.
"It is really a very inefficient use of time to attempt to become an expert in an activity that is ordinarily a once in a lifetime undertaking," Lee said. "A buyer might get lucky, save a few bucks and be okay without help, but if a practice acquisition goes sideways, it's not like you can put it back in the box and return it to Amazon." Farquer agreed.
"Once you find yourself [ready to purchase], reach out to a consultant—not because this is what I do, but because I've lived the process of not doing so," said Farquer, who owned a veterinary practice before buying into a Simmons & Associates territory about 18 years ago. "When I bought a practice, I didn't get any help. I made a lot of mistakes."
The initial stage of business planning can begin as simply as dreaming about it, according to Jackson.
"The 'dreaming' will bring clarity to what you really want," Jackson said. "The next steps are to get hold of financial analysis studies/statistics and financial statements, talk to informed accountants, and build a list of equipment that has to be purchased."
When investigating existing clinics, Jackson suggested looking at their websites, following their Facebook page, applying for a locum position and/or taking the owner out for lunch to talk about their business. Once a vendor is zeroed in, ask other important questions. What is being sold (i.e., practice, premises), and what is not included in the sale? What is the price desired and how did was the price calculated? Are there any special terms and conditions that should be considered in the sale? What's behind the decision to sell, and what are [the owner's] post-sale plans are in place?
"These are all questions a vendor should be able to readily provide answers to," Jackson said. "If the vendor cannot provide clear and distinct answers, they are not prepared or motivated to sell."
When starting from the ground up, finding the right property is key. There was a piece of foreclosed property Bailey had her eye on that she passed on her way to work.
"I thought that if it went up for sale that I could buy it," she said. "Shortly after I left my job, it went on the market but sold within 24 hours at an online auction."
As luck would have it, it's the property Bailey ended up getting. She asked the new owners if they would sell it to her. Having a change of plans and not wanting to deal with the old farmhouse sitting on the property, they did.
 ALL-IMPORTANT QUESTIONS
After investigating existing clinics, checking out their websites and Facebook pages, and more, Terry Jackson, CPA, CGA, with VetAdvice in Burnaby, British Columbia, Canada, urges buyers to hone in on additional answers.
The Sale: What's on the table, and what's not included?
The Price: How did the seller arrive at the desired amount?
The Terms: Are there special conditions that are part of the sale?
The Decision: Why sell, and what's next for the owner?
Timing considerations
Although veterinarians of any age can move into practice ownership, it helps to be mindful of retirement goals.
"My best advice is to begin with the end in mind," Lee said. "Age only matters as it relates to the amount of time a veterinarian has until retirement. If the veterinarian is 45 years old when they acquire a practice and have a specific retirement nest egg amount in mind, they may need to acquire a larger practice in order to more quickly build their retirement account. A younger veterinarian on the other hand, may have an additional 15 to 20 years to build up that requirement dollar amount and can therefore afford to look at smaller practices."
Buyers may also want to take into account the overall economic environment.
Lee and Farquer both said that with the economy gaining momentum, the availability of funds and interest rates are favorable.
"Low interest rates are impactful," Farquer said. "Once you get to 9 to 10 percent rates, so much of the monthly payment is going to interest."
Interest rates are a tricky subject, according to Faulk.
"Although competitive, Live Oak Bank does not have the lowest interest rate," Faulk said, adding that the bank considers the borrower's loan process the first step in a long-term relationship. "The present market is very aggressive right now, with rates as low as 2 to 4 percent, but remember, you get what you pay for."
Like with any purchase, buyers want to know if they are getting a fair price. There's a little subjectivity to this because every practice is unique, but there are factors to help veterinarians sort this out.
"In my world of valuing veterinary practices, a 'good' price is one that can be repaid within a reasonable time period after having paid the principal veterinarian (purchaser) a market value compensation, interest on the acquisition (loan) purchase amount and payment of income taxes," Jackson said. "All things being equal, I believe a companion animal practice should be repaid over a seven-year period and not the commonly held theory of 10 years, all dependent on the 'investment risk' associated with the practice."
So far, practice ownership has proved to be everything Zeiter has expected.
"I have fortunately had a great experience, and ownership allows me the job flexibility I was looking for," she said.
Bailey expected the hospital to be completed this month. She admitted that the beginning process was quite stressful—putting more money than anticipated into the project, for example—but when she stood on the foundation in August, the excitement won out.
"Now that I can see something happening, it's more exciting," she said.