Suggested Veterinary Products
Endodontic disease is one of the most common causes of a nonhealing facial wound,1 and the most common cause of endodontic disease of the carnassial tooth in dogs is a slab fracture. Tooth fracture often results in pulp exposure, endodontic infection and, sometimes, a draining cutaneous tract ventral to the ipsilateral eye.
The previously described two cases were not due to slab fractures. One case was due to a discolored, nonvital maxillary fourth premolar tooth, which probably had died due to some concussive trauma or developmental anomaly. The second case was a bit of zebra diagnosis, due to a grass blade foreign body.
The Case for Faith
Recently, I saw similar case that reminded me of more important talking points.
Faith, an 8-year-old female spayed Yorkshire terrier, was presented for possible endodontic disease as evidenced by a draining tract beneath the right eye. Faith's owner reported a prior medical history of proteinuria and low albumin, but that she was doing well at home. She was eating and drinking normally, with no vomiting, diarrhea, coughing or sneezing.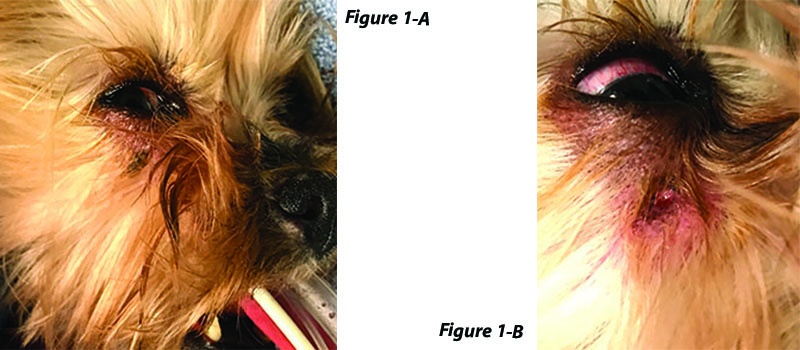 Physical examination showed a weight of 2.3 kilograms and normal temperature, heart rate and respiratory rate. No murmurs were ausculted, and there was no cough on tracheal palpation. Mandibular lymph nodes palpated within normal limits. A draining tract was present ventral to the right eye. The tract was hidden by dry, brown crusting (Figures 1-A and 1-B).
Oral examination showed missing premolars and molars of the right maxillary quadrant (teeth 105 through 110) and missing teeth elsewhere in the mouth.
Marked gingival recession and periodontal pocketing was seen at teeth 204, 208, 304 and 307. Upon anesthetized examination of the right maxillary quadrant, a tooth root was visible, flush with the gingiva in the area of the mesiobuccal root of tooth 108. The root appeared as a dark tan, glassy appearance in contrast to the surrounding pigmented gingiva.
Dental radiographs showed a mesiobuccal root of tooth 108, with a large area of lucency in the bone surrounding the root. The root had normal radiographic density, with evidence of a periodontal ligament space surrounding the root and a root canal visible in the center of the tooth (Figure 2-A).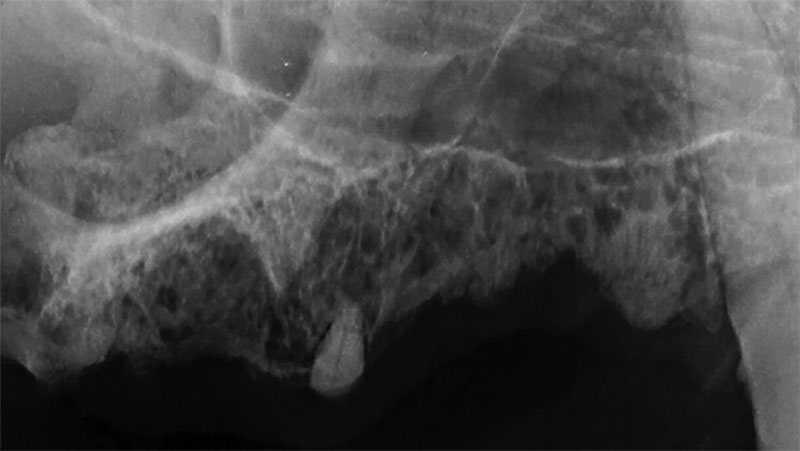 Areas of other missing tooth roots showed variation in density of the bone suggestive of possible resorbing root remnants that were not nearly as radiodense of the root of tooth 108, and no breaks in the gingiva were seen in these areas.
To increase suspicion that the draining tract was caused by the mesiobuccal root of tooth 108, a radiodense piece of gutta percha (material for filling of root canals during root canal therapy) was placed into the cutaneous draining tract, and a radiograph was obtained (Figure 2-B).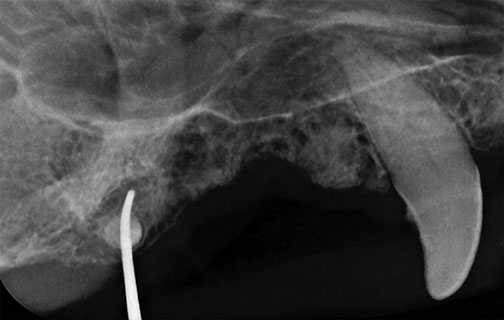 The radiograph revealed the gutta percha point advanced to the area of the radiolucency, around the mesiobuccal root. Use of gutta percha is a nice trick to consider rather than the typical fistulogram, where radiodense liquid can escape the tract, making for difficult interpretation.
The Road to Healing
How aggressive do we need to be to get the draining tract to heal? These are draining tracts, typically not true fistulas with an epithelial lining. Therefore, it is not necessary to dissect out the entire path of the tract. Removal of the nidus (the offending root) and freshening of the edges of the skin wound should be sufficient for the tract to heal.
How aggressive should we be with retrieving retained tooth roots that are an incidental finding on dental radiographs? The history plays a role in whether to retrieve quiescent roots. If the patient is presented for swelling, draining tracts or possible oral pain, I'll want to remove any possible source, including retained root tips.
As I mentioned in a previous column, I have a root tip in my lower jaw from a wisdom tooth extraction that has not caused any pain or problems for the past 30 years. (I wonder how many of us have a root tip in our jaw?) However, wisdom teeth in young humans are rarely infected. An infected root will eventually lead to facial swelling or formation of a draining tract.
The radiographic appearance is an important deciding factor for me in choosing when to go after a root tip. The density of the root and the appearance of the soft tissue surrounding the root all play a role in my decision-making process. If the root has lost its normal density, and if there are no draining tracts or swelling, I may decide to not open an apparently healthy area to retrieve a root tip. If the area already is opened surgically, then I will remove any roots in the area. Dental radiographs provided a diagnosis that the draining tract occurred due to a retained tooth root. Faith's draining tract has healed well after the procedure.
Reference
Lewis JR (Cote E, ed.). "Tooth fractures." Clinical Veterinary Advisor, 2nd ed. Philadelphia: Mosby Elsevier. 2011; 1102-1103.
---
Dr. John Lewis practices veterinary dentistry and oral surgery at NorthStar Vets in Robbinsville, N.J.
Originally published in the April 2017 issue of Veterinary Practice News. Did you enjoy this article? Then subscribe today!