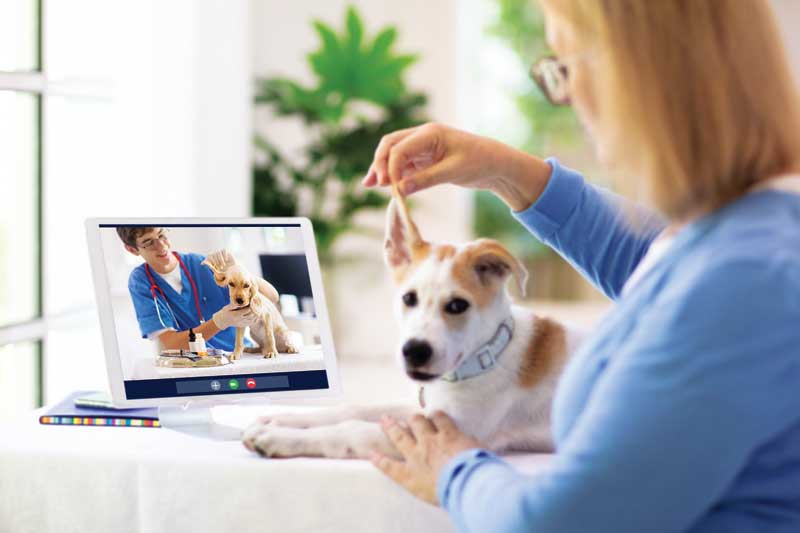 Historically, trends and advancements in veterinary medicine have followed those in human medicine. It is likely the same will be true for telemedicine. Telemedicine gained traction over the past 10 years in the human market due to stronger internet capabilities and better insurance coverage. The ability to connect with doctors from anywhere, along with the ability to have these visits covered by insurance, created more demand.
Then, last year, our whole world changed. The first wave of the COVID-19 pandemic caused an enormous increase in the use of telemedicine in human medicine. People did not want (or were unable) to leave their homes to visit their doctors. Telemedicine provided an invaluable opportunity to get care without risking exposure to COVID-19.
Likewise, in the veterinary industry, pet owners were not comfortable going to public spaces, including veterinary offices. A viable solution was needed for veterinarians, clients, and patients—and telemedicine emerged as the solution.
Now, a year later, telemedicine is not slowing down. In fact, all trends point to continued increases in both human and veterinary telemedicine. Here is a look at some of those trends and what we can expect going forward.
Increased insurance offerings
Insurance companies in human medicine are now offering triage services through their own call centers, allowing patients to call in for minor ailments. The premise behind this offering is these telemedicine visits may curtail costly hospital visits, a clear benefit for the insurance companies. Because insurance companies now are not just covering the cost of telemedicine visits, but actually offering telemedicine services themselves, telemedicine will likely increase even further in the human market.
Similarly, with the increased availability of pet insurance over the past several years, pet insurance companies may follow suit in offering their own call centers, resulting in an increase in telemedicine in the veterinary space, as well.
Increased curbside visits
Telemedicine capabilities are becoming more popular for veterinary curbside check-in and follow-up appointments. During a curbside visit, clients can discuss the patient's symptoms with the veterinary staff before entering the premises (if they go in at all) and accomplish all tasks from scheduling to prescriptions to billing from the comfort of their own car.
Curbside visits may be disruptive to the traditional workflow of a veterinary practice, but they are less time consuming and far more convenient for pet owners. Combining curbside visits with telemedicine means creating more convenient and faster processes for clients, and with the right technology, ideally these visits will become easier for veterinarians, too, allowing them to fit in more appointments each day.
More convenience and less stress
Today, with the upward trend of telemedicine in human medicine, 80 percent of physicians connect with patients this way, according to the Amwell's 2020 Physician and Consumer Survey. The same may become true in veterinary medicine. Both the human health and veterinary industries performed in exemplary ways during the pandemic, giving patients and pet owners a sense of convenience and care they are not likely to forget anytime soon. Knowing they can get the same care with far more convenience renders telemedicine an easy decision for most people.
Surprisingly, use of telemedicine can also reduce stress for veterinary staff. Pets often sense the anxiety of their owners. Some practices say clients are more at ease because they can remain in their cars and minimize potential virus exposure and their pets remain calm, as well. A more relaxed pet means an easier experience overall—for the pet, the client, and the veterinary staff.
Making telemedicine easier for veterinary practices
One distinguishing factor between human telemedicine and veterinary telemedicine is the ability to initiate and host a telemedicine appointment within practice management software. This is one area where veterinary medicine is ahead of human medicine.
With human medicine, full integration between telemedicine and software is not yet available. Instead, there are costly third-party programs to facilitate telemedicine appointments. Not only is it more expensive, but it is also more cumbersome using and managing multiple technology platforms.
Alternatively, some veterinary practice management software platforms have added telemedicine integrations, which means veterinary staff members can book, initiate, conduct, and conclude telemedicine visits right from their software. A high-speed internet connection and a computer, tablet, or mobile phone are the only things required. There are no separate links, no separate logins, and no third parties involved. The entire telemedicine appointment can be created and conducted within the software—from the auto-generated video conference link to checking patients in to the actual video conference at the appointed time.
At its foundation, telemedicine is about providing much-needed care with the caution, convenience, and connectivity required today. It has had enormous impacts, particularly in the past year. Without it, if a client was COVID-19 positive or otherwise quarantined, his or her pet would not be able to receive care, which could have serious consequences. While telemedicine provided the solution needed during these challenging times, its longevity will be based on the enormous benefits it provides. Simply put, healthier patients, healthier clients, and healthier staff equate to a healthier practice.
Ali Hashmat is the CEO of Technology Partner Innovations and helped create the NaVetor veterinary cloud software platform, offered through Patterson Veterinary. He previously co-founded CureMD, a leading cloud-based software platform used in the human healthcare market.