Originally published in the February 2015 issue of Veterinary Practice News
Last month, we discussed differential diagnoses for cats that are unable to close their mouths. One possible cause for cats' and dogs' inability to close the mouth is open-mouth jaw locking, which is rare enough that you may not have learned of it in veterinary school.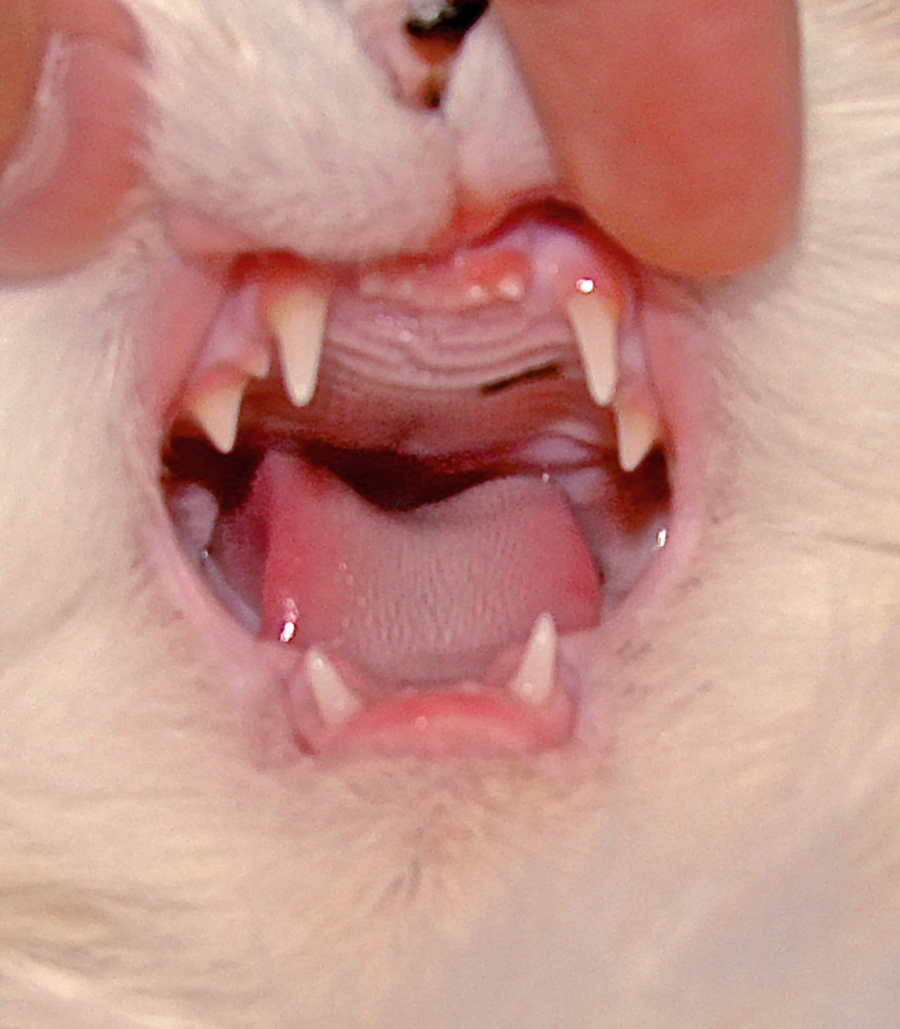 Photo © 2012, John R. Lewis, University of Pennsylvania
Figure 1: Open-mouth jaw locking in a Persian cat. Note the mouth is locked open so wide that there is no contact between maxillary and mandibular teeth. The slight shift of the mandible to the right suggests locking is occurring on the right.
Clinical Signs and Etiology
In cases of open-mouth jaw locking (OMJL), cats and dogs present with the mouth wide open, and the lower jaw often has shifted to the side where the coronoid process (the tip of the ramus) is locking on the ventrolateral aspect of the zygomatic arch (Figure 1). On presentation, patients may be drooling, pawing at the face and vocalizing.
The defining clinical trait that allows OMJL to be distinguished from other possible causes of inability to close the mouth on conscious examination is that the mouth is locked open with no tooth-to-tooth contact of the maxillary and mandibular teeth. The episode of locking does not usually occur due to some sort of trauma, but rather something as innocuous as a patient yawning.
Frequency of locking may range from as infrequent as single episode over months to locking multiple times in a single day. Various breeds have been documented to be predisposed to OMJL: Bassets, akitas, boxers, bloodhounds, Gordon setters, Weimaraners, Dalmatians, Bernese mountain dogs, golden retrievers, St. Bernards, and Persian cats.1
The most common cause of OMJL is laxity of the temporomandibular joints (TMJ) due to congenital TMJ dysplasia.2 TMJ dysplasia, much like hip dysplasia, allows for lateral movement of the mandibular condyles, which in turn allows the coronoid process to get stuck on the ventral surface of the ipsilateral zygomatic arch (Figure 2).
Other possible causes of OMJL exist, though they are less common. Excessive symphyseal laxity can also allow for excessive lateral movement of the coronoid processes. Medial compression of the zygomatic arch due to trauma or congenital reasons, bony tumor and bony callus of the ramus or zygomatic arch may result in locking and inability to close the mouth after opening the mouth wide.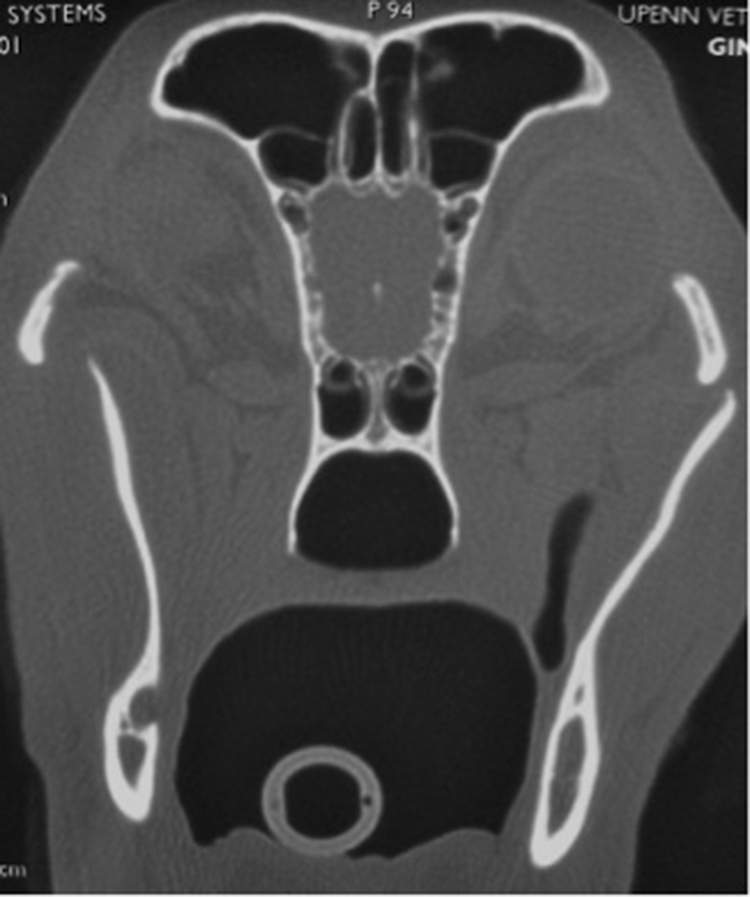 Photo © 2008, John R. Lewis, University of Pennsylvania
Figure 2: Computed tomography appearance of open-mouth jaw locking in a dog. The left coronoid process is locking on the ventrolateral surface of the left zygomatic arch (seen on the right side of the image).
Immediate Treatment
Immediate treatment of OMJL is different from immediate treatment of traumatic TMJ luxation. For TMJ luxation, a pencil or other soft wooden dowel is used as a fulcrum while pressure is applied to push the rostral maxilla and rostral mandible toward each other.
This often allows the craniodorsal luxation of the mandibular condyle back into its socket, the mandibular fossa of the temporal bone.
However, an acute case of open-mouth jaw locking is relieved by opening the patient's mouth as wide as possible, and moving the mandible to midline from the side it is shifted to. This may require sedation, but in many cases, it is a very quick procedure that will relieve the lock in the awake patient.
This is, however, a temporary fix. The next time the patient yawns or opens its mouth very wide, the patient may re-lock. A tape muzzle may be placed to try to prevent re-locking.
Long-term Treatment
Because TMJ dysplasia often occurs bilaterally in affected patients, intermittent bilateral locking may be possible, so both sides must be assessed for locking when the patient is placed under anesthesia for definitive treatment.
If locking is occurring bilaterally and only one side is treated surgically, the surgery may be viewed as a failure by the client, since locking is still occurring on the untreated side. To test for locking under anesthesia, the mouth is opened to full range of motion, and the mandibles are shifted toward one side with the mouth fully opened.
With the caudal mandible lateralized to one side, the mouth is slowly closed, and careful attention is paid to note any locking or subtle manifestations such as crepitus of the coronoid touching the zygomatic arch upon closure of the mouth.
Unilateral surgery is performed if locking is achieved on only one side. Bilateral surgery should ideally be done during the same anesthesia if locking is found to occur on both sides.
A variety of surgeries have been advocated for treatment of OMJL, including imbrication or plication of the lateral TMJ capsule, excision arthroplasty of the TMJ (condylectomy), partial zygomatic arch resection, partial reduction of the coronoid process, or a combination of zygomatic arch resection and coronoid process reduction.
I prefer the combination of zygomatic arch resection and coronoid process reduction, with the surgery done in the locking position to allow for intraoperative assessment of the relationship between the two bones (Figure 3).1,3 Even when zygomectomy and coronoidectomy are done bilaterally, postoperative function and cosmesis are excellent. Postoperative complications are rare.
Let me know if you seen a case of open-mouth jaw locking and how you treated it: drop me an email at jlewis@northstarvets.com.
References
Reiter AM. Symphysiotomy, symphysiectomy, and intermandibular arthrodesis in a cat with open-mouth jaw locking-case report and literature review. J Vet Dent. 2004; 21(3): 147-58.
Lantz GC, Cantwell HD. Intermittent open-mouth lower jaw locking in five dogs. J Am Vet Med Assoc. 1986; 188(12): 1403-5.
Soukup JW, Snyder CJ, Gengler WR. Computed tomography and partial coronoidectomy for open-mouth jaw locking in two cats. J Vet Dent. 2009; 26(4): 226-33.