Jaw fractures happen. Sometimes they occur due to trauma, but I see just as many pathologic fractures due to periodontal disease in small-breed dogs. Pathologic fractures are challenging when they are unilateral, but when they occur bilaterally, they affect normal function in a life-threatening way.
Whenever possible, I repair a mandibular fracture with a noninvasive technique involving interdental wiring and composite splinting (see Dental Pearls, October 2015). This is an elegant technique that utilizes teeth adjacent to the fracture line as anchors by weaving wire between the teeth, etching the teeth and placing plastic composite over the teeth.
Unfortunately, dogs with pathologic fractures secondary to periodontal disease usually require widespread extraction of diseased teeth in the area of the fracture. Therefore, inter-dental wiring often is not an option. In these cases I like to use miniplates. Miniplates have been documented as a valid option for maxillofacial fractures in dogs and cats for over 20 years.1
Case Discussion
Bigger isn't always better. Take, for example, the case of Taz, a 9-year-old Chihuahua. Taz presented to Dr. Bonnie Shope at Veterinary Dental Services in Boxborough, Mass., with severe halitosis, decreased appetite and lethargy. A few years earlier, Taz suffered a traumatic left mandibular fracture that was repaired with a bone plate at a different practice.
Oral examination showed Stage 4 periodontal disease throughout the mouth, but the most striking finding was the exposed metal plate used to previously repair the left mandibular fracture with severe ulceration of the gingiva and buccal mucosa over the plate. Multiple teeth were mobile. Dental radiographs showed that the previous jaw fracture was healed ventral to the left mandibular first molar (tooth 309), but severe vertical bone loss was present along the mesial root of this tooth. Multiple screw placements had resulted in penetration of roots with at least one tooth becoming non-vital (Figure 1). Taz's plate and screws were removed, and irreversibly diseased teeth were extracted. The area of bone exposure was closed.
Miniplates would be a better option for a dog of Taz's size. The size of the plate often is defined based on the diameter of the screws used. I frequently will use a 1.5- or 2.0-millimeter craniofacial plate. However, I've used plates as small as 1.3 mm with success. Craniofacial miniplates are ideal because they are comprised almost entirely of screw holes and, therefore, have the most options for where screws can be placed.
Drs. Frank Verstraete and Anel Ligthelm studied problems associated with standard plates and screws in 1992. When 2.7-mm plates were used on the dorsolateral surface of the mandible of medium-sized dogs, 60 percent of the dogs had mucosal erosion and 68 percent of the screws caused damage to tooth roots.2 From what our human maxillofacial surgery colleagues tell us, skewering a tooth root with a screw increases postoperative morbidity, so this should be avoided whenever possible.
Some miniplate systems allow for the use of locking screws. The strength of locking screw/miniplate construct is impressive. However, due to the fact that locking screws cannot be angled and must be directly perpendicular to the plate holes, it often is necessary to use non-locking screws if you are trying to avoid the neurovascular bundle or tooth roots in the area.
Should miniplates be placed intraorally or extraorally? In humans they are placed with an intraoral approach for cosmetic reasons. In our veterinary patients, because I often am extracting multiple teeth in the area of the miniplate placement, I already have a mucoperiosteal flap raised intraorally. Therefore, I will use this access site to the bone whenever possible. However, if the mandibular fracture is located caudally on the mandible, access might be limited by an intraoral approach.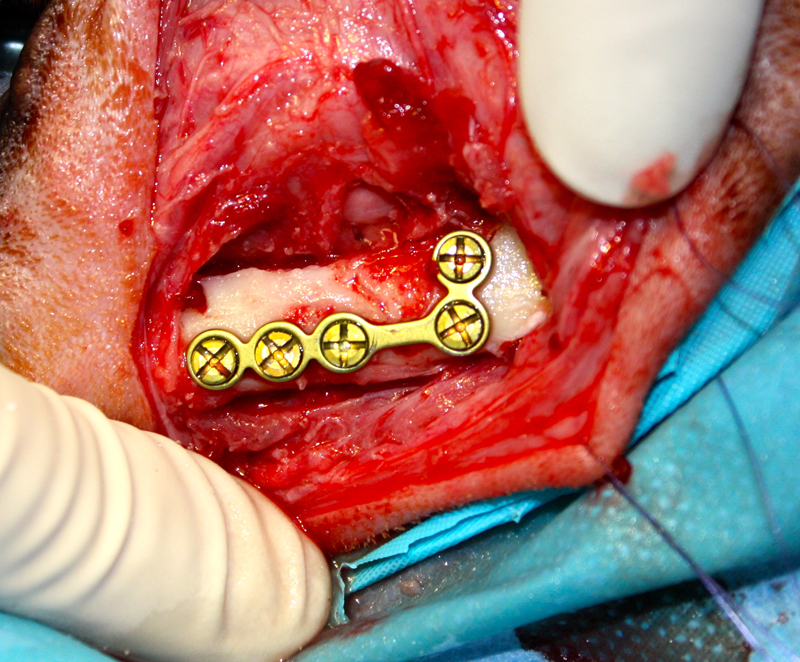 DR. JOHN LEWIS
Figure 2-A: An L-shaped 2.0-mm miniplate placed through an extraoral approach on the caudal left mandible for treatment of a pathologic mandibular fracture.
As a general rule, if the pathologic fracture runs along the mesial surface of the mandibular first molar, I can access it intraorally. If the fracture runs along the distal surface of the first molar or further caudal, I use an extraoral approach (Figures 2-A and 2-B).
I like an L-shaped plate that allows for placement of two vertically stacked screws in the caudal mandible and three screws in the ventral cortex of the rostral segment. In my hands, this type of plate is least likely to result in screws placed in neurovascular bundle that traverses through the mandibular canal.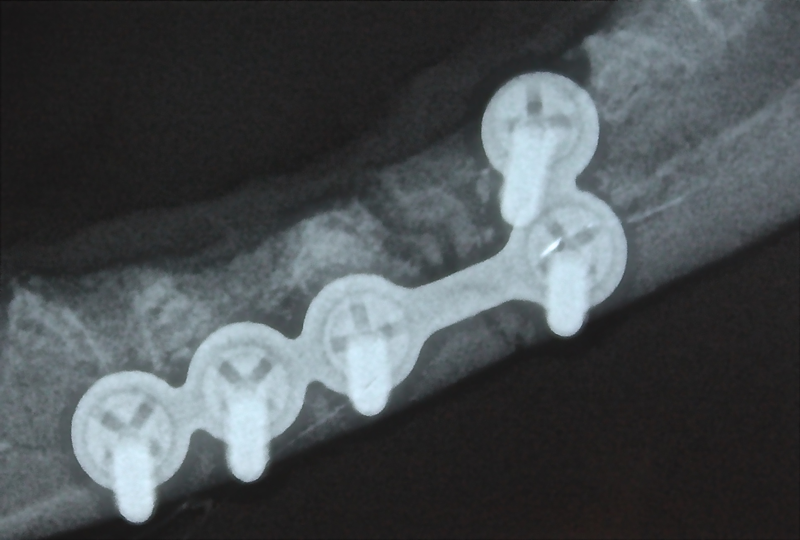 DR. JOHN LEWIS
Figure 2-B: A radiograph of the miniplate after placement. Screws are angled to avoid the mandibular canal.
What about maxillary fractures? The use of miniplates has been documented for use in comminuted maxillary fractures.3 When I am presented with a maxillary fracture, I use the following information to determine if miniplates would be helpful:
How comminuted is the fracture?
What does the occlusion look like?
Is the palatine process of the maxilla—the bone that makes up most of the hard palate—intact? If the palatine process of the maxilla is intact and occlusion is good, then I find that miniplates are not always necessary.
The three goals of jaw fracture repair are:
Obtain a bony union.
Maintain normal occlusion (or original occlusion if it was not normal to begin with).
Avoid long-term trauma to adjacent structures during placement of a repair device.
Of these three, obtaining a bony union is probably the least challenging goal to achieve. Miniplates are helpful to have in your jaw fracture repair toolbox for specific indications.
References
Boudrieau RJ, Kudisch M. Miniplate Fixation for repair of mandibular and maxillary fractures in 15 dogs and 3 cats. Vet Surg 1996; 25(4): 277-91.
Verstraete FJM, Ligthelm AJ. Dental trauma caused by screws in internal fixation of mandibular osteotomies in the dog. Vet Comp Orthop Traumatol 1992; 5(3): 19-23.
Boudrieau RJ. Miniplate reconstruction of severely comminuted maxillary fractures in two dogs. Vet Surg 2004; 33(2): 154-63.
---
Originally published in the April 2016 issue of Veterinary Practice News. Did you enjoy this article? Then subscribe today!