Suggested Veterinary Products
I hear that attendees learn more during the 10-15 minute breaks talking to each other, than the 50 minutes of lecture they just sat through.On a recent trip to Australia, attendees had as much to learn from each other as from the material I was presenting.July 27, 2012
Let me tell you about a remarkable discovery I witnessed. Recently I returned from a trip to Australia, where I discovered the first-hand beauty of the koala and kangaroo in their native habitat. But besides that, I was also reintroduced to the remarkable energy that is generated when we learn from each other.
You see, I was invited to come teach practice management to owners and employees of veterinary referral practices in Australia. This was one of the first times, if not the actual first time, these professionals had gathered in one place to discuss the challenges of managing in referral practice; they would often see each other at IVECCS, yet this was the first gathering "Down Under" as it were, and I was very fortunate to have been invited.
At the beginning of the three-day meeting, I announced as I often do that this was to be an interactive few days, because it was likely they had as much to learn from each other as from the material I was presenting…and they certainly proved me right!
Once the conversation started, it was difficult to get a word in edge-wise! Seriously, it was remarkable to see them all opening up and discussing topics they had probably never shared with a colleague in their own country. As I told them, and it's true, often at conferences I hear that attendees learn more during the 10-15 minute breaks talking to each other, than the 50 minutes of lecture they just sat through! In Australia, I saw myself more as a facilitator than teacher, although I did bring new and valuable information to the attendees, according to their comments. It was such a success, in fact, that they hope to continue to gather in the future. This could be the start of something beautiful!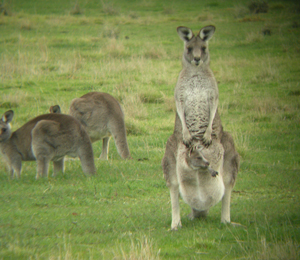 Katherine got to hang out with kangaroos while teaching practice management Down Under.
After the three days were behind me, I also had the wonderful opportunity to remind myself why I'm in this business to begin with…by visiting some local wildlife. I had a few days to myself, and I knew that I wanted to spend them with the special creatures that call Australia home. I stood two feet from a koala (NOT a bear, by the way), and tried to resist touching him (they bite!).
Then I stood in a field with 100 kangaroo…amazing. I watched as little penguins "paraded" in from the ocean at sunset on Phillip Island. It is on behalf of animals all different sizes and types that I remain committed to the veterinary profession, and the more we help each other, the more we can help all of them!