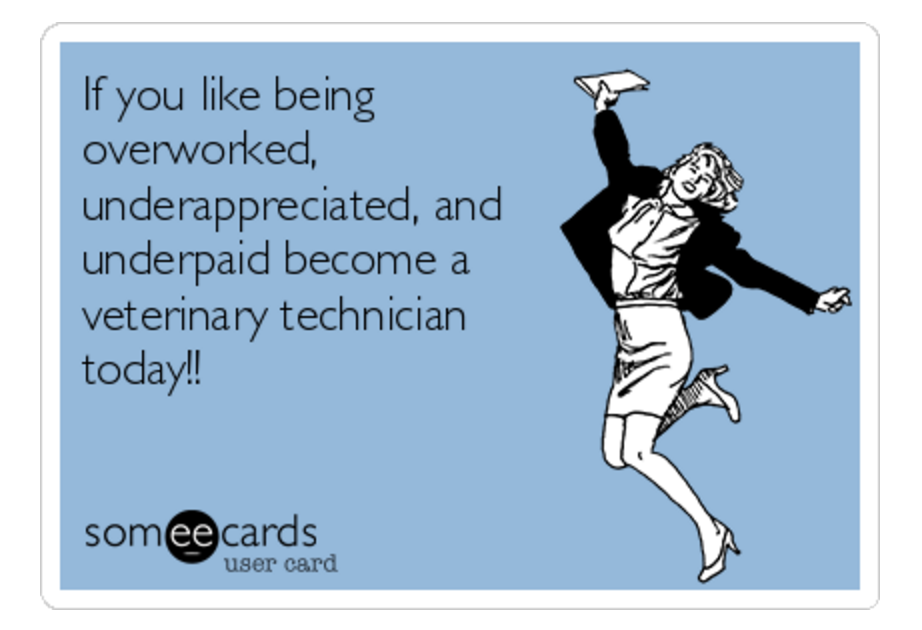 Here at Veterinary Practice News, we try to poke fun at the difficult aspects of the veterinary technician profession. (We call them #vettechproblems.) But joking aside, there are some serious issues in the vet tech profession. Those issues are highlighted in the recent 2016 Demographic Survey from the National Association of Veterinary Technicians in America (NAVTA), and the American Veterinary Medical Association (AVMA) recently published article called "Technician shortage may be a problem of turnover instead."
The survey results were released in August, and as AVMA summarizes:
"Low pay, and compassion fatigue and burnout, as well as lack of recognition and career advancement, remain ongoing concerns in the veterinary technology profession. That's according to results from the 2016 National Association of Veterinary Technicians in America survey. Further, technicians identified office dynamics and communication (40 percent), client noncompliance (39 percent), and lack of resources within the clinic (11 percent) as the greatest challenges they face in practice."
Rebecca Rose, NAVTA president, told the AVMA that because of these issues it is difficult to retain vet techs in the practice. It isn't just low wages, Rose says, but that "turnover can also result when technicians don't feel they are part of a whole, working for a common purpose, or don't enjoy working with their co-workers. Recognition for individual efforts can also go a long way … as can having a competitive benefits package."
That isn't even beginning, however. Compassion fatigue is a huge issue in the veterinary field, and only 23 respondents said that they received any type of support to handle it.
It's not all bad. According to the survey, as the AVMA reports, "most fulfilling aspects of the job are: caring for animals in the best way possible, making a difference in a pet's life, assisting in the diagnosis, and staying current on the science and technology of medicine."
The biggest issue? "The least fulfilling aspect indicated was the lack of support from management," the AVMA writes.
Read the full AVMA article here. Read the NAVTA survey results here.