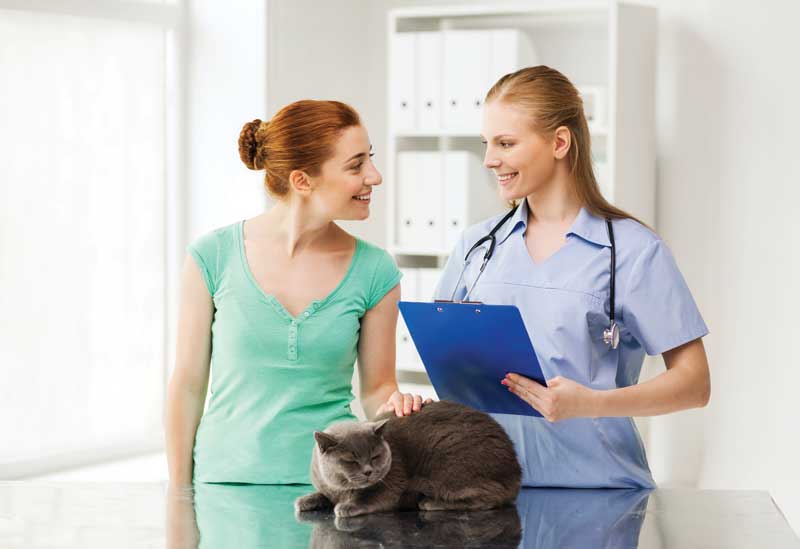 The purpose of any diagnostic test should be to improve the outcome for our patients. Tests should be selected so that they give us information that leads to reduced morbidity and mortality. Testing has risks, as well as benefits, so if the results of a test will not meaningfully affect our clinical decisions or the wellbeing of our patients, then it should not be run.1
Diagnostic testing also has costs. Inappropriate or unnecessary testing can inflate the overall cost of care and make treatment unaffordable for some animal owners. Veterinarians tend to worry more about the risks of not testing or missing a diagnosis than about the risks and costs of testing. We are predisposed by training and human psychology to do more, not less, and to see the potential benefits of our actions as likely greater than the risks regardless of the evidence.2
However, there is growing recognition in human medicine that much of the testing clinicians do may be of little value to patients and may be more likely to increase the costs and risks of care.3 Screening tests, which are directed at individuals without clinical symptoms, are particularly low in value and likely to lead to overdiagnosis.4
Unfortunately, the evidence available to us as veterinarians to inform our testing choices is often limited and incomplete. It is rarely possible to make an absolute case for or against specific diagnostic tests. There are, of course, some situations in which we can be fairly sure a particular test is not likely to be useful or benefit our patients. Knowing that asymptomatic bacteriuria is common in dogs, for example, tells us that running urine cultures without relevant clinical symptoms is unlikely to be useful.5 Most of the time, however, the evidence is not this clear.
Pre-anesthetic blood testing: Should we or shouldn't we?
One common and controversial example of this dilemma is the use or pre-anesthetic blood testing. There appears to be a widespread sense in veterinary medicine that such testing is necessary and beneficial, even an obvious standard of care.6-8 A 2015 survey at the Veterinary Information Network found that while there was considerable variation in the timing of preanesthetic blood work, only 3 percent of the 2,275 veterinarians completing the survey did not require blood such testing in apparently healthy surgical patients.9
Many veterinarians are surprised to learn that in human medicine, which is often thought to be more aggressive about diagnostic and treatment interventions or to have a higher standard of care, pre-operative blood testing is not universally employed or recommended. Many guidelines and expert panels discourage it for routine procedures in healthy adults because the evidence suggests it is of little value in guiding treatment or preventing anesthetic complications.10-16 Even though MDs have the same biases in favor of testing as veterinarians, the development of this evidence and its incorporation into guidelines has reduced the use of routine pre-anesthetic testing for human patients.16
The evidence concerning the value of pre-anesthetic blood testing for veterinary patients is much less robust.18-21 Several studies have found that such testing does identify abnormalities. In most cases, these abnormalities don't significantly alter the treatment plan, though they may for some patients. No research has been done to determine if pre-anesthetic testing in healthy patients reduces morbidity or mortality or otherwise improves patient outcomes. There is also no research investigating the risk of overdiagnosis or other harms from this testing.
Different studies have reached somewhat different conclusions. Alef (2008) evaluated about 1,500 dogs at a university veterinary center and found very few meaningful abnormalities. The authors concluded: "This study indicates that a failure to detect abnormalities in the medical history and upon clinical examination suggests that pre-anaesthetic laboratory examination is unnecessary in dogs. When laboratory testing is performed, detected changes are often of little clinical relevance and do not prompt major changes to be made to the anaesthetic technique."
Joubert (2007) found a higher incidence of abnormalities in a population of about 100 dogs in private practice and came to a slightly different conclusion: "This study concluded that screening of geriatric patients is important and that sub-clinical disease could be present in nearly 30% of these patients. The value of screening before anaesthesia is perhaps more questionable [and] still needs to be evaluated in terms of appropriate outcome variables."
Other research has suggested that some laboratory values may be weakly predictive of mortality risk in sick dogs20 and that pre-anesthetic blood tests in health dogs undergoing elective procedures can result in changes to the anesthetic and surgical plan more frequently than reported in Alef (2008).20
Overall, the evidence is extremely limited, so it is difficult to make confident decisions about pre-anesthetic testing in healthy animals. It is likely such testing will improve outcomes for some individuals. It is also likely that some will be harmed and that there will be no impact on outcomes for the vast majority. The specific balance of risks and benefits is unclear, and this is an area deserving of more research.
Evidence-informed consent and decision making
Even with better evidence, of course, we can never know with absolute certainty that a given test isn't needed in an in individual patient. Even very rare diseases do sometimes turn up. However, the "just-in-case" standard, in which we test for anything there is even the tiniest chance might be present, is not a rational or sound diagnostic strategy. Satisfying our anxieties, or those of clients, and covering our posteriors against possible legal threats are also not appropriate bases for testing strategies if our core goal is to do more good than harm for our patients.
Whether the risks and costs of pre-anesthetic testing outweigh the benefits for veterinary patients is not yet clear. Given that this has turned out to be the case surprisingly often in human medicine, veterinarians should have reason to think carefully about the rationale and value of pre-anesthetic testing in our patients. We should seek better evidence, and we should have clear and honest discussions with our clients about the potential risks and benefits, the costs, and the uncertainties associated with the tests we offer.
As always, evidence can only inform our decisions, not make them for us. However, research evidence helps us to look past habits and our own cognitive biases and to engage in rational shared decision-making with our clients. It is important to remember that scientific research is at least as important in telling us what we shouldn't do as what we should. Even when there is uncertainty, as there always is, our decisions will better serve our patients if they are grounded in a clear understanding of this uncertainty and the balance between the potential benefits and harms of our actions.
References
McKenzie, BA. Overdiagnosis. J Amer Vet Med Assoc. 2016;249(8):884-889.
McKenzie, BA. Veterinary clinical decision-making: cognitive biases, external constraints, and strategies for improvement. J Amer Vet Med Assoc. 2014;244(3):271-276.
Welch HG, Schwartz LM, Woloshin S. Overdiagnosed: making people sick in pursuit of health. Boston: Beacon Press, 2011.
Bulliard J. Chiolero A. Screening and overdiagnosis: public health implications. Public Health Reviews. 2015;36:8.
Wan SY, Hartmann FA, Jooss MK, Viviano KR. Prevalence and clinical outcome of subclinical bacteriuria in female dogs. J Am Vet Med Assoc. 2014;245(1):106–12.
Lewis HB. Healthy pets benefit from blood work. Banfield Data Savant. Available at: http://www.banfield.com/getmedia/1216c698-7da1-4899-81a3-24ab549b7a8c/2_1-Healthy-Pets-benefit-from-blood-work. Accessed 01-08-16.
Irwin J. Do tests first: Pre-surgical blood work may eliminate variety of surprises. DVM
360. November 1, 2003.
IDEXX Laboratories. Preanesthetic testing: Don't compromise-change happens fast. Available at: http://www.idexx.com.au/smallanimal/inhouse/preanesthetic-testing.html. Accessed 01-08-16.
Kumar A. Srivatava U. Role of routine laboratory investigations in preoperative evaluation. J Anaesthesiol Clin Pharmacol. 2011;27(2):174–179.
Bohmer AB. Wappler F. Zwissler B. Preoperative Risk Assessment—From Routine Tests to Individualized Investigation. Dtsch Arztebl Int. 2014;111(25):437–446.
Benarroch-Gampel J. Sheffield KM. Duncan CB. et al. Preoperative Laboratory Testing in Patients Undergoing Elective, Low-Risk Ambulatory Surgery. Ann Surg. 2012 Sep; 256(3): 518–528.
Johansson T. Fritsch G. Flamm M. et al. Effectiveness of non-cardiac preoperative testing in non-cardiac elective surgery: a systematic review. Br J Anaesth. 2013;110(6):926-39.
Feely MA. Collins SC. Daniels PR. et al. Preoperative Testing Before Noncardiac Surgery: Guidelines and Recommendations. Am Fam Physician. 2013;87(6):414-418.
National Institute for Healthcare and Excellence (2016). Preoperative Tests (Update): Routine Preoperative Tests for Elective Surgery. NICE guideline (NG45)
Committee on Standards and Practice Parameters. Practice advisory for preanesthesia evaluation: an updated report by the American Society of Anesthesiologists Task Force on Preanesthesia Evaluation. Anesthesiology. 2012;116(3):522-38.
Munro J, et al. Routine preoperative testing: a systematic review of the evidence. Health Technol Assess. 1997;1(12):i-iv; 1-62.
Czoski-Murray C, Lloyd Jones M, McCabe C, et al. What is the Value of Routinely Testing Full Blood Count, Electrolytes and Urea, and Pulmonary Function Tests Before Elective Surgery in Patients with No Apparent Clinical Indication and in Subgroups of Patients with Common Comorbidities: A Systematic Review of the Clinical and Cost-Effective Literature. Health Technology Assessment. 2012;16(50).
Alef, M.; Praun, F. von; Oechtering, G. Is routine pre-anaesthetic haematological and biochemical screening justified in dogs? Veterinary Anaesthesia and Analgesia 2008 Vol. 35 No. 2 pp. 132-140
K E Joubert. Pre-anaesthetic screening of geriatric dogs. J S Afr Vet Assoc. March 2007;78(1):31-5.
Itami T. Aida H. Asakaway M. et al. Association between preoperative characteristics and risk of anaesthesia-related death in dogs in small-animal referral hospitals in Japan. Vet Anaesth Analg. 2017;44(3):461-472.
Hargrove K. Hofmeister E. Influence of preoperative blood work and urinalysis on preanesthetic decision-making in healthy dogs undergoing elective orthopedic surgery. Abstracts presented at the American College of Veterinary Anesthesia and Analgesia Annual Meeting,19th September, 2015, Washington DC, USA. Vet Anesth and Analg. 2015;42(6).
Dr. McKenzie discovered evidence-based veterinary medicine after attending the University of Pennsylvania School of Veterinary Medicine and working as a small animal general practice veterinarian. He has served as president of the Evidence-Based Veterinary Medicine Association and reaches out to the public through his SkeptVet blog, the Science-Based Medicine blog, and more. He is certified in medical acupuncture for veterinarians.
Columnists' opinions do not necessarily reflect those of Veterinary Practice News.