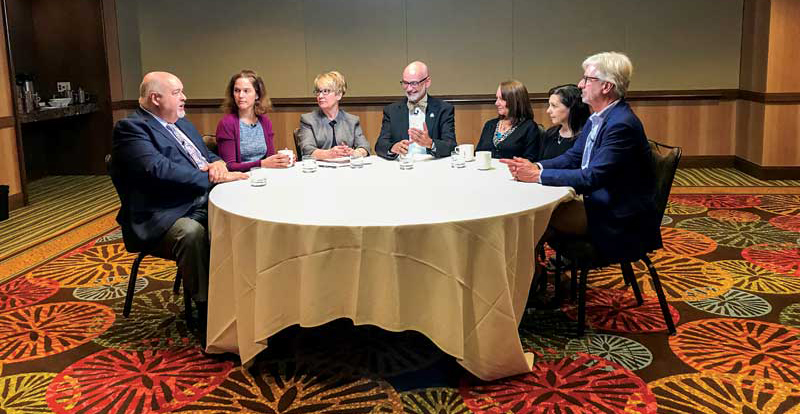 Fear and pain are intertwined.
That's the main message delivered at a Fear Free pain management roundtable discussion held at VMX 2020. The gathering included experts from across the veterinary world to raise awareness about the role pain plays in elevating fear, anxiety, and stress (FAS) in patients.
"Fear and pain are two sides of the same coin—you cannot have one without the other," says Michael Petty, DVM, DAAPM, past-president of the International Veterinary Academy of Pain Management (IVAPM) and owner of Arbor Pointe Veterinary Hospital and the Animal Pain Center in Canton, Mich. He was one of seven panelists to speak on the topic of fear and pain in animals. (Veterinary Practice News was the sole media outlet in attendance.)
"Anyone who has experienced an injury, especially an accidental one, will have emotional feelings about it later and question how they could be so stupid. This isn't self-recrimination—it's because the pain and fear and emotional centers are adjacent to each other in the brain."
Moderated by Kathy Gloyd, DVM, cofounder of communications and consulting services provider, Elevate DVM, "Fear Free: Emotional well-being as a pillar of pain management," also brought together the following experts:
Joyce A. Login, DVM, CPH, medical lead, chronic pain for Zoetis;
Tamara Grubb, DVM, PhD, DACVAA, adjunct professor of veterinary anesthesia and analgesia at Washington State University;
Margaret E. Gruen, DVM, PhD, DACVB, assistant professor of behavioral medicine at North Carolina State University;
Ross H. Palmer, DVM, MS, DACVS, professor of orthopedics at Colorado State University; and
Ralph Harvey, DVM, DACVAA, chair of the veterinary advisory board for BioTraceIT, a company that provides objective pain assessment.
Seeing the clinic visit from a patient's perspective offers insight into how pets can experience FAS. As a result, veterinarians have to assume all patients are anxious.
"There are different levels of anxiety, but I think sometimes, we make the mistake of assuming the gregarious and interactive dog isn't anxious," Dr. Palmer says. "We know better. If we look at it through the lens of the patient, you walk into a hospital environment surrounded by caregivers that aren't your species, they don't speak your language, and they don't explain what they're about to do to you. That's stressful. Our awareness is changing so rapidly about recognizing fear and anxiety."
Animals are anxious during clinic visits because they lose choice and control, Dr. Gruen adds. "If we can give animals opportunities for choice and control, we can decrease some of that stress even if it's giving a hiding box to a cat," she explains. "You'll see a lot of them choose to come out to sit where they can see, but they've had a choice to do so."
Associating the clinic with a positive experience is one way to decrease fear in some pets. "We have a jar of treats up front and we tell our clients to come by when they're out driving with their dog to get a dog biscuit so that not every trip to the veterinarian involves a poke or a prod," Petty says.
The discussion also highlighted the fact that recognizing pain in animals isn't straightforward for pet owners if what they are looking for is outward expressions of it.
"We hear that a lot," Dr. Login says. "Pet owners do recognize something. They just don't realize what they're seeing."
Gruen agrees, adding it's not about looking for specific pain signals, but rather how pain is manifesting in the animal's behavior. "When we ask whether the pet is in pain, what owners are picturing is something very different from what we are. We're picturing the cat that is having trouble jumping up or jumping down. Pet owners are looking for the animal who is screaming in pain."