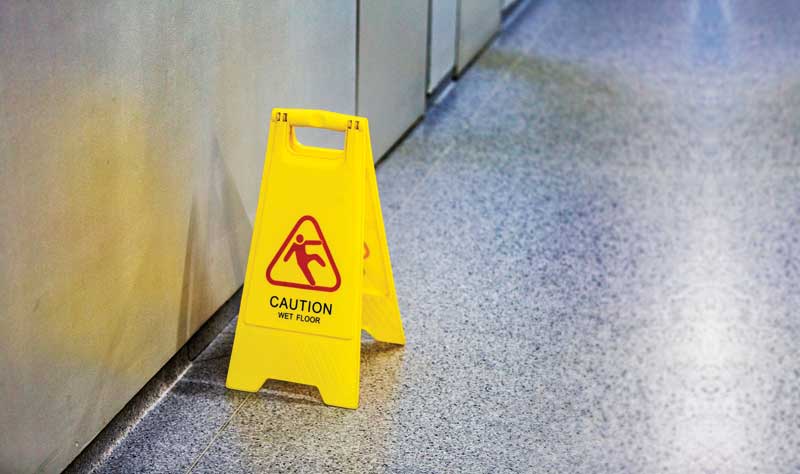 A recent case from the Nebraska Court of Appeals gives veterinarians who operate as sole proprietors much to think about.
The case involves Paul M. Dritley, DVM, a sole proprietor who was "doing business as" Elkhorn Animal Hospital in Douglas County, Neb.
On Oct. 10, 2011, Laura Gless and her husband, Don Christensen, visited Elkhorn with their two cats. It was a misty day with light rain. Gless and Christensen parked their car in the Elkhorn parking lot and walked to the facility's entrance. Christensen was carrying two cat crates, so Gless opened the door for him. So far, so good.
The door opened into an enclosed foyer that had a tile floor partially covered by mats. Christensen stepped into the foyer and onto the mats, followed by Gless. She stepped off the mats and onto the tile floor to open the door to the reception area for her husband. At that moment, her feet slipped out from under her, and she fell to the floor.
What happened next
Three years later, on Oct. 9, 2014, Gless and Christensen filed a lawsuit in the District Court for Douglas County. Gless sought to recover damages for the personal injuries she allegedly sustained as a result of the fall. Christensen sued for his alleged "loss of consortium" due to Gless' injuries.
The lawsuit was brought against the owner of the property and "Paul Dritley, doing business as Elkhorn Animal Hospital." In this regard, while Dr. Dritley owned the business, he operated as a sole proprietor (i.e., he used the Elkhorn name but never established Elkhorn as a business entity, such as a professional corporation or a limited liability company). As such, Dritley stood to be personally responsible for any finding of liability by the court.
Gless testified that she worked in retail and was familiar with the standards for maintaining customer-based establishments during inclement weather. Her employer required employees to make rounds to ensure that there was no water or other hazard present. If a water hazard was discovered, one employee stayed close to it while another employee retrieved cleanup supplies. Then the water would be cleaned up and a warning cone would be placed. Gless opined that Elkhorn employees should have known that the floor was wet and taken such steps to clean up or to warn patrons of the condition.
A drawn-out process
The case proceeded through the "discovery" phase for about a year and a half. Then, on May 4, 2016, Dritley filed a motion for summary judgment. He asserted that there were no disputes of material fact and that he was entitled to judgment as a matter of law.
The district court agreed with Dritley. In particular, the court found no evidence that Dritley knew the foyer floor was wet or should have known of this condition. Accordingly, on Sept. 22, 2016, the court entered judgment in Dritley's favor.
But this did not end the legal odyssey. Gless and Christensen appealed the ruling to the Nebraska Court of Appeals, so the matter dragged on for another year with the possibility of personal liability hanging over Dritley's head. Fortunately, on Nov. 28, 2017, the appeals court affirmed the entry of summary judgment in Dritley's favor. Phew!
Cover your assets
How might things have been different if Dritley had organized Elkhorn Animal Hospital as a formal business entity, instead of operating as a sole proprietor "doing business as" Elkhorn?
For starters, this may have provided Dritley with substantial protection against the potential for personal liability. Since he was operating merely as a "dba," he himself was the legal person responsible for the business's liabilities. Thus, if Gless and Christensen had won the lawsuit, and if insurance proceeds were not available to cover the entire judgment, then they could have sought recovery from Dritley's personal assets.
Conversely, if Elkhorn had been organized as a business entity, it would have been highly unlikely for Dritley to face personal liability. In this regard, the officers and directors of a business entity are generally not liable for the torts (that is, the negligence and other wrongs) of the business unless they committed the wrongs themselves. Thus, assuming that Dritley had no personal involvement in creating the slippery conditions in the foyer, he could not have been properly named as a defendant in the lawsuit.
In this scenario, the Elkhorn business entity could have been sued, and its assets would have been in play if the plaintiffs had won the case. But Dritley's personal assets would not have been in the discussion as a potential source of recovery.
Organizing a veterinary practice as a business entity also can protect the practice owner against personal liability for money owed under the practice's business contracts. In this regard, unless the practice owner personally guaranteed the debt arising from the contract, the law will generally not hold him or her personally liable for nonpayment. This can be an important factor in the event of a contract dispute.
Some veterinary practice owners balk at the idea of forming a business entity, arguing that any potential claim would be covered either by their professional liability insurance or their business liability insurance.
But as the Elkhorn case illustrates, accidents that do not implicate professional liability coverage (such as slips and falls) sometimes occur. And while business liability insurance may cover such accidents, this is not a given, especially in light of the many exclusions and technical language that the policy may contain. Further, if a claim exceeds the policy limit, the practice owner would be well served by the extra layer of protection provided by business-entity status.
Being sued is never an easy experience, but the stress and distraction are exponentially higher if you are exposed to liability in your personal capacity. So, if you are operating as a sole proprietor, take some time to think about whether a more formal business structure might make sense for you. After all, in the event of a dispute, the "doing business as" name will not give you any measure of protection.
Todd A. Newman, a Cornell Law School alum, works closely with veterinary practices. He is president and owner of a Salisbury, Mass., law firm (toddnewmanlaw.com) that focuses on business, employment, labor, and litigation matters.