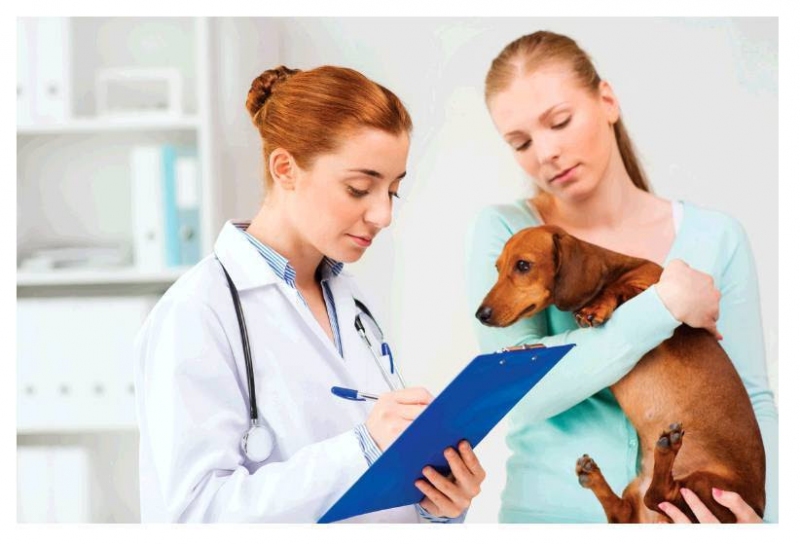 All of us have a story to tell about what led us to become veterinarians. For me, the thought "I want to be a veterinarian" first entered my mind about 55 years ago, when I was a 7-year-old boy living on a small farm in rural Southern Idaho.
Watching a local veterinarian get fallen cows to stand up (IV calcium drip for milk fever) and standing horses to fall down (anesthetized for castration), and seeing an outdoor-only puppy on death's door return home through the front door (first indoor-outdoor dog for the Beckers) sparked the desire. That spark led to a wildfire of purpose, passion and planning to achieve my veterinary degree, own my own practice someday and to celebrate, protect and nurture the human-animal bond.
For the vast majority, becoming an animal doctor wasn't so much a career decision as it was a calling, a constant drumbeat in the heart and head that led us to overcome many obstacles and proudly place the DVM or VMD title behind our names.
Nowadays, those beaten down by competition or fatigue may have lost those feelings of pride and excitement. And that's a dangerous spot to be in, because once you're no longer standing proud, you're at great risk of falling for almost anything.
Reasons for standing tall
In this case, "falling for anything" doesn't mean you're gullible; it means you're vulnerable. Vulnerable to selling the practice prematurely, buying expensive equipment with low returns in a "checkbook effort" to stay current and firing team members in an effort to save your way to prosperity. It even can mean the ultimate change in direction: leaving the profession for something else.
The celebration, protection and nurturing of The Bond always has defined the ground I've stood on and defined the cause I found worth fighting for the most. Because this was my battleground/playground, I attacked Bond breakers (punishment-based training, declawing, gas euthanasia) and promoted Bond makers (walking dogs, playing with dogs, sleeping with dogs). I was unequivocal in standing on solid rock (The Bond).
Long before it became fashionable to promote shelter adoptions and work to decrease euthanasia in general and "convenience euthanasia" specifically, I personally adopted shelter pets, guided clients and pet owners through my various media platforms to look there first, and donated time, money and resources to help local shelters survive both financially and emotionally. I also joined national organizations and became a board member of American Humane, Grey Muzzle, Pet Partners and World Vets.
To most colleagues with gray in their hair and a slight limp like me, I suppose I'll always be known for teaching about the leadership/business side of vet med in my early career (I've owned part or all of seven veterinary hospitals).
Almost from the start 40 years ago, I've educated the profession and the public on the healing power of pets, have been a visible and vocal proponent of The Bond, tried to be a good steward of the opportunities I've had to lecture to and on the behalf of the profession, and have focused daily on showcasing veterinarians everywhere as true pet health experts and hometown heroes.
Now, my almost evangelical commitment to get all people involved with Fear Free, looking after the physical and emotional well-being of animals, is my North Star. Standing on the rock of The Bond, with the steadfast knowledge of the importance of the human-animal health connection, my eyes are directed to a future where all of those who take care of animals—veterinarians, veterinary nurses, shelter workers, veterinary team members, groomers, trainers, staff at boarding facilities, zoo workers, lab animal techs, animal handlers (dairy barns, pork facilities, egg production, etc.) and end-of-life professionals—all look after the emotional well-being of animals.
What keeps you going?
This article is not meant as a professional autopsy of my career. It's meant to stir thought in you as to what you really stand for. What wakes you up with a smile on your face and a kick in your step? Yes, you love animals, and that's what got you into the business. But maybe the relentless pounding of facts into your head to graduate from veterinary or veterinary nursing school and pass the boards hollowed you out. Maybe you're tired of discussions being about what pet owners can afford versus what's best for the animal. Perhaps you're beaten down by the fact that you love the animals you see, but hate that they don't love seeing you due to their fear, anxiety and stress.
Nobody gets into veterinary medicine or animal care to make life worse for animals. We even take an oath "to prevent or relieve animal pain and suffering" and are repulsed by the thought that we might have caused harm by what we have or have not been doing. We long to practice as we always dreamed of, where we love animals and they love us back.
For me and tens of thousands of veterinary healthcare professionals, embracing Fear Free has moved us to a high outcropping of solid rock, away from the sinking sand of things that tug at our hearts and purse strings. Four other transformative initiatives in veterinary medicine over the years have great merit and have lasted:
Feline medicine: We found out that cats weren't just small dogs, they deserved preventive care just like canines, and we had to develop medications and protocols specific to the species.
Dental care: The most commonly diagnosed disease in veterinary medicine.
Preventive care: Better to never have a disease emerge than to try and fix it. Also, proper nutrition is a major part of preventive healthcare.
Pain management: A multimodal approach to prevent or relieve pain.
Fear Free is larger than all of these combined, as fear, anxiety and stress affect literally every patient, in every practice, every day. Everyone wins with this focus: the pet, the pet owner, the practitioner, the practice team, the practice, industry partners and the profession. We "do well, by doing good." What could possibly be better?
Dr. Marty Becker writes every other month for Veterinary Practice News. He is a Sandpoint, Idaho, practitioner and founder of the Fear Free initiative. For more information about Fear Free or to register for certification, go to fearfreepets.com.