With pet owners increasingly opting to pursue treatment after a cancer diagnosis, the field of veterinary oncology sees consistent growth and investment into better cancer mitigation. As developments in cancer treatment continue, understanding adverse effects of these treatments is expanding. One such common effect is chemotherapy-induced diarrhea (CID) in dogs.
While CID is likely already on every veterinary professional's mind, knowing the specific impact of CID on canine patients' health outcomes and potential treatment options is crucial for all who treat cancer or provide supportive care for dogs with CID.
Causes of CID
Oncologist Craig A. Clifford, DVM, MS, DACVIM, explains, while the dosage of canine chemotherapy is generally two-thirds as intense as human chemotherapy, these agents can still cause adverse events. Chemotherapy agents can result in damage to the rapidly dividing crypt cells within the GI epithelium, as well as affecting the enteric nervous system.
Dr. Clifford elaborates on CID specifically, saying chloride channels, which control fluid flow into the intestinal lumen, have the potential to be negatively impacted by chemotherapy, and the treatment can cause chloride ion hypersecretion by chloride channels present in the intestine. "CID is a multifactorial process that leads to luminal electrolyte imbalance, including chloride ion hypersecretion by chloride channels," he adds. "Increased luminal chloride pulls more sodium into the lumen and results in excessive fluid secretion."
CID prevalence is largely related to the active ingredient used to treat cancer. Two studies, one completed by Tomiyasu et al. in 2010 and one completed by Lane et al. in 2012, were compiled by Clifford and note five common cancer treatment regimens with a particularly high incidence of diarrhea (Figure 1).
Frequency of CID
According to the American Veterinary Medical Association (AVMA), one in four dogs will develop a tumor during their lives, and over half of dogs over the age of 10 will develop cancer. A May 2022 Gallup poll of 3,987 past or current dog owners—conducted to assist in building a new canine cancer registry—indicated about a third of owners faced with a cancer diagnosis decided to pursue treatment, with 24 percent of those choosing treatment opting for chemotherapy.
Once the chemotherapy regimen has begun, side effects can be expected. A 2021 online survey by Foster Rosenblatt of 102 veterinary professionals across oncology and general practice found that three out of 10 chemotherapy patients experienced CID, with 83 percent exhibiting mild to moderate symptoms, and 17 percent exhibiting severe symptoms. These symptoms caused 42 percent of CID patients to require further clinic visits, 29 percent to require rehydration therapy and nine percent to require hospitalization, which often interferes with treatment plans (Figure 2).
In addition, a 2021 study published in Veterinary and Comparative Oncology by Chavelle et al. reported that of the 155 patients observed, 124 (80 percent) experienced adverse effects, with 50 (32.3 percent) of the dogs undergoing severe adverse effects. Nearly half of the dogs with severe effects were experiencing severe gastro-intestinal problems, such as vomiting, nausea, and diarrhea.
Dangerous adverse events, some of which are related to CID, are uncommon, but the frequency and potentially devastating results are not insignificant. Of the 155 dogs observed in the Chavelle study, 37 canines (23.9 percent) had to be hospitalized as a result of side effects, 12 (7.7 percent) experienced discontinuation of chemotherapy altogether, and nine (5.8 percent) were euthanized or died as a result of adverse effects of chemotherapy.

CID concerns
Discomfort from CID takes many forms. Physical discomfort of the dog from chemotherapy induced diarrhea, though usually minor, should be monitored. The more urgent physical consequence of CID is dehydration, which can lead to hospitalization or discontinuation of cancer treatment.
Economic discomfort is also a significant factor to consider. Clifford comments that an emergency hospital visit or rehydration intervention can cost an owner anywhere from $800 to $1,500, an amount many owners cannot afford. Since cost was listed in the aforementioned Gallup poll as the primary concern of owners pursuing treatment, an unexpected bill of that amount could be enough to cause the owner to discontinue treatment.
Clifford also recalls the emotional discomfort both he and his English Labrador, Franklin, experienced as Franklin dealt with CID. "Franklin would get upset because he knew he wasn't supposed to go in the house," he says. "He was a very emotional dog, and it was difficult to watch him experience those feelings on top of his illness." Franklin's experience is not unique and represents how CID can strongly impact both a cancer patient and an owner's quality of life.
Of the Gallup-surveyed owners who elected to treat cancer, 13 percent listed diarrhea as the most difficult chemotherapy-related side effect to manage from a list that also included pain, fatigue, and urinary incontinence, among other common side effects. This number alone may not be alarming, but given the surveyed pet owners also listed discomfort from side effects in the top two most important concerns when considering treatment options, discomfort from CID can easily result in a client opting to discontinue treatment.
Treating CID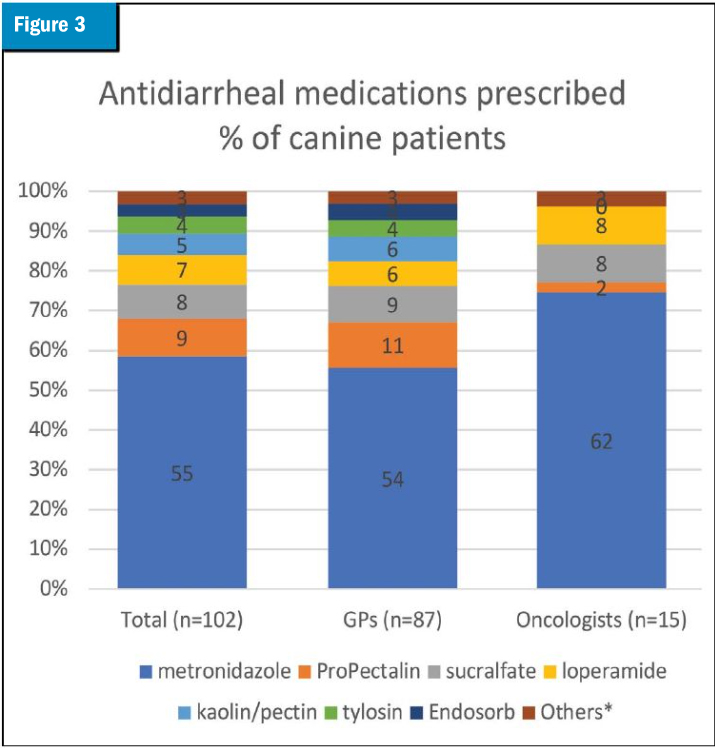 The treatment for mild CID is a standard remedial process for diarrhea. Owners should not have to bring the patient in to receive any kind of specialized care, but they may call asking for advice. In the event of CID or when prescribing a chemotherapy protocol known to cause CID, Clifford recommends advising owners to pause feeding until stool normalizes and then begin a bland diet. In addition, anti-nausea medication can subdue symptoms, and antibiotics should be prescribed to prevent sepsis from translocated bacteria.
In moderate to severe cases of CID, hospitalization and intravenous fluids may be necessary to rehydrate and correct electrolyte imbalances. There are several medications available that may mitigate these symptoms. Veterinarians most commonly use FDA-approved human medications off-label with various active ingredients, metronidazole being the strong preference (Figure 3).
Although other medications used as antidiarrheals can work, they are not without drawbacks. Anti-motility agents often cause constipation, and some common agents, such as loperamide, are opiates and therefore are limited on their use.
Metronidazole, the most commonly prescribed therapy, acts as an antiprotozoal or antibacterial agent without addressing the underlying cause of CID, which is hypersecretion of chloride ions in the lumen. In addition, metronidazole may cause severe side effects. The label warns against unnecessary use, noting metronidazole has been carcinogenic in rats and mice. Even in necessary cases, the pills are large and should not be broken or crushed, making small dogs especially prone to overdose.
In a position statement on antimicrobial stewardship, the AVMA advises veterinary professionals to sparingly use antimicrobials, such as those commonly prescribed to treat CID. Antimicrobials should only be used to treat ailments caused by bacteria after careful review of the patient's condition, and use should be supported by continued monitoring while on the medication. Overuse of antimicrobials can lead to compromised efficacy and antimicrobial resistance. To treat CID and other non-bacterial ailments, other solutions should be considered.
A new plant-based medication that specifically treats CID in dogs has recently gained conditional approval from the FDA. This medication utilizes the plant-based active ingredient crofelemer, derived from the Croton lechleri tree. Unlike other options, this drug modulates the hypersecretion of chloride ions and normalizes fluid influx within the intestinal lumen.
Moving forward
Increased awareness continues to drive innovation in the canine cancer field. Take C.H.A.R.G.E. (Canine Health And ReGistry Exchange) is a new canine cancer registry where veterinarians can enter medical records and dog owners can enter demographic data and attributes of an animal's cancer experience with treatment and side effects, such as CID. The registry recently launched and offers all involved in treating canine cancer a novel way to gain valuable insights to increase awareness and improve treatment outcomes.
While accessible information can help both owners and veterinarians, deciding how and when to treat CID can still be a complicated process. Quality of life for both the patient and the owner, as well as the patient's safety hang in the balance. No matter what the cancer outlook or chemotherapy treatment regimen, the possibility of CID and the resulting dangerous dehydration cannot be ignored.
Andre Teixeira, DVM, PhD, received his DVM degree in 2009 and then his PhD degree in Animal Science. He joined Jaguar Health's team in June 2017, bringing over five years of experience in animal pharmaceutical development. He now serves as the senior director of Animal Health and is responsible for the development of animal health clinical studies, protocols, and publications.
References
AVMA. Cancer in pets. AVMA, www.avma.org/resources/pet-owners/petcare/cancer-pets
AVMA. Judicious therapeutic use of anitmicrobials. AVMA. www.avma.org/resources-tools/avma-policies/judiciouos-therapeutic-use-anitmicrobials
Chavalle, T., Chamel, G., Denoeux, P., Lajoinie, M., Sayag, D., Berny, P., & Ponce, F. (2022). Are severe adverse events commonly observed in dogs during cancer chemotherapy? A retrospective study on 155 dogs. Veterinary and comparative oncology, 20(2), 393–403. https://doi.org/10.1111/vco.12782
Foster Rosenblatt Animal Health. (2021). Canalevia pricing analysis & market research assessment. [Data file].
Gallup. (2022). Canine cancer: Take C.H.A.R.G.E. [Data file].
Lane, A., Black, M., & Wyatt, K. (2012). Toxicity and efficacy of a novel doxorubicin and carboplatin chemotherapy protocol for the treatment of canine appendicular osteosarcoma following limb amputation. Australian veterinary journal, 90(3), 69–74. https://doi.org/10.1111/j.1751-0813.2011.00878.x
Pfizer Laboratories Div Pfizer Inc. (2021, December). FLAGYL- metronidazole tablet, film coated. Labeling.Pfizer. https://labeling.pfizer.com/showlabeling.aspx?id=570
Tomiyasu H, Takahashi M, Fujino Y, Ohno K, Tsujimoto H. Gastrointestinal and hematologic adverse events after administration of vincristine, cyclophosphamide, and doxorubicin in dogs with lymphoma that underwent a combination multidrug chemotherapy protocol. J Vet Med Sci. 2010 Nov;72(11):1391-7. doi: 10.1292/jvms.10-0176. Epub 2010 Jun 11. PMID: 20543531